Farmington in the northwest corner of New Mexico is the commercial hub of the Four Corners, a growing community of 45,000 which swells to 150,000 shoppers on weekends. The metro area of about 115,000 includes Aztec and Bloomfield, Kirtland and Fruitland.
Farmington is approximately 400 miles from Phoenix, Denver, and Salt Lake City. Albuquerque and Santa Fe are 180 miles to the southeast. The Navajo Nation lies west of Farmington, The Ute Mountain Indian Reservation is to the NW, and the Southern Ute Indian and the Jicarillo Apache Reservations are to the NE.
With an altitude of 5306 feet, Farmington sits in the fertile and gas and oil rich San Juan Basin. Monthly average temperatures range from 28.6 degrees in January to 74.1 degrees in July. The area's climate is mild averaging 273 sunny days a year, with only 7.5 inches of rain and 12.3 inches of snow annually.
Thumbnail History of Farmington
From 1050 to 1300 AD the center of the Anasazi culture was in the Four Corners area in Chaco Canyon, at the Aztec Ruins on the edge of Farmington in the town of Aztec and at Mesa Verde in Colorado.
In 1868, the 3.5 million-acre Navajo Reservation was established, covering half of San Juan County, west and southwest of Farmington. The Navajo Nation has become an important a source of income for Farmington, first through trading posts and later as a customer base for Farmington's growing retail, educational and medical services.
After 1879 Anglo pioneers settled in the San Juan Basin, a place ideal for fruit growing and ranching. Farmington was incorporated in 1901. In the first half of the 20th-century apples were the top crop with 53,000 apple trees reported to be in the area.
In the 1950's development of a gas pipeline from the San Juan Basin to the West Coast brought boom times and Farmington's population grew from less than 5,000 to more than 35,000. In the last three decades Farmington has evolved into a center for education, health and tourism as well as commercial services.
Only in Farmington
Called Totah, the meeting place of water, by the Navajos, Farmington lies among mesas at the junction of three rivers, the San Juan, the Animas and the La Plata. Forty percent of all the surface water in New Mexico comes through the Animas, La Plata and San Juan Rivers.
The San Juan River offers world-class year-round trout fishing including 3.5 miles of Quality Waters below the Navajo Dam. An average San Juan River trout is 17", but fish more than 20" are abundant.
Farmington is a lush place by New Mexico standards. A system of five parks along the Animas River is a source of community pride, an excellent place for walking, jogging and wildlife watching.
The Farmington Public Library, in an award-winning new building which opened in 2003, has the words "Summer Solstice" and "Winter Solstice" engraved at precise locations on its rotunda floor which are lighted by sunlight passing through a small window exactly on those dates.
Farmington's Top Outdoor and Cultural Attractions
Golfers from the region come to golf at the popular Pinon Hills course rated the #1 municipal golf course in the U. S. by Golf Digest.
Glade Run, a BLM recreation area at the edge of Farmington, is 19,000 acres of sandy arroyos, slick rock and rolling terrain covered with sagebrush, junipers, and pinon. The Glade attracts bikers, hikers, horseback riders and off-road vehicle enthusiast to its wide open spaces.
Farmington hosts a summer open-air theater each year from mid- June to the first week in August in a beautiful natural sandstone amphitheater in the Lions Wilderness Park.
Farmington is within 100 miles of most of the Southwest's finest Native American artists and craftsmen. Trading posts and pawn shops which deal with Indian artists are numerous. Many are run by 4th and 5th generation traders.
Farmington and San Juan County meeting and recreational facilities are first class and draw many regional and national tournaments and events to the area each year including the annual Connie Mack World Series.
Nearby historic Native American sites include ancient pueblo sites at Aztec Ruins National Monument and Salmon Ruins at the edge of Farmington. Mesa Verde National Park is 90 miles north, and Chaco Culture National Historical Park about 50 miles south.
The mysterious Bisti Wilderness lies 37 miles south of Farmington, a protected area of colorful land forms, fossils and petrified logs that is a favorite spot for hikers and photographers.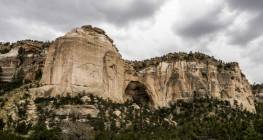 El Malpais
1900 E. Santa Fe Ave. Grants, NM 87020
505-876-2783
At this time, the El Malpais trails are open. The visitor center and caves however are closed until further notice.