Water Sports in the Southwestern US
Make some New Mexico waves when you visit Farmington! With three rivers and four lakes - Farmington is an oasis for water lovers. Whether you're looking for a little relaxation on the water, heart-pounding excitement, or even a little of both, you're sure to find it here. We encourage you to plan time to splash, fish, paddle, and swim a little while visiting Farmington and discover the natural resources that have fostered a community of outdoor lovers and active families.
Please contact us or visit our Travel Advisory section for current updates on closures and restrictions due to COVID-19.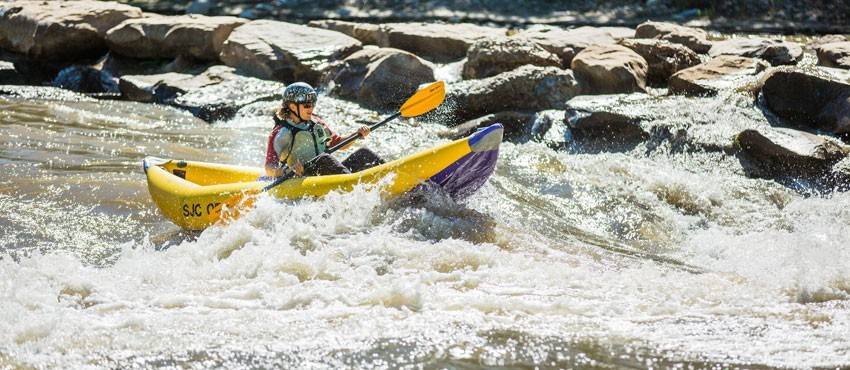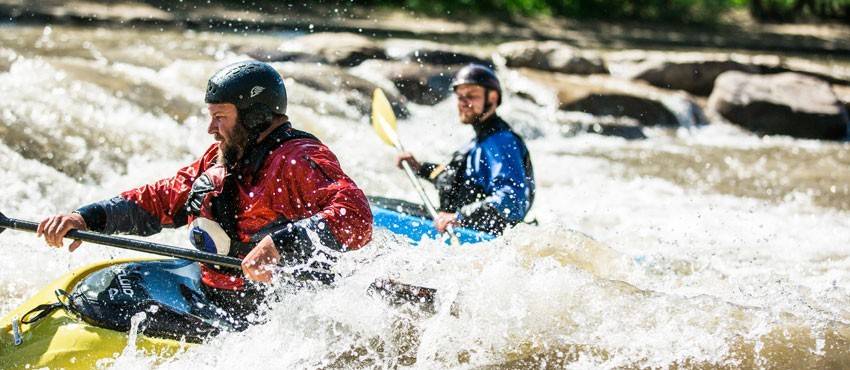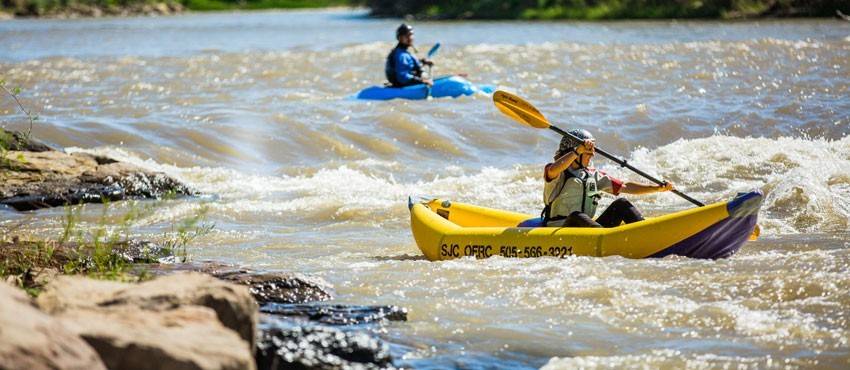 Kayaking, Paddle Boarding, Canoeing
Paddlers in canoes, kayaks, or on standup paddleboards will discover that the river and lakes surrounding Farmington offer a variety of aquatic adventures. Lake Farmington is known for calm waters and is popular for relaxing floats, sunrise/sunset SUP, technique training, and paddling beginners. Navajo Lake offers 150 miles of shoreline and stunning canyons to explore at paddling speed. If you are looking for something more adventurous we suggest kayaking the Animas White Water Park in Farmington. No matter which body of water you choose you are bound to encounter enchanting geology, abundant bird and wildlife, and a community of friendly outdoor lovers and active families!
River Rafting and Kayaking
River rafting and kayaking allow people of all ages and varied abilities to experience the serenity of calm water or the challenge of maneuvering whitewater. The rivers, and lakes, surrounding Farmington offer opportunities for such aquatic adventures. The Animas and San Juan rivers in San Juan County offer half-day to multi-day paddling adventures. A local effort has been launched to map the paddle trails that locals are familiar with. San Juan County hosts the Four Corners Paddle Trails Map, perfect for visitors looking for put-ins and take-outs.
Water Equipment & Gear
Want to plan some time in the water, but don't have your own equipment? No need to worry in Farmington. Our members have you covered, you can rent everything you need for an exhilarating time. For all your watercraft needs, contact these facilities:
Animas Outdoors LLC
Bike and tube rentals Friday - Sunday
400 Scott Ave, Farmington, NM
505-402-4402
Outdoor Equipment Rental Center
4601 College Blvd, Farmington NM
505-566-3221
Navajo Lake Marina
1448 NM 511, Navajo Dam, NM
800-582-5867

The following companies and attractions are waiting to help you discover your outdoor adventure!
Morgan Lake
Navajo Route 36, 15 miles west of Farmington, NM on Hwy. 64
928-871-6451
Morgan Lake offers fantastic windsurfing and boating opportunities year-round. This 1,200 acre lake is located on the Navajo Reservation.
Mountain Waters Rafting & Adventures
Durango, CO
800-337-8199
River rafting in Durango, Colorado is an unforgettable experience! Mountain Waters Rafting is here to safely share this experience with you. For rates, to schedule a trip or for more information call or visit www.durangorafting.com.