Morgan Lake, Cutter Reservoir, and Whiskey Lake are just a few of the lakes located on Navajo land that are popular for recreation. These scenic high desert lakes are the perfect addition to your fishing trip in the Four Corners region and New Mexico.
928-871-6451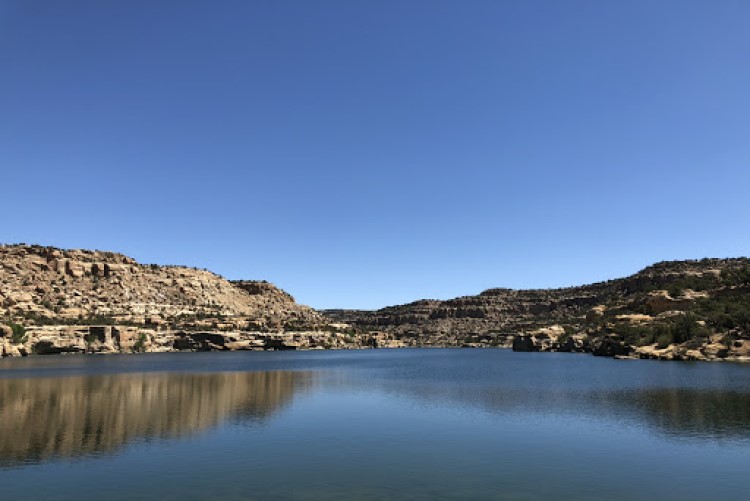 Cutter Dam Reservoir
Cutter Dam Reservoir is a reservoir located about 8 miles south of Blanco, New Mexico and east of Largo Canyon. This lake is popular with local anglers and features beautiful cliffs and high desert scenery. The lake covers approximately 64 acres and serves as a reservoir for Navajo Agricultural Products Industry (NAPI). Access to the lake is via dirt roads. At times, a four-wheel-drive or high clearance vehicle is recommended. Small watercraft are permitted on the lake. Shore boat access is available on the northwest side of the lake. Access to this location is very rugged and limited to johnboats or small fishing boats.
There are no day or lake use fees required. A valid fishing license is required from the Navajo Nation Department of Fish and Wildlife. This lake is stocked with rainbow, brown and cutthroat trout, bullhead catfish and Kokanee salmon is also present. Fishing is permitted year-round. Contact Navajo Fish and Wildlife Department for information.
Navajo Fish and Wildlife Department
Window Rock, AZ 86515
(928) 871-6451
Morgan Lake
Morgan Lake, a 1200-acre lake on the Navajo Reservation, is open year-round. This lake serves as the cooling pond for a power plant. It offers windsurfing and fishing in 75-degree water year-round. Swimming is not permitted. The lake is located about fifteen miles southwest of Farmington, NM. Take US 64 west from Farmington, toward Shiprock about 15 miles. Then turn South on Navajo Route 36 (Road to Four Corners Power Plant).
Morgan lake species of fish include bass, sunfish, and catfish. A fishing license from the Navajo Fish and Wildlife Department is required. Morgan Lake is being managed as a quality bass lake. New regulations have been implemented. A 12 – 17-inch slot limit on bass is now in effect. All bass from 12 – 17 inches in length must be returned safely to the water. Bass under 12 inches or over 17 inches may be kept. The daily bag and possession limits for bass in Morgan Lake have also been reduced to four (4) fish. To successfully implement the slot limit, the use of waterdogs as bait in Morgan lake has been banned.
A tournament stamp is required for bass tournaments that will be held at Morgan Lake. The stamp cost is $30 and is to be purchased by the tournament director from the Navajo Fish and Wildlife office in advance. Each stamp is good for one tournament. The tournament director must have a list of contestants available during the tournament. This list must be presented to the Wildlife Conservation Officer(s) upon request. The tournament stamp allows contestants to keep up to five (5) fish of any size determined by the tournament rules, which will be weighed at the end of the tournament. Contestants keeping five (5) fish during the tournament must return at least four (4) of the fish safely to the water. If a contestant does keep one fish, it must be larger than 17 inches in length.
Navajo Fish and Wildlife Department
Window Rock, AZ 86515
(928) 871-6451