Locke Street Eats
112 N Lock Ave, Farmington, NM
505-360-5032
Lock Street Eats is a fun food truck park with a pavilion, playground, restrooms, and live entertainment. Stop by to see the food trucks set up for the day! Located in the heart of Farmington's Downtown near the Civic Center this fun spot is available for events, meetings, gatherings, or just a bite to eat.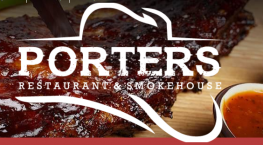 Porters Restaurant & Smokehouse
2210 E. 20th Street, Farmington, NM
505-327-5979
Hours: Monday - Thursday 11 am-8 pm, Friday - Saturday 11 am-9 pm, closed Sunday.
Dickey's Barbecue Pit
3701 Messina Drive, Bldg. 100, Farmington, NM
505- 501-7094