Locke Street Eats
112 N Lock Ave, Farmington, NM
505-360-5032
Lock Street Eats is a fun food truck park with a pavilion, playground, restrooms, and live entertainment. Stop by to see the food trucks set up for the day! Located in the heart of Farmington's Downtown near the Civic Center this fun spot is available for events, meetings, gatherings, or just a bite to eat.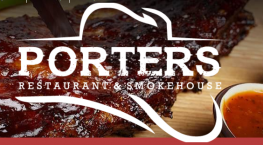 Porters Restaurant & Smokehouse
2210 E. 20th Street, Farmington, NM
505-327-5979
Porters offers hungry diners a wide-ranging menu of favorites. Choose from the 65-item all-you-can-eat Garden Bar and Big Texas Buffet, or an extensive selection of flame-grilled or house-smoked meats, seafood, New Mexican Flavors, and specialty sandwiches, salads, or pastas. And don't forget to explore their rotating wine, craft beer, and cocktail lists! Offering guests a Banquet Room, Catering services, and Patio. Hours: Monday - Thursday 11 am-8 pm, Friday - Saturday 11 am-9 pm, Sunday 8 am - 4 pm. Weekend breakfast and brunch hours: Breakfast Friday - Sunday 7:30 am - 11 am, Sunday Brunch 9 am - 2 pm.
Dickey's Barbecue Pit
3701 Messina Drive, Bldg. 100, Farmington, NM
505- 501-7094