Are you ready to pack up your RV and hit the road? As the perfect basecamp for exploring the Four Corners region—we completely understand. One of the best ways to explore the Four Corners and the desert Southwest is from behind the wheel. Experience the scenic wonders of the area and immerse yourself in our outdoor, cultural, and family adventures. From cozy mom-and-pop RV campgrounds to thousands of acres of public land there's no shortage of places to dock that big rig around here. Let us be your RV vacation guide!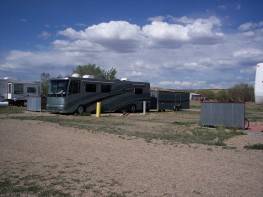 B & L RV Park and Storage
10 County Road 1788, Farmington NM 87401
505-324-9844
parker3802@msn.com
B&L provides short and long term accomodations for the present day RV traveler. Large 60x90 ft. parking spaces with patios. 50/30/20 amp electrical, water and waste hookups. Plus, free satellite TV, WiFi and trash disposal. Corrals onsite for travelers with livestock.