Lake Farmington
Lake Farmington offers outdoor lovers a variety of adventures within the city limits! The lake is open year-round for fishing and seasonally to electric and non-motorized watercraft. Visit The Beach at Lake Farmington for swimming and make time to explore the mountain biking, hiking and horseback riding trails. Bird watching is also a popular activity at Lake Farmington. A variety of hummingbirds, eagles, hawks and heron frequent this city oasis.
Main Street/NM 516, Farmington, NM
505-599-1400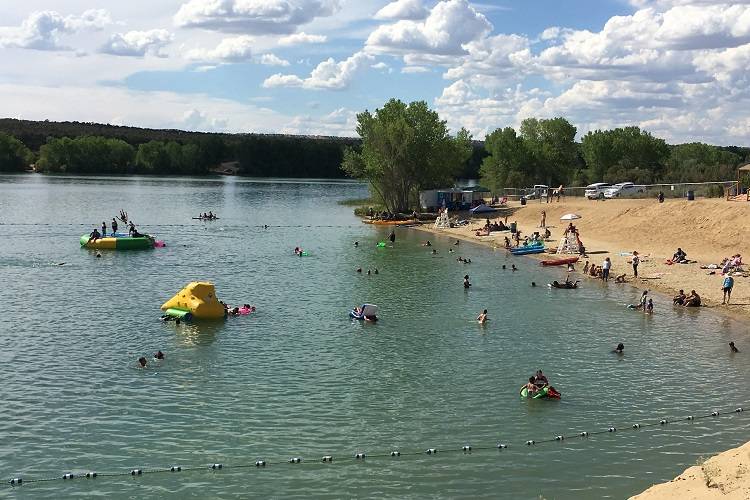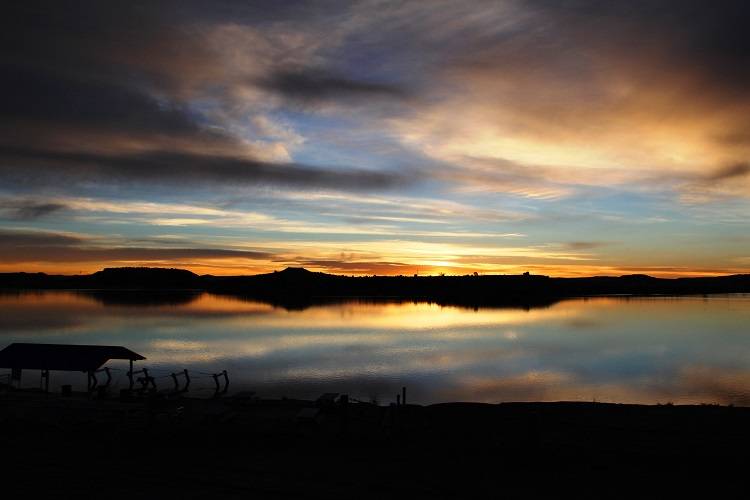 Fishing
Lake Farmington is a popular fishing spot, year-round. Species in the 250-acre lake include rainbow trout, largemouth bass, catfish and even pike. The lake is open to the public from 6:00am to 10:00pm. For New Mexico fishing regulations and license information, visit New Mexico Game and Fish or call (888) 248-6866. A New Mexico fishing license can be purchased online. Lake Farmington official rules, as set by the City of Farmington. are also available online.
Night Fishing
Night fishing is allowed at Lake Farmington. To fish at the lake after the standard operating hours (6:00am to 10:00pm) the $5 lake access fee must be paid before gates close at 10:00pm. An additional $5.00 per person for a night fishing permit is also required. Please note that camping, campfires and fishing from watercraft are not permitted at night. Review the Lake Farmington Rules for additional information.
Waterplay
Watercraft
Lake Farmington is open to electric and non-motorized boating. The 2018 boating season will be April 14, 2018 to October 28, 2018. Watercraft must be inspected before launched into the lake. The Boat Inspection Station will be open from 7:00am to 7:00pm. Watercraft passes are available at the lake after boat inspection. Boat inspection is free and there is no additional watercraft cost after the daily or seasonal lake fee is paid.
Kayak and Paddle Board Rentals
Visit the Paddle Shack at Lake Farmington for your kayak and paddle board needs! Single, double and triple kayaks - as well as paddle boards- are available for rent. Rental prices include watercraft, life jacket and paddles and are $10 per hour for single kayaks and paddle boards. $15 per hour for double kayaks and $20 per hour for triple kayaks. Call (505) 320-7274 for details and to schedule your rental.
The Beach
A section of Lake Farmington, The Beach, is open for swimming. The Beach is a fun and safe area for swimming! Life guards are on duty, there are also lap lanes, water slides, a water trampoline and several fun water play features. The Beach is open seven days a week from Memorial Day to Labor Day. Hours are 12:00 to 6:00 p.m.
Access Fees
Lake access fees will go into effect April 15, 2017. The daily or seasonal fee will be collected at the main entrance from 7:00 a.m. to7:00 p.m. Access after hours must be paid via the self-pay station. Visit the City of Farmington's website for additional information. Passes are available at :ake Farmington Main Entrance, the Farmington Aquatic Center and the Farmington Museum.
Standard Vehicle: $5.00 for day of purchase
Commercial Vehicle: $20.00 for day of purchase
Night Fishing: $5.00 per person, per night includes permit
Standard Vehicle Season Pass: $50 per vehicle
Directions
Lake Farmington, shown as Farmington Lake or Beeline Reservoir on some maps, is located east of Farmington on Main Street/NM 516. The turn off for Lake Farmington is accessed from NM 516/Main Street, across the street from the Farmington Flea Market. PLEASE NOTE: Google Maps and MapQuest directions list a route via Flora Vista, Road 3535 and Road 3544. We do not recommend this route. If you need assistance with directions contact the Farmington Convention & Visitors Bureau (505) 326-7602 or 800-448-1240.