Lake Farmington offers outdoor lovers a variety of adventures within the city limits! The lake is open year-round for fishing and camping, and seasonally for boating and swimming. When visiting Lake Farmington make time to explore the mountain biking, hiking, and horseback riding trails. Bird watching is also a popular activity at Lake Farmington. A variety of hummingbirds, eagles, hawks, and heron frequent this city oasis.
8120 E. Main St, Farmington, NM
505- 599-1197 or 599-1400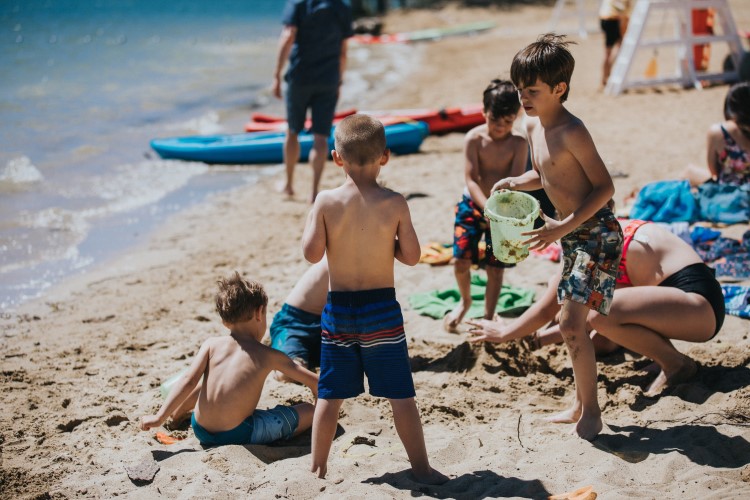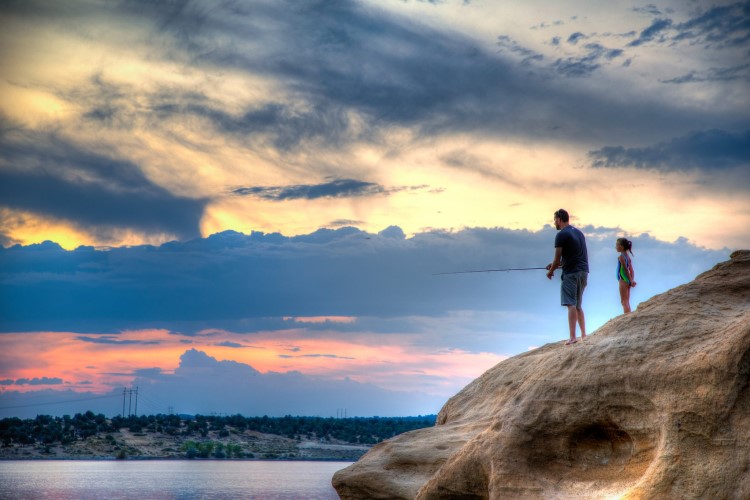 Fishing at Lake Farmington
Lake Farmington is a popular fishing spot, year-round. Species in the 250-acre lake include rainbow trout, largemouth bass, catfish, and even pike. The lake is open to the public from 6:00 am to 10:00 pm. For New Mexico fishing regulations and license information, visit New Mexico Game and Fish or call (888) 248-6866. A New Mexico fishing license can be purchased online. Lake Farmington's official rules, as set by the City of Farmington are also available online.
Night Fishing
Night fishing is allowed at Lake Farmington. To fish at the lake after the standard operating hours the lake access fee must be paid before gates close at 10:00 pm. Call 505- 599-1197 for additional information.
Boating and Swimming at Lake Farmington
Boats, Kayaks, and Paddle Boards
Lake Farmington is open to electric and non-motorized boating. The boating season is April-September. Watercraft must be inspected before launching into the lake. The Boat Inspection Station will be open from 7:00 am to 7:00 pm. Watercraft passes are available at the lake after boat inspection. Boat inspection is free and there is no additional watercraft cost after the daily or seasonal lake fee is paid. Contact the Farmington Aquatic Center (505-599-1167) or Parks, Recreation & Cultural Affairs (505-599-1197) for clarification on services.
Kayaking and Paddle Boarding are popular summer activities at Lake Farmington. The San Juan College Equipment Rental Center offers affordable equipment rentals, call (505) 566-3221 for hours and details.
Camping at Lake Farmington
Lake Farmington features a 21-site dry campground (5 large RV sized sites). Facilities are open year-round and include vault toilets, fire rings, grills, and picnic tables. Utilities and potable water not available. Campsites are available on a first-come, first-serve basis. There is a limit of 6 people per site. Pets are permitted and must be leashed. Visit Fmtn.org for additional information or call (505)258-7146 to reserve a campsite. Off-season reservations can be made by phoning Park Reservations at (505)599-1400. Reservations cannot be made less than 48-hours in advance.
Lake Farmington Camping Fees
$5 per night fee, plus $1 per person daily access fee. The daily access fee is waived with a valid season pass.
$1 fee per additional vehicle
Lake Farmington Access Fees
A daily fee is collected at the main entrance of Lake Farmington, from 7:00 am to 7:00 pm. Access after hours must be paid via the self-pay station. Visit the City of Farmington's website for additional information. Season passes are available at Lake Farmington Main Entrance, the Farmington Aquatic Center, and the Farmington Museum & Visitor Center.
$1 per person, good on the day of purchase
$50 annual pass (per vehicle)
$5 per night camping fee
Directions to Lake Farmington
Lake Farmington, shown as Farmington Lake or Beeline Reservoir on some maps, is located east of Farmington on Main Street/NM 516. The turn-off for Lake Farmington is accessed from NM 516/Main Street, across the street from the Farmington Flea Market. PLEASE NOTE: Google Maps and MapQuest directions list a route via Flora Vista, Road 3535, and Road 3544. We do not recommend this route. If you need assistance with directions, contact Visit Farmington at (505) 326-7602 or 800-448-1240.