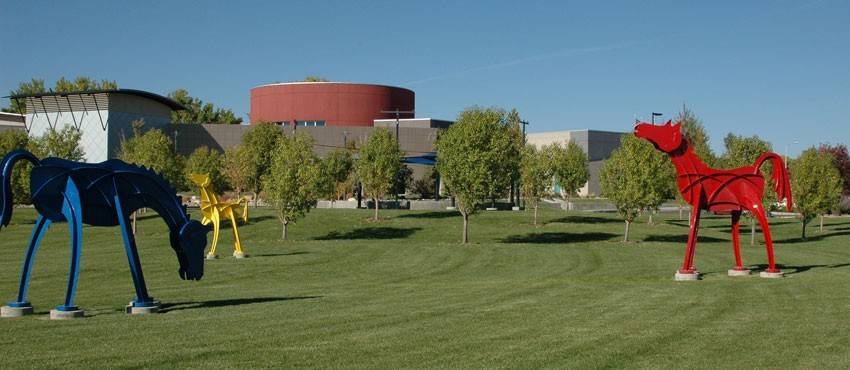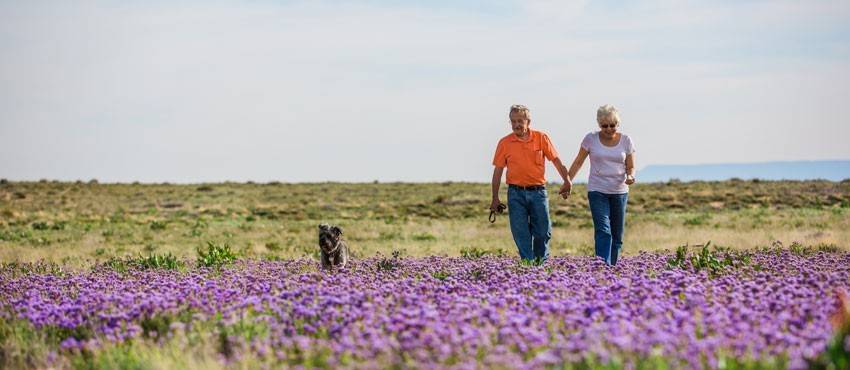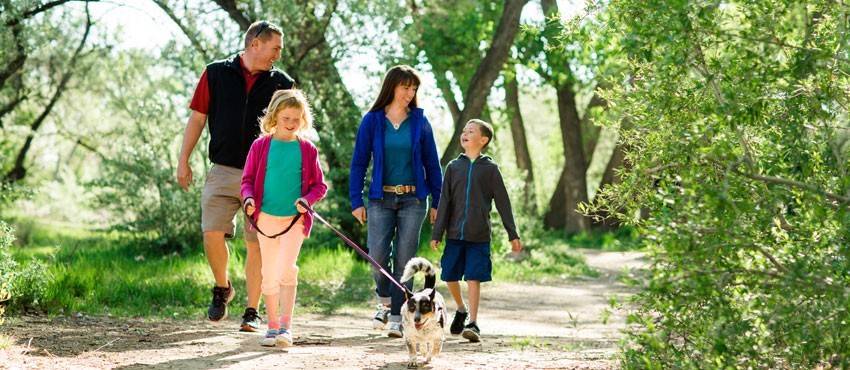 Come for the adventure, stay for life!
There are many reasons to consider relocating or retiring to Farmington. A community of our size, roughly 45,000 people, is the best of both worlds. Small enough to have a warm, inviting small-town feel but large enough to have the amenities and comforts of a city much larger. Farmington is the retail hub for a large radius around us and into neighboring states. Because of this, it provides a great variety of shopping resources. Let Farmington energize your life journey!
Top 10 Reasons to Relocate or Retire in Farmington
Excellent Climate—With four distinct seasons, and mild winters, Farmington's weather is one of the top reasons residents have for living here. Outdoor adventures can be enjoyed year-round.
Location—Nestled in the northwest corner of New Mexico, an area commonly referred to as the Four Corners, residents and visitors alike can find themselves in the mountains of Colorado or landscapes of Utah or Arizona quickly for wonderful day trips. New Mexico's largest city, Albuquerque, is an easy three-hour drive away.
Medical Facilities—Farmington is home to San Juan Regional Medical Center, a 198-bed, level III trauma center with 72 private patient rooms. The hospital also provides a rehabilitation hospital, San Juan Health Partners specialty clinics, a heart center, outpatient rehab care, outpatient diagnostic services, a wound treatment center, AirCare emergency service, a cancer center, and a brain and spine center.
Art Abounds—Art can be found in many aspects of Farmington, making it the perfect area for cultural adventures of all types. The San Juan Symphony offers several concerts a year. Farmington is also home to several local theater and choral groups: Theater Ensemble Arts, Sandstone Productions, and Bottom of the Barrel Productions, Caliente Choir. Musicals, plays, and concerts are often available at the Farmington Civic Center, Lions Wilderness Amphitheater, Totah Theater, San Juan College Performance Hall, and other fantastic facilities. Art galleries, with high-quality art shows, are accessible and trading posts offer an amazing opportunity to purchase exquisite Native American art and jewelry.
The Beauty of the High Desert—Farmington sits at just under 5,400 feet elevation which means it sits amongst beautiful bluffs and mesa. With three rivers and almost 2/3 of the state's surface water flowing through it, the area is known for its outdoor adventures. Whether your journey is watching incredible sunsets on your deck or hiking among the unique land formations of the Bisti Badlands, your life will be enriched by this high desert climate.
Getting Involved—Opportunities to serve others, meet new people, and engage with the community are vast in Farmington! The City of Farmington's Mayor's Volunteer Program is just one way but there are many organizations throughout this fine city that are looking for service-minded individuals. From preservation work with the River Reach Foundation to civic work with Kiwanis, there's a club or organization for all interests. Some of the area's largest events, such as the Connie Mack World Series, are only possible because of the generous volunteers in the community!
Community Centers for All – The City of Farmington manages quality community centers throughout the town that are designed specifically for youth, families, and seniors. The City of Farmington Parks Recreation and Cultural Affairs Department and San Juan College, both offer year-round programming that will enrich your life!
Farmington Knows City Parks—With over 50 beautifully maintained city parks, Farmington ensures that all residents can enjoy the outdoors. Lush, well-manicured lawns, fun playground equipment, dog parks, and enjoyable trails can be found all throughout the city.
State of the Art Library—It's not a secret, we love to brag about our library! One visit is all it takes to see why. The Farmington Public Library offers programs for adults and teens, with a wide selection of youth services, books, and digital books, research databases, computer classes and so much more. Plus, it is one of the most beautiful facilities in town!
Educational Opportunities for the Young and Young at Heart— The instructional infrastructure of Farmington Municipal Schools is an exemplary educational model. The district encompasses 19 schools with 11,000 students! San Juan College is a two-year comprehensive community college offering two-year degree and certificate programs, non-credit community service classes, business and industry training, cultural activities, and ongoing educational workshops. Through partnerships with state universities, bachelor's and master's degrees are also offered. The college also offers classes designed for students 50 years and older through its Encore program.
To find out more about relocating to Farmington, please visit the Farmington Chamber of Commerce: www.GoFarmington.com.
And if you are looking for the perfect place to retire, visit retirenorthwestnewmexico.com.
Farmington Businesses to Get Your #LiveFarmington and #WorkFarmington Started
Realtors
Century 21 SoWesCo Realty
4801 North Butler Bldg 4000 Farmington, NM
505-325-2100
Coldwell Banker Cornerstone Realty
802 East 20th St Farmington, NM
505-325-7788
Banking Services
Citizens Bank
500 W Broadway Farmington, NM
505-599-0100
Wells Fargo
4601 E Main St Ste 1 Farmington, NM
505-324-9500
Insurance
Kysary Millennium Leavitt
300 W Arrington, Ste 100 Farmington, NM
505-325-4561
Clubs & Organizations
Rio del Sol Kiwanis Club
PO Box 843 Farmington, NM
River Reach Foundation
505-716-4405
Media
Basin Broadcasting, KWYK, and KNDN Radio
1515 W Main St Farmington, NM
505-325-1996

Farmington Flyer Coupon Magazine
Health and Fitness
Farmington Caregivers
2014 San Juan Blvd. Suite F Farmington, NM
505-325-7777
San Juan Regional Medical Center
657 West Maple Farmington, NM
505-609-2242
Business Recruitment and Expansion
Farmington Outdoor Recreation Industry Initiative - ORII
800 Municipal Dr Farmingon, NM
505-599-1116
Small Business Development Center
5101 College Blvd Farmington, NM
505-566-3528
WESST Enterprise Center
5101 College Blvd Suite 5060 Farmington, NM
505-566-3715
Four Corners Economic Development
5101 College Blvd Farmington, NM
505-566-3702
Farmington Manufacturing Extension Partnership - MEP
5051 College Blvd #5047 Farmington, NM
505-860-9961
Harvest Food Hub
5101 College Blvd Farmington, NM
505-566-3119