The Bisti Badlands offers roughly 60 square miles of remote badlands and some of the most unusual scenery in the world. National Geographic Traveler listed the Bisti/De-Na-Zin Wilderness, also known as the Bisti Badlands, one of their must-visit adventure destinations! This is a bucket list vacation for every venturesome hiker, explorer, and photographer.
Road 7297, off of Highway 371 South of Farmington, NM
(505) 564-7600
Show Map Hide Map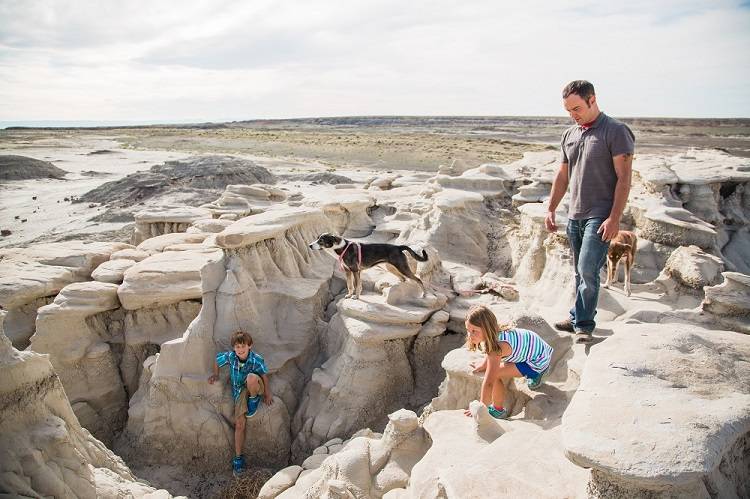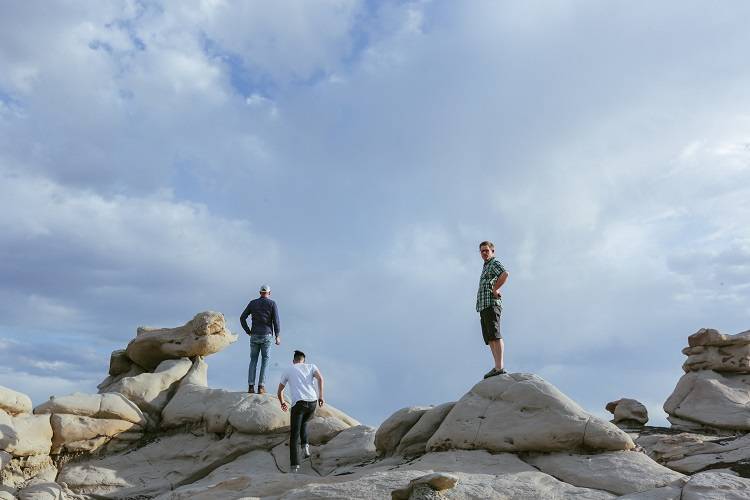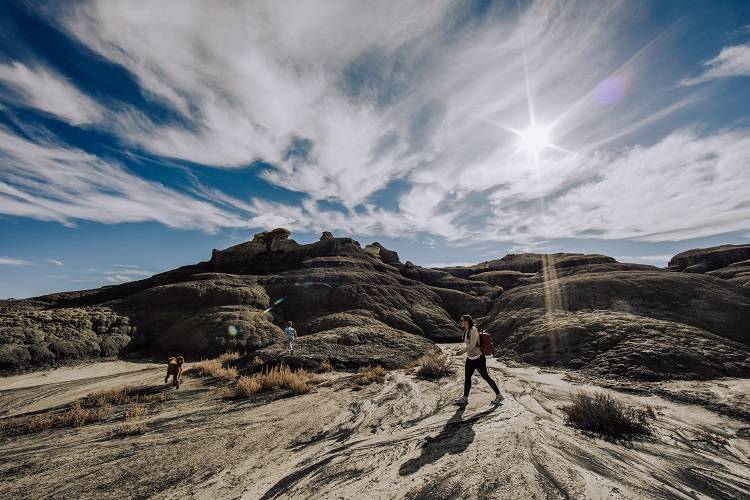 The Bisti/De-Na-Zin Wilderness area covers 45,000 acres of badlands just south of Farmington, New Mexico. This high desert wilderness features a vast landscape containing some of the most unique rock formations on this planet. From the Alien Egg Hatchery or Egg Factory and Hoodoo City to Manta Ray Wing and King of Wings, the unique nature of these formations is truly otherworldly. The Bisti (pronounced bis-tie) was once a coastal swamp of an inland sea; and was home to many large trees, reptiles, dinosaurs, and primitive mammals. What visitors see today is the preserved record of this pre-historic swamp that is now a true desert wilderness.
Photographers, hikers, and explorers from around the world visit the Bisti Badlands to see the hoodoos, desert spires, natural arches, and fossils unique to this area. You can reach some truly astonishing landscapes within 1-4 miles of the main parking lot, off Highway 371. The area is so vast, that it is best experienced with multiple excursions. The Farmington Convention & Visitors Bureau has a series of YouTube videos to help you learn about the area before your visit as well as Bisti maps.
Directions to the Bisti Badlands
The recommended Bisti access point is off New Mexico Highway 371 at Road 7297, about 40 miles south of Farmington, New Mexico. Follow the graveled Road 7297 east for about 2 miles to a T-intersection and turn left. Drive almost one mile to the Bisti Access Parking Area. This parking area is just south of a broad wash on the east side of the road. Please note that Road 7297 does not pass through the wilderness as is marked on some maps. This turnoff is between mile markers 70 and 71. Please note, that when traveling from Farmington on Highway 371, there is directional signage to the main parking lot. A four-wheel drive or a high-clearance vehicle is not needed.
The De-Na-Zin Wilderness access is approximately 43 miles south of Farmington on Highway 371. Turn east on Road 7500. Drive approximately 13 miles to the De-Na-Zin parking area. A trail leads from the parking area approximately 3/4 mile to the De-Na-Zin Wash. Be sure to also visit the Farmington BLM District Office website to check for possible advisories or restrictions.
Maps of Bisti Badlands
The Farmington Museum & Visitor Center has Bisti boundary maps with GPS coordinates for key formations. Pick up maps and learn local tips for visiting the Bisti/De-Na-Zin Wilderness by visiting the office (Hours: 10 a.m. to 5 p.m. Monday - Saturday, closed Sunday). Located at 3041 E. Main Street, in Farmington, this is an easy stop to make before your Bisti adventure. For assistance prior to your visit, call 800-448-1240 or email info@farmingtonnm.org. The Bureau of Land Management Farmington Field Office also hosts a Bisti/De-Na-Zin Wilderness boundary map. For digital maps of the Bisti, the AllTrails app is highly recommended by locals and visitors.
Guided Tours of the Bisti
Looking for a Bisti tour guide? We understand that exploring a wilderness area for the first time can be intimidating for some. The following entities offer guided tours of the Bisti and are recommended.
Wildlife in the Bisti
The Bisti/De-Na-Zin Wilderness supports a small number of nesting golden eagles, ferruginous hawks, and prairie falcons. All of these species are extremely susceptible to human disturbance during the nesting season from February 1 to July 1. If the adult birds are approached too closely, even for a short time, they will likely abandon the nest, leaving their eggs or young to die of exposure. Be aware that disturbing nesting eagles is a violation of the Bald and Golden Eagle Act and could result in civil or criminal penalties.
If you see a perched eagle, hawk, or falcon, please do not approach the bird. If you encounter a stick nest, please leave the area and move at least 500 yards away, as quietly and quickly as possible. Your cooperation is vital in protecting the future of these rare birds in the wilderness.
Also, it is important to note that the Bisti and the De-Na-Zin Wilderness reside alongside tribal land and family homesteads. It is common to encounter horses, cattle, and dogs that have crossed into the wilderness area.
The Bisti Beast
An early relative of Tyrannosaurus rex, the Bisti Beast (Bistahiaversor sealey) was discovered in 1997 by Paul Sealey (New Mexico Museum of Natural History and Science). The fossil was excavated in 1998 from the Bisti/De-Na-Zin Wilderness, by paleontologist Dr. Thomas Williamson, Ph.D. This was one of the first paleontological excavations performed in a federally designated wilderness area.
This 30-foot tyrannosaur roamed the Earth around 74 million years ago and to date has only been found in New Mexico. The Bisti Beast is a member of the same family as its more famous cousin, Tyrannosaurus rex and would have looked like a slightly smaller version of T. rex. The Bisti Beast was an extremely rare find and is of exceptionally high scientific value, as it has allowed scientists to gain a better understanding of the Tyrannosaur family of dinosaurs. It is estimated that 40 to 60 percent of the skeleton was preserved. The Bisti Beast is not the only specimen discovered within the Bisti. Researchers have discovered numerous other fossils including the duck-billed dinosaur Parasaurolophus, a Pentaceratops, a large sauropod named Alamosaurus, as well as numerous turtles, fish, crocodiles, and other species.
Things To Know Before You Go
This is a true wilderness area, there are no marked trails
There are no facilities in the wilderness area, come prepared
Bring lots of water
Good hiking shoes are a must
Cell phone reception is spotty
There is little to no shade, be careful when hiking in high temperatures
Check the weather before visiting. Roads and terrain may become impassible in wet weather
Visit the Farmington BLM District Office website to check for advisories or restrictions
Watch for flash floods in the wash
Bring a GPS unit or compass to help navigate the area (keep an eye on where the wash is, you can use that to find your way back to the parking area by following it to the west.
What to Do in the Bisti
Hike
Explore unique landscapes
Identify fossils and petrified wood
Photography
Wildlife viewing
Camp
Pack out what you pack in
What Not to Do in the Bisti
Do not remove rocks, fossils, or petrified wood
Drone use in the wilderness is prohibited
Motorized vehicles, strollers, and bikes are not permitted in the wilderness
Campfires are not permitted
Permit required from BLM Farmington Field Office for commercial film or photograph
Ah-Shi-Sle-Pah Wilderness Study Area
The Ah-shi-sle-pah Wilderness Study Area is located just south of Farmington, New Mexico, and is a badland area much like the Bisti. The popular Valley of the Dreams formations is within the Ah-Shi-Sle-Pah WSA, while the Alien Throne formation resides near the area but on Navajo Nation land. The area is rich in fossils and has little vegetation to conceal geological formations. Water in this area is scarce and there are no trails. The area is scenic, perfect for hiking and landscape photography with colors rarely seen elsewhere.
The BLM recommends access from US Highway 550. The turn-off is 7.5 miles northwest of Nageezi, NM. You will turn west onto NM 57. Drive south/southwest approximately 13.5 miles, at which point NM 57 forms the boundary of the Wilderness Study Area (WSA). For the next 4 ¾ miles, the WSA will be on your right. The BLM has a boundary map of the Ah-Shi-Sle-Pah Wilderness Study Area.
Videos
Farmington CVB videos also available in HD on YouTube.