Bisti Badlands / De-na-zin Wilderness
Roughly 60 square miles of remote badlands offering some of the most unusual scenery in the world. This is a must for every venturesome hiker, explorer and photographer!
Road 7297, off of Highway 371 South of Farmington, NM
(505) 564-7600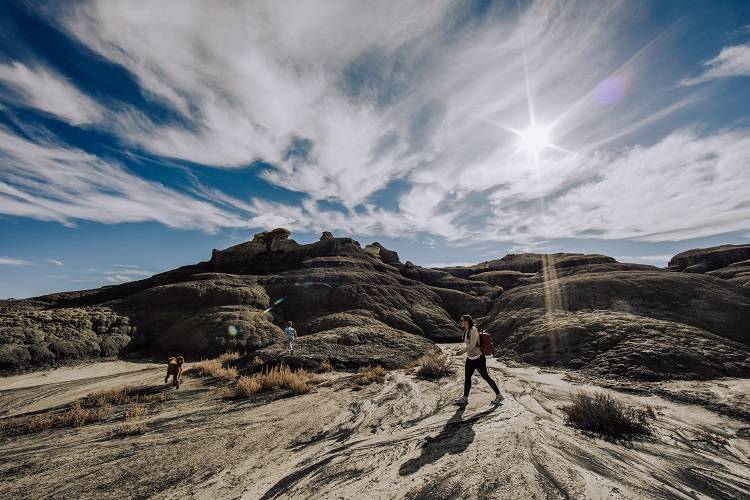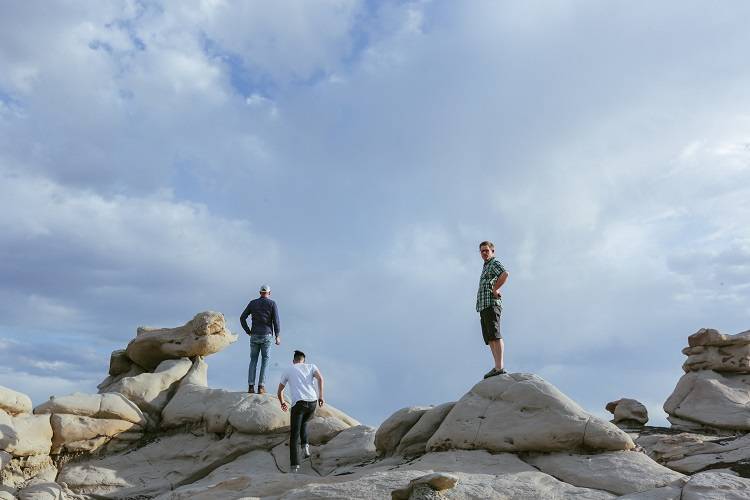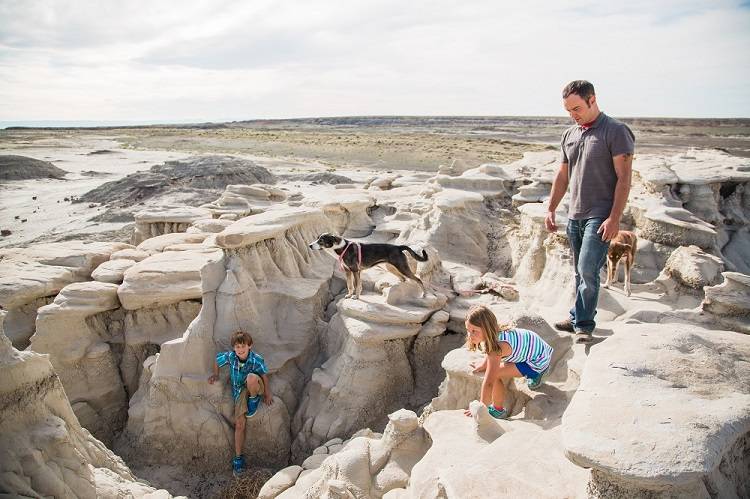 The Bisti/De-Na-Zin Wilderness area covers roughly 60 square miles of remote badlands just south of Farmington, New Mexico. This high desert wilderness features a vast landscape containing some of the most unique rock formation on this planet. The Bisti/De-Na-Zin Wilderness was once a coastal swamp of an inland sea; and was home to many large trees, reptiles, dinosaurs and primitive mammals. What visitors see today is the preserved record of this pre-historic swamp that is now a true desert wilderness.
You can reach some of the most astonishing landscapes with hikes of 2 to 5 miles round trip. It is best to travel in the early morning and late afternoon. There are no marked trails in the Bisti/De-Na-Zin Wilderness and it is easy to get confused or lost. A GPS or compass is helpful and pay close attention to your surroundings. Take plenty of water, protective clothing and footwear appropriate for the season. Remember that cell phone service is spotty.
Best access to the Bisti
The best Bisti access point is off State Highway 371 at Road 7297, about 40 miles south of Farmington, New Mexico. Follow the graveled Road 7297 east for about 2 miles to a T-intersections and turn left. Drive almost one mile to the Bisti Access Parking Area. This parking area is just south of a broad wash on the east side of the road. There is another, smaller parking area 1/4 mile further north. Please note that Road 7297 does not go through the wilderness as marked on most maps and may become impassible in wet weather. Visit the Farmington Museum & Visitor Center for detailed directions and help in planning your Bisti adventure. Located at 3041 East Main Street in Farmington, this visitor center is a valuable resource for anyone visiting the Bisti or De-Na-Zin for the first time.
The De-Na-Zin access is approximately 43 miles south of Farmington on Highway 371. Turn east on Road 7500. Drive approximately 13 miles to the De-Na-Zin parking area. A trail leads from the parking area approximately 3/4 mile to the De-Na-Zin Wash.
Maps
What to do?
Hike
Explore unique landscapes
Identify fossils and petrified wood
Photography
Wildlife viewing
Camp
Pack out what you pack in
What not to do?
Motorized vehicles are not permitted in the wilderness.
Campfires are not permitted.
Do not remove rocks, fossils or petrified wood.
Golden Eagles, Ferruginous Hawks, and Prairie Falcons
The Bits/De-Na-Zen badlands support a small number of nesting golden eagles, ferruginous hawks, and prairie falcons. All of these species are extremely susceptible to human disturbance during the nesting season from February 1 to July 1. If the adult birds are approached too closely, even for a short time, they will likely abandon the nest, leaving their eggs or young to die of exposure. Be aware that disturbing nesting eagles is a violation of the Bald and Golden Eagle Act (16 U.S.C. 668c; 50 CFR 22.3) and could result in civil or criminal penalties.
If you see a perched eagle, hawk or falcon, please do not approach the bird. If you encounter a stick nest, please leave the area and move at least 500 yards away as quietly and quickly as possible. Your cooperation is vital in protecting the future of these rare birds in the wilderness.
Things to know before you go
There are no facilities.
There are no marked trails.
Bring lots of water.
Good hiking shoes are a must.
Cell phone recpetion is spotty.
Cost: Free
Best time to visit is in the late spring/early summer or in the Fall.
Check the weather before visiting. Roads and terrain may become impassible in wet weather. Watch for flash floods in the wash.
It is easy to get lost while exploring. Bring a GPS unit or compass to help navigate the area. Keep an eye on where the wash is. You can always come back to the wash and find your way back to the parking area by following it to the west.
Videos
Farmington CVB videos also available in HD on YouTube.