Whether planning a small meeting, reunion, conference or large event, Visit Farmington is here to assist you! Our online Meeting Planner Guide provides hotel information and meeting space schematics to get you started. The Meeting Planner Guide will assist you with information on meeting site selection, catering options, our free meeting services and much more! Let us ease your workload and your budget. If you have questions or would like to talk with our staff, please call our office at 505-326-7602 or 800-448-1240. We look forward to working with you!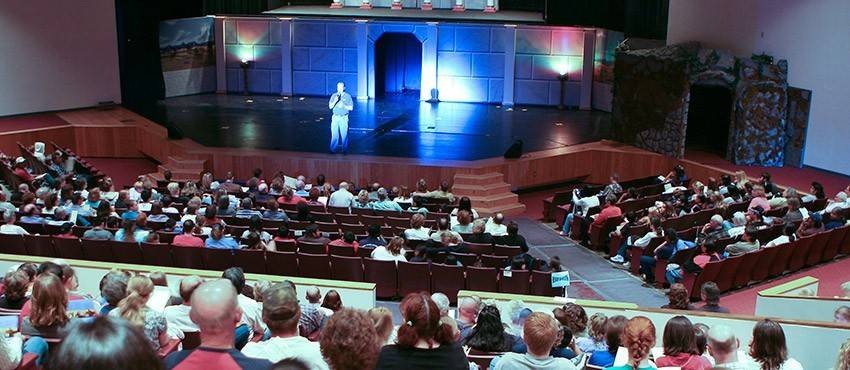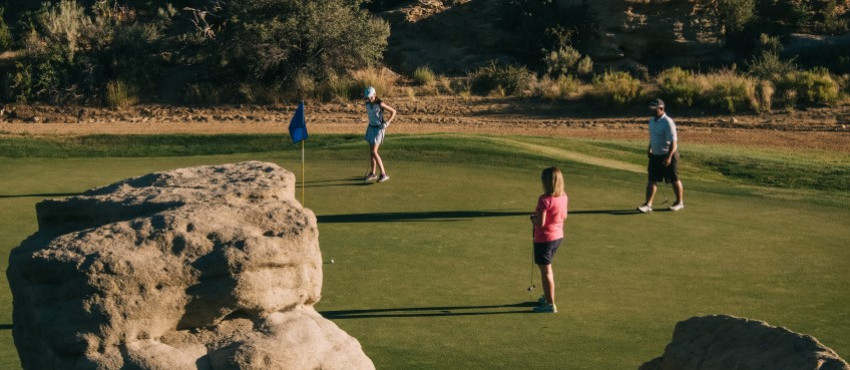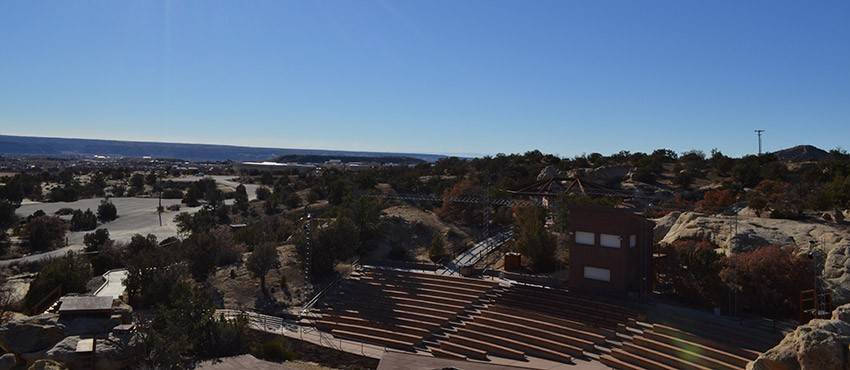 Free Meeting Planner & Event Services
Looking to bring a tournament, meeting or convention to Farmington, New Mexico? Planning a reunion or event? There is much to do for large and small groups in the Four Corners Region and Visit Farmington is here to help meeting and event planners.
Our free services include:
Meeting planning and site selection
Pre-meeting mailing to help generate attendance
Brochures on Farmington, the Four Corners and tourist attractions
Information on local entertainment and restaurants
Maps
Transportation information
Registration services
Custom name badges
Welcome bags
Suggested tours for guests and families
Collection of hotel rates and availability
Farmington Meeting Facilities
Call upon our team to help you schedule a site visit and explore Farmington, New Mexico as part of your planning process. Our knowledgeable staff will make arrangements for tours of properties and venues that fit your requirements. The city of Farmington has a wide array of meeting spaces available to meet your event needs.
* denotes Visit Farmington members
Convention Centers
* Farmington Civic Center
The Farmington Civic Center is a 24,542 square foot multi-utilization facility, which serves as a convention and conference site, as well as a performing and visual arts center, to further promote the cultural enrichment of the citizens of the City of Farmington and the surrounding area. The facility also includes a public meeting and exhibition hall area complete with amenities.
Conveniently located in the center of downtown, the Farmington Civic Center is a few blocks away from US 64 and within a short distance of all major hotels. With the Four Corners Regional Airport just minutes away and with ample parking, the Civic Center can accommodate a wide variety of functions or events.
The Farmington Civic Center hosts a 7,285 square foot banquet hall area, a 1,200 seat performing arts theatre, complete with state-of-the-art sound/lighting equipment, including a 4,096 square foot lobby area, six individual meeting rooms, a full-service catering kitchen and bar, outdoor amphitheater and art galleries to name a few. AV equipment, teleconference capability, internet access, email capability, copy service, and administrative and technical assistance are but a few amenities available.
The highly-trained professional staff offers planning and set-up assistance for any convention, trade show, meeting, wedding reception or theatrical performance. The newly remodeled halls can accommodate a sit-down dinner with music and dancing for up to 450 guests.
The Civic Center has three light boards with more than 250 dimmers, 200 instruments, two spotlights, and with complete gel inventory. Sound includes three soundboards, 30 different microphones, CD players, DAT player, tape player, and effects unit, as well as a hydraulic orchestra pit and Greenroom, four celebrity, and male/female backstage dressing rooms, complete with laundry facilities.
To view the floor plan at the Farmington Civic Center, click here.
To contact Farmington Civic Center call 505-599-1144 or visit their website at www.fmtn.org.
*McGee Park
McGee Park is a multi-use fairground consisting of a Convention Center, a Multi-use Building and several facilities. It is conveniently located in the center of the tri-city area, just minutes away from Farmington, Bloomfield, and Aztec. This offers close access to all major hotels as well as the Four Corners Regional Airport.
The Convention Center is a 49,500-square-foot facility and capable of holding 5,757 people. In addition to the conventions, it is the ideal place for conferences trade shows and many other events.
The Convention Center is also equipped with a complete concession area and two dressing rooms. The concession area is ideal for large banquets or wedding receptions.
In addition to the Convention Center, McGee Park also has a Multi-use Building. This building is capable of holding conferences or banquets of up to 500 people.
The Multi-use Building is equipped with six different meeting rooms and a full kitchen. The kitchen is perfect for catered events or buffet dinners.
The highly trained staff at McGee Park offers to set up and take down assistance for any event. Anything from a banquet of 300 people to a concert of over 5,000 can be handled by this facility.
Click here to view floor plans of the Convention Center, Coliseum, and Multi-use Building.
To contact McGee Park call 505-324-5561 or visit their website at www.sjcounty.net.
Coworking and Event Venues
*Connect Space
Located in Historic Downtown Farmington, 203 W Main St., this beautiful space has exactly what you need, from a private workspace for one to larger group meetings. You'll find modern, clean, high-quality facilities at your fingertips. They offer flexible memberships to meet your needs including 24/7 access to their secure, comfortable workspaces with a lively yet work-oriented environment. To learn more about Connect Space visit connectspace.biz.
Cottonwood Conference Room offers room for up to 12 people
Ponderosa Conference Room room for up to 10 people
Spruce Conference Room offers a workspace for 4 people
Pine Conference Room offers space for 6 people
Willow Room offers 1,000 sq ft of space for up to 50 people
*M&M Event Center
M&M Event Center is a new, comfortable, and large event space that is conveniently located on the east side of Farmington, New Mexico. From corporate meetings and luncheons to social events, this beautifully updated, nearly 2000-square-foot facility can definitely host your event! They are able to provide a variety of seating options and linens to go with it. They can provide seating for up to 90 people at this time. At M&M Event Center you are allowed to bring food from your kitchen or book your favorite caterer to feed all your guests. Rental rates start at $50 per hour.
To learn more about M&M Event Center visit them online or call 505-990-6253
Hotels with Meeting Facilities
Courtyard by Marriott Hotel
The Courtyard by Marriott stays current and fresh by having just completed a guest room and lobby renovation. Their 125 spacious guest rooms feature a large desk with an ergonomic desk chair, 32' flat-screen televisions, in-room coffee makers with Settle's Best coffee, hairdryers, irons & ironing boards, and free wireless WiFi. Regular rooms offer a choice of a king bed or double queen beds. The Courtyard also offers 4 deluxe fireplace king suites and 3 king spa rooms.
Conference Center
The Courtyard features the largest and most modern hotel banquet facilities in Farmington. Over 5,000 square feet can be configured to suit your meeting needs. They also offer a large array of audio/visual equipment that may be needed to enhance your meeting. Professional banquet staff is trained to assist with conventions, weddings, and parties.
To view the layout of the meeting rooms and facilities at the Courtyard by Marriot, click here.
To contact Courtyard by Marriott call 505-325-5111 or visit their website at www.courtyard.com/fmncy.
*TownePlace Suites by Marriott
Whether you're hosting a special event or a corporate meeting, TownePlace Suites can help make it a success. TownePlace Suites offers three meeting rooms for a total of 2,709 square feet of meeting space. The TownePlace Suites can accommodate all of your audio/visual requirements on site. For more information about the meeting facilities, click here.
Guests at TownePlace Suites Farmington can maintain their work/life balance in spacious suites, which consist of a fully equipped kitchen complete with a full-size refrigerator, microwave, two-burner cooktop stove, coffee machine, dishwasher, toaster, dishes, and utensils. This residential-style, all-suite hotel is situated on the east side of Farmington and is conveniently located near business offices, shopping, and restaurants.
To contact the TownePlace Suites by Marriott call 505-327-2442 or visit their website at www.marriott.com/fmnts.
Unique Venues
*Locke Street Eats
Unique outdoor food truck park that offers space rental for events and meetings. Locke Street Eats is a fun food truck park with a pavilion, playground, restrooms, and live entertainment. Stop by to see the food trucks set up for the day! Located in the heart of Farmington's Downtown near the Civic Center this fun spot is available for events, meetings, gatherings, or just a bite to eat. Call 505-360-5032 to check availability.
*San Juan College
A state of the art Fine Arts Center has greatly expanded both performance and community facilities at San Juan College. San Juan College offers its meeting rooms and theaters for community use when not needed for instructional purposes. The James C. Henderson Fine Arts Center is an 83,000-square-foot complex that includes a performance hall, community meeting rooms, studios, and laboratories for art, theater, and musical education programs. The performance hall features continental seating for 800 on the mezzanine and balcony levels, an orchestra lift, an orchestra shell, and a fly loft for a quick change of scenery. This center also houses an art gallery and a large community meeting room equipped with the latest in audio and video capabilities. This room can accommodate groups of up to 750 people or can be subdivided into four smaller rooms for groups of up to 120 each.
The college also features a small, 350-seat theatre and several smaller community meeting rooms in its main building. Most college facilities are available to the public. Foodservice and professional catering are available during the times when school is in session (fall, spring and summer semesters). Planning assistance for the theaters and for meeting groups is available by calling the San Juan College Scheduling Services at 505-566-3296 during regular business hours.
Review the map of San Juan College and the layout of Henderson Fine Arts Center. For more information visit www.sanjuancollege.edu.
*San Juan Country Club
San Juan Country Club (SJCC) is a private country club located on the east side of Farmington. It features an 18 hole golf course, golf shop, PGA professional staff, and three restaurants including Bogeys, a fine dining restaurant open Wednesday – Saturday evenings. Their executive chef has over seventeen years of experience working in fine dining. Reciprocity offered.
Banquet facilities are available with the following amenities; WiFi, satellite radio, Audio-Visual equipment including TV, DVD player, microphone, LCD projector, screen, flip charts, podium, and more. For more information please contact Sarah Liese at 505-327-4451 or visit their website at www.sanjuancountryclub.org
Click here for maps of the rooms offered at San Juan Country Club.
*SunRay Park and Casino
SunRay Park and Casino is conveniently located on US Highway 64 near the San Juan County Fairgrounds and is just ten minutes away from Farmington, New Mexico. SunRay Park and Casino offers three different meeting and event rooms and is equipped to handle your meeting needs with onsite catering and up-to-date audio/visual equipment. SunRay has live entertainment onsite to make your meeting or convention a memorable experience. This facility features the Stingray Room, X-Rays Room, and the High Desert Club.
Stingray Room
This room features 7 projection screens from 10' to 14' wide that can accommodate laptop and DVD presentations, a surround sound system & overhear speakers, a wireless microphone & selectable music, seating for up to 180 people, and a full-service bar.
X-Rays Room
This room features 4 projection screens from 10' to 14' wide surround sound system & overhead speakers, a wireless microphone, and a full-service bar.
High Desert Club
This room features an overhead speaker system & HD projector for meetings, wireless microphones, large screen TV, and a full-service bar.
To view the different floor plans offered at SunRay Park and Casino, click here. To contact SunRay Park and Casino call 505-566-1200 or visit their website at www.sunraygaming.com.
*Farmington Museum and Visitor Center
Farmington Museum and Visitor Center is an ideal spot to host smaller meetings, training seminars, and conferences. Centrally located on East Main Street in Farmington, this facility houses the Farmington Museum, a visitor center, and the Farmington Convention & Visitors Bureau. Visitors can enjoy exhibits and lectures on the history of Farmington and the Four Corners Region.
Farmington Museum and Visitor Center hours are Monday-Saturday, 8:00 a.m. to 5:00 p.m. Meetings after hours by special arrangements only, additional charges may apply. All meetings are subject to availability according to the museum schedule.
Confluence Room
One room measuring 40' x 34', holds 45 people in a classroom setup, 65 people in a lecture setup. Confluence room has a folding wall that turns one room into two smaller rooms.
La Plata Room
One room measuring 20' x 34', holds 25 people in boardroom setup, 20 people in classroom setup, and 30 people in lecture-style setup.
Animas Room
One room 20' x 34', holds 25 people in boardroom setup, 20 people in classroom setup and 30 people in lecture-style setup.
Facility Amenities
20 6' rectangle tables, 10 8' round tables, 75 chairs, 2 sinks, one in each room, projections screens
To view the different floor plans at the Farmington Museum, click here.
To contact Farmington Museum call 505-599-1174 or visit their website at www.farmingtonmuseum.org.
Catering
Make your meeting or event stand out from the ordinary with culinary delights from expert caterers. Farmington, New Mexico has some of the finest caterers in the Four Corners region. Whether you are looking for regional New Mexican cuisine or boxed lunch, catering services in Farmington are sure to satisfy your appetite.
*denotes recommended FCVB members
*Chick-fil-A
505-325-7000
*Clancy's Irish Pub & Sushi Bar
505-325-8176
*Fiesta Mexicana
505-326-0088
*Fuddruckers
505-326-2089
*Los Hermanitos
505-326-5664
*Porter's Restaurant
505-327-5979
*Spare Rib BBQ Company
505-325-4800
*Sportz Arena at SunRay Park & Casino
505-566-1286
*Si Senor
505-324-9050
*Three Rivers Eatery & Brewhouse
505-324-2187
*Three Rivers Pizzeria
505-325-0308
Arches Chinese Cuisine
505-327-1351
Buffalo Wild Wings
505-326-5515
Chef Bernie's
505-325-1361
Costa Vida Fresh Mexican Grill
505-324-0248
Farmer's Market (2 locations)
505-327-4400 or 505-334-0333
Fat Boy's Deli
505-801-8113
International House of Pancakes
505-564-3400
K.B. Dillon's
505-325-0222
Panda Express (Asian)
505-325-8899
Pizza 9
505-325-6463