SunRay Park & Casino features a wide array of the best in today's gaming! Newly remodeled, stop in to see the new decor and enjoy playing in this cozy environment. This location is popular for the live horse racing season and year-round simulcast. Join SunRay Park & Casino online for updates.
39 Road 5568, Farmington, NM
505-566-1200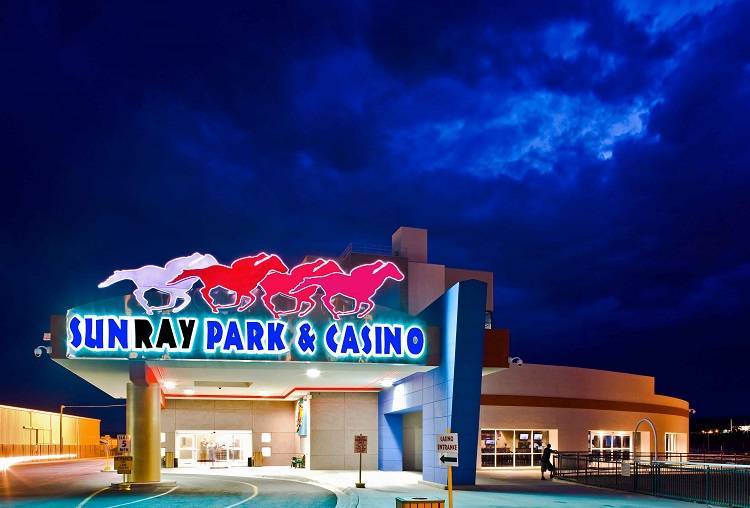 With 400 plus slot machines, 30 Poker games, 5 Blackjack games, and innovative casino promotions. Stop by our players center to join our SunRay rewards club and begin taking advantage of incredible benefits now. Membership is free and open to anyone 21 and over. Enjoy our free shuttle service from most hotels in the Farmington and Bloomfield area, just call (505) 566-1200. Located on Road 5568 & Hwy 64, between Farmington & Bloomfield near McGee Park and the San Juan County Fairgrounds.
SunRay Park & Casino Hours
Monday: 10 a.m. - 1 a.m.
Tuesday: 10 a.m. - 2 a.m.
Wednesday: 10 a.m. - 2 a.m.
Thursday: 10 a.m. - 2 a.m.
Friday: 10 a.m. - 3 a.m.
Saturday : 10 a.m. - 3 a.m.
Sunday: 10 a.m. - 1 a.m.
Sportz Arena
This restaurant serves a full menu, featuring All-American fare mixed with local New Mexican dishes. With 45 TV's every seat will have you viewing the best action sports. Whether you're in the mood for a quick bite or looking for a great dining experience our mouth-watering menu will tantalize your taste buds. In addition, our live music on Friday and Saturday will have you outta your seat and on our dance floor!
Hours of operation
Daily - 10 a.m. - 2 p.m and 4 p.m. - 8 p.m.