We invite you to discover Farmington - the cultural, outdoor, and family adventure basecamp of the Four Corners! Join us for a few days and explore our breathtaking landscapes, unique cultures, and family-friendly adventures. With an amazing mix of outdoor recreation opportunities, a thriving art scene, fascinating history, and authentic cultural experiences Farmington, New Mexico offers plenty to see and do. Simply choose your journey and you will quickly discover Farmington is a community where outdoor lovers and active families thrive.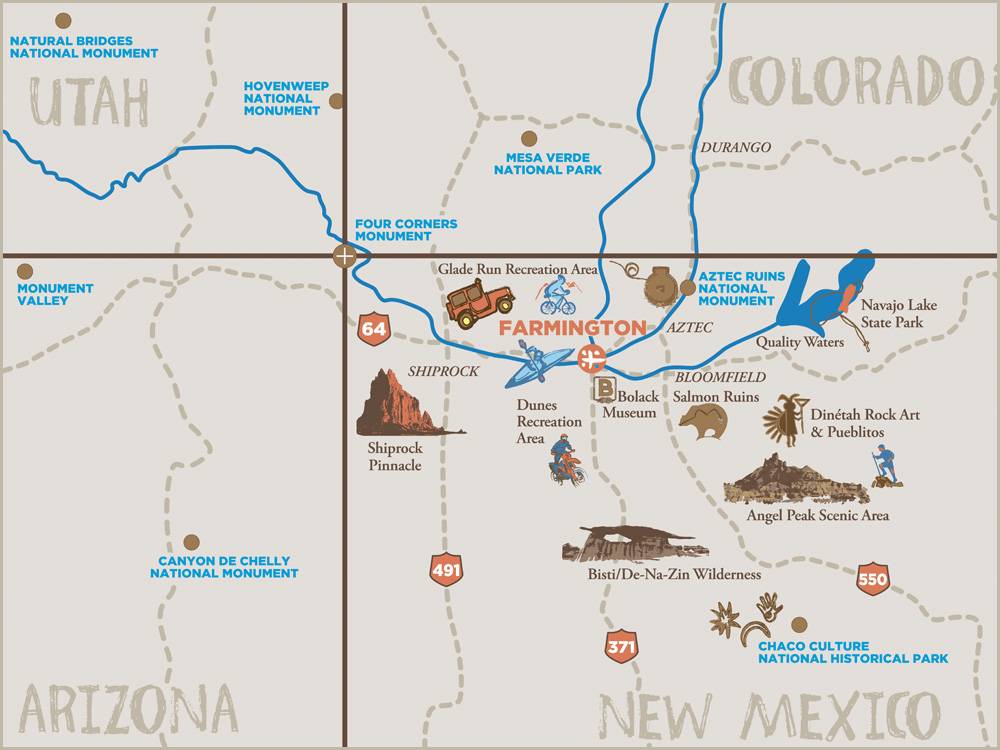 Farmington is quickly becoming known as the most affordable family-friendly destination in the Four Corners region. Farmington offers quality hotels, unique B&B's, RV parks, over one hundred restaurants and many amenities you'll typically only find in a large city. Located at the center of the region, it is the ideal base for exploring National Parks like Aztec Ruins, Chaco Canyon, and Mesa Verde. Rich with history you will experience an authentic adventure as you explore the cultures and art of this community. With live performances, great places to shop, and a variety of recreational activities the choices for entertainment are endless. So, whether you aim to spend some quiet time along one of Farmington's three rivers, test our nationally ranked golf course, explore our off-road trails or walk in the footsteps of the Ancestral Puebloans, Farmington is the perfect place to energize your life journey.
Start planning your trip today! Order or download our free Vacation Guide, explore our Travel Deals and browse our calendar of events. We invite you to also join us on Facebook for a look at what is happening now and of course, you can always call us directly, 800-448-1240 or 505-326-7602, for local tips from our helpful staff.