The Beach Lake Farmington
Lake Farmington is open for boating, swimming, fishing, and camping. The Beach portion of the lake is not open at this time.
Lake Farmington, Main Street/NM 516, Farmington, NM
505-599-1167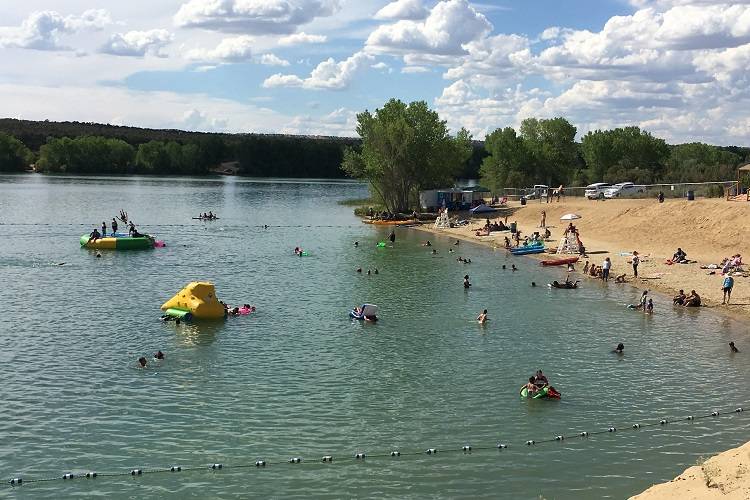 Cool off this summer with a trip to The Beach at Lake Farmington. This family-friendly oasis offers sandy beaches, lap lanes, play areas, water slides, trampoline, kayaks, and paddleboard rentals. The Beach at Lake Farmington is a must for your summer playlist!
The Beach at Lake Farmington has quickly become the top summer watering hole in the Four Corners region. Popular with local and regional families, The Beach offers an inflatable water playground, groomed sandy beaches, and is patrolled by lifeguards. Designated swimming lanes are also available for laps. Kayaks, paddleboards, water vests, and fishing kayaks are available for rent onsite.
The Beach at Lake Farmington Hours and Fees
The Beach is closed until further notice.
The Beach hours are 12:00 to 6:00 pm, seven days a week through mid-August and only on Saturdays and Sundays through Labor Day weekend. There is no entrance fee for The Beach, once the daily or seasonal lake access fee is paid.
Access Fees
The daily or seasonal fee will be collected at the main entrance from 6:00 am to 10:00 pm. Access after hours must be paid via the self-pay station. You may purchase season passes at the Lake Farmington Main Entrance, Farmington Aquatic Center, or the Farmington Museum & Visitor Center. For additional information on the lake access fee, visit the City of Farmington website.
$1 per person, good for the day of purchase only
$50 annual pass per vehicle
Fishing and Boating at Lake Farmington
Beyond The Beach, Lake Farmington is a popular fishing and boating spot, year-round. Species in the 250-acre lake include rainbow trout, largemouth bass, catfish, and even pike. The lake is open to the public from 6:00 am to 10:00 pm. Night fishing is also allowed at Lake Farmington.
Camping at Lake Farmington
Lake Farmington also features a 21-site dry campground. Facilities are open year-round and include vault toilets, fire rings, grills, and picnic tables. Campsites are available on a first-come, first-serve basis. Visit Fmtn.org for additional information, or call Farmington Parks, Recreation & Cultural Affairs at (505) 599-1197.
Camping Fees
$10 per night fee, this includes the lake access fee for 1 vehicle
$7 per night fee, with valid Lake Farmington Standard Vehicle Season Pass
$5 fee per additional vehicle
Directions to Lake Farmington
Lake Farmington, shown as Farmington Lake or Beeline Reservoir on some maps, is located east of Farmington on Main Street/NM 516, offering a fishing oasis just minutes from the center of the city. The turn off for Lake Farmington is accessed from NM 516/Main Street, across the street from the Farmington Flea Market. PLEASE NOTE: Google Maps and MapQuest list a route via Flora Vista, Road 3535, and 3544. This is an error, there is no lake access for vehicles using this route. For assistance with directions, call the Farmington Convention & Visitors Bureau 505-326-7602 or 800-448-1240.