Navajo Lake State Park is the ultimate playground for camping, fishing, exploring, and boating with 150 miles of shoreline and 280+ days of sunshine and spectacular scenery.
36 Road 4110 Unit 1, Navajo Dam, NM 87419
505-632-2278
Show Map Hide Map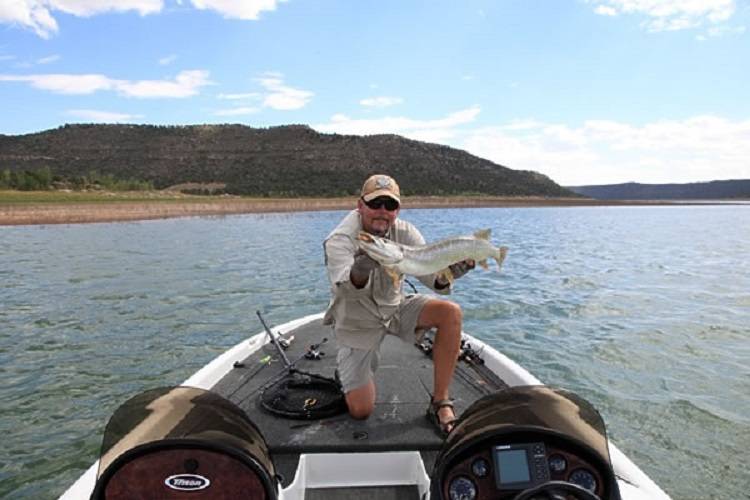 Navajo Lake State Park is the ultimate playground for adventurers. During the day, explore the beautiful network of canyons by boat or fish the famous San Juan River with the best fishing guides in the United States. At night, settle in by the campfire and sleep under the mesmerizing New Mexico star-filled sky or enjoy the home-away-from-home comforts at one of the popular lodges.
Activities within Navajo Lake State Park include camping, boating, sailing, cliff-diving, fishing, hunting, swimming, scuba-diving, water-skiing, wildlife viewing, and hiking. Navajo Lake is the second largest lake in New Mexico and one of the most popular State Parks. Located only 30 miles east of Farmington, Navajo Lake is ideally located for a day of fishing and hiking or for a week of camping and boating. For supplies or a little art and atmosphere visit the communities or attractions outside the park, like Navajo Dam and Wines of the San Juan. With miles of shoreline and over 21,000 acres of land to explore your choices are endless.
Fishing Navajo Lake and San Juan River Quality Waters
Fishing is a popular activity throughout the year at Navajo Lake State Park. Many state records are held by the fish and fishermen of Navajo Lake. Anglers fish by boat and from the shoreline, marinas, and dam. Navajo Lake species include rainbow and brown trout, crappie, Kokanee salmon, northern pike, large and smallmouth bass, bluegill, and catfish. Handicap-accessible ramps are located throughout the park.
World-class trout fishing can also be experienced along the San Juan River. A 4.25-mile section of special catch & release waters located at the base of Navajo Dam, known as Quality Waters, brings anglers from around the world. The average San Juan River Quality Waters trout measures over 17 inches. The water conditions of this section are perfect for fishing in summer, fall, winter, and spring.
Contact the New Mexico Department of Game and Fish, 505-222-4700, for fishing rules, regulations, and license information. For the northern section of Navajo Lake in Colorado, contact the Colorado Division of Wildlife, 800-244-5613, for applicable regulations. Take a look at the Weekly Fishing Report, to determine the best bait and where the fish are biting.
Boating at Navajo Lake
Navajo Lake is a large and fantastic lake for boating and can accommodate any size boat. For an up-close, intimate exploration of Navajo Lake, tour the canyons by kayak or sailboat. Kick back and enjoy the scenery from a pontoon boat or, if you prefer a faster-paced adventure, you can explore the waters by cabin cruiser or speedboat. Water-skiing, jet-skiing, and wakeboarding are also popular. Navajo Lake is home to some of the friendliest boaters; this community of water enthusiasts is inviting and fun. The Navajo Lake Marina and Sims Marina are full-service marinas providing fuel, food, boat, slip, and pontoon rentals. There are also two boat docks and boat ramps for easy launching. An additional marina is located along the northern shoreline in Colorado.
Camping at Navajo Lake
To reserve a campsite at Navajo Lake State Park, or any New Mexico State Park, visit newmexicostateparks.reserveamerica.com. Navajo Lake State Park features 7 campgrounds, consisting of 244 developed campsites and primitive sites along the beach. Primitive campsites offer no special facilities except a cleared area for camping. Sites may include trash cans, chemical toilets, or parking. Developed sites offer additional facilities such as electric and sewage hookups. Camping fees: $8/night primitive site, $10/night developed site, $14 developed site with electric hookup, $18/night developed with electric and sewage.
Lodging
Navajo Dam is a small, friendly community just minutes from the Navajo Lake Dam, where you will find lodges as well as fishing guides and outfitters, bait shops, restaurants, and service stations. The FCVB recommends the following lodge in Navajo Dam for a truly unforgettable experience.
Soaring Eagle Lodge and Guide Service
505-632-3721 or 800-866-2719
Hiking & Mountain Biking
For an up-close-and-personal tour of Navajo Lake State Park, a hiking or mountain biking trip is recommended. The beautiful high desert landscape offers exciting areas to explore. The park is perfect for an easy, family-friendly ride or hike as well as a challenging adventure for more experienced hiking and riding.
Three miles west of Navajo Lake is Simon Canyon Recreation Area, which offers 3,900 acres of breathtaking scenery and a variety of wildlife. Simon Canyon is a beautiful area to hike and nature watching. The mouth of the canyon is off the San Juan River, where a parking lot, picnic table, and restrooms are available. Hikers will discover a Navajo Pueblito overlooking the canyon drainage. Simon Ruin, built in 1754, is the only "boulder type" defensive site north of the San Juan River. Contact the BLM Field Office for additional information, 800-842-3127.
Official Navajo Lake State Park Maps
For directions and information call Navajo Lake State Park, 505-632-2278, or the Farmington Convention & Visitors Bureau, 800-448-1240.
Navajo Lake State Park Map
Navajo Lake State Park Location Map
San Juan River Trails Map