At this time, the El Malpais trails are open. The visitor center and caves however are closed until further notice.
1900 E. Santa Fe Ave. Grants, NM 87020
505-876-2783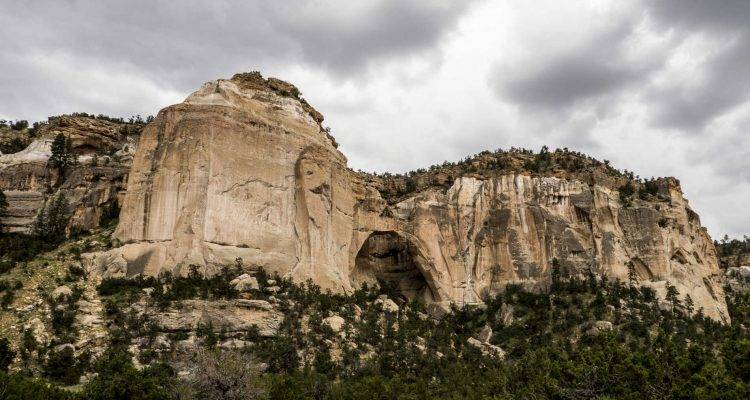 For updates on closures at this National Monument please visit https://www.nps.gov/elma/planyourvisit/conditions.htm.
El Malpais offers everything from scenic overlooks, and short walks to strenuous trails, caving, and rugged backcountry hikes. Take your pick of many great outdoor sights and spectacles that encompass the geology, history, and culture of the region.
El Malpais National Monument and National Conservation Area encompass over 350,000 acres. This area offers experiences that range from scenic drives and self-guided trails to remote wilderness exploration.
For centuries people have lived around and sometimes in the El Malpais area, or lava country. Ancient Indian civilizations crossed the lava flows with trail cairns and related to the landscape with stories and ceremonies. Spanish empire builders detoured around it and gave it the name used today. Homesteaders settled along its edges and tried to make the desert bloom. The stories of all these people are preserved in the trail cairns, petroglyphs, wall remnants, and other fragments that remain in the backcountry.
El Malpais National Monument is well known for the volcanic geology and unique habitats it preserves, such as the pygmy pine forests growing on the vast lava fields of the Grants Lava Flow.
Directions to El Malpais
From Farmington, New Mexico take Highway 550 south to I-25 to catch I-40, or Highway 371 south to I-40 and or Highway 491 south to Gallup and catch I-40. Take exit 85 from I-40 in Grants, New Mexico. After you exit, head south on Santa Fe Ave, and continue straight over the freeway overpass. Take a left at the entrance sign for El Malpais Visitor Center. Continue 300 yards until you reach the parking lot. This center is located south of the interstate and is located at the northern boundary of the monument. It is open from 9 a.m. to 5 p.m. daily and provides an orientation to the area.

To drive into the monument proper, you will need to take Exit 89 or Exit 81 from I-40. Exit 89, east of Grants, puts you onto NM Highway 117, which travels the eastern boundary of the park. There are many sight-seeing areas and hikes here. Also, the Bureau of Land Management's El Malpais Ranger Station is located 9 miles south of this exit and open late May 24 through early September, from 8:30 a.m. to 4:30 p.m. on Thursday, Friday, Saturday, Sunday and Monday.

Exit 81, west of Grants, will take you along NM Highway 53 and travel the western boundary of the park. There are several hiking opportunities here, including the El Calderon Trail, Zuni-Acoma Trail, and Big Tubes Trail.