Located on the campus of San Juan College, this 27 hole disc golf course is a local favorite! The course actually begins behind the San Juan College Health and Human Performance Center. Visitors are encouraged to stop inside for a course map.
4601 College Boulevard Farmington, NM
505-566-3410
outdoor@sanjuancollege.edu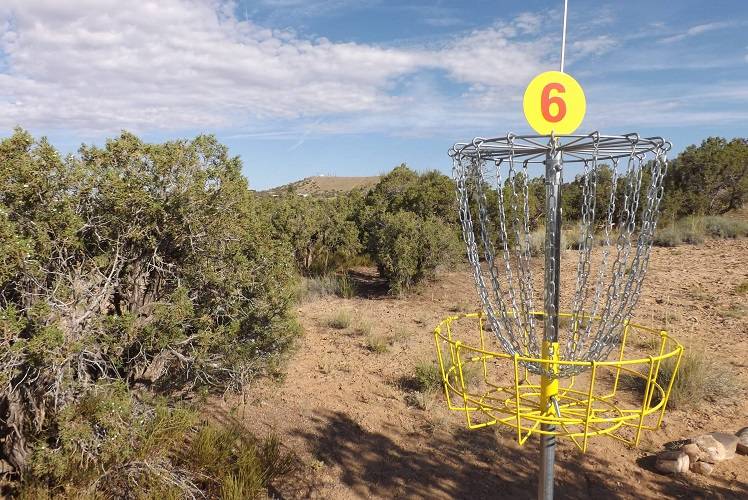 Located behind the San Juan College Health and Human Performance Center, this 27 hole course features distances that range from beginner to pro-level in difficulty. Starting on the south end of the building is the Quick Shot Front 9 Baskets, which is geared towards the beginner player and is a great introduction to disc golf. Holes 10-27 are located on the north side of Sunrise Road and behind the Grounds department building. The Prodigy Loop: 18 Championship Prodigy Baskets, with pure lines and disc maneuverability, is demanding as golfers navigate their way through Juniper and Cedar trees. The difficulty is consistent throughout the Prodigy Loop with the course taking up to an hour and a half to complete.
All tee boxes are turf or on flat sandstone. Walkers and bikers can be found overlooking breathtaking vistas as it shows Farmington from a few signature tee boxes. The Loop has a number of different layouts and pin positions that create versatility for players. Bring water and snacks as the entire course of 27 baskets is over 1 and a half miles of walking into slight elevation, then back down. Come play in our annual Professional Disc Golf Association (PDGA) Sanctioned disc golf tournaments and local leagues. Be aware of other users on the trail system when throwing, and enjoy rounds of calmness. All users please practice Leave No Trace Ethics while on the course and trails. Pets must be kept on a leash and picked up after.
Call 505-566 3487 for information or email outdoor@sanjuancollege.edu.