Glade Run Recreation Area, also known as the Glade, consists of 19,000 acres of open public land along the north and northwest side of Farmington. At an elevation of 5,669 feet, this popular recreation area consists of sandy arroyos, slick rock, rolling foothills, and mountain trails. The Glade offers motorcycle, mountain bike, ATV/UTV, Jeep, and equestrian trails. The area is open year-round, dry overnight camping is permitted.
Pinon Hills Blvd. and Glade Road, Farmington, NM
505-564-7600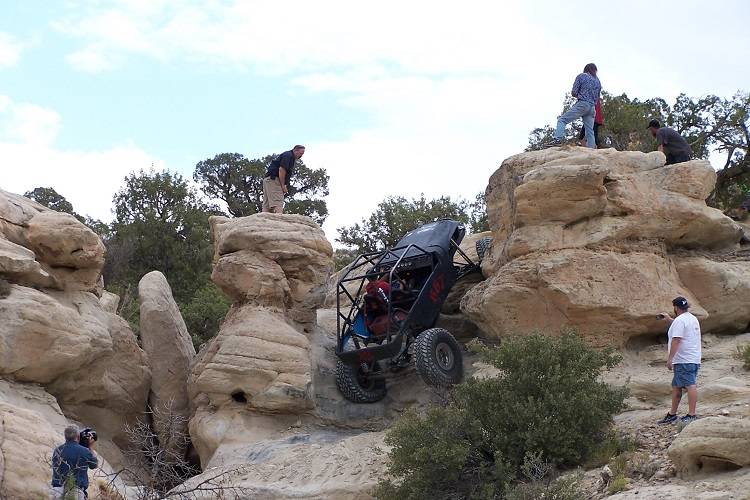 From rock crawling to off-road trails and wash runs, this high desert playground exceeds expectations! The recreation area lies between NM State Highways 170, 574, and 516 with multiple entry points on dirt roads. The easiest access point from Farmington is at the intersection of Pinon Hills Blvd. and Glade Road. You can also access trails from Hood Mesa, at the end of College Blvd. just north of the Farmington BLM field office.
The northern three-quarters of the Glade Run Recreation Area area is zoned for limited use, with 40+ miles of trails for equestrian and mountain bike trails. While on the south end, there are 3,800 acres of open OHV use area. Chokecherry Canyon and Brown Springs are located in this open OHV use area and are well known for the variety and quality of the off-roading experience they offer. Host location of the W.E. Rock Grand Nationals, this area offers rock crawling terrain with boulders, slickrock and mountain foothills, rock piles, and mountain trails. Miles of trails for off-roading of all skill levels, from sandy washes to technical climbs can be found here. The main access to Chokecherry Canyon is off Pinon Hills Blvd. and Glade Road in Farmington. With one visit you will discover why off-road enthusiasts voted Chokecherry Canyon New Mexico's #1 Off-Road Trail! If you are serious about off-roading fun, be sure to visit Farmington for the annual 4 Corners 4x4 Week!
Brown Springs OHV Recreation Area
The New Mexico Department of Game and Fish, Bureau of Land Management, City of Farmington, and San Juan County have worked together to create a one-of-a-kind OHV recreation area in Farmington. This recreation site features not only an area to ride but an area where OHV enthusiasts can also enjoy open camping with facilities, have OHV information available, and participate in OHV safety training, all while enjoying ample space for OHV staging, parking, riding, and more. The area features 10 developed campsites. Camping is permitted year-round with a free permit from the BLM. Call 505-564-7600 for details.
Trail Maps and Information
UTV, Jeep, equestrian, and mountain bike trails throughout Farmington are currently being marked and developed. Do not let the absence of a printed map postpone your visit. As these projects are completed a variety of maps are updated to reflect the trail development. These trails have been shaped and loved by locals for more than 45 years, finding someone to share insider tips is not hard. For OHV and ATV trail information, we recommend visiting these reliable resources:
BLM Farmington Field Office
6251 College Blvd. Suite A
Farmington, NM 87402
(505) 564-7600
(800) 842-3127
BLM Special Rules
Permits are required for commercial, competitive, and organized group events.

A special permit by BLM is required for filming or photography within the recreation area.

Ride only in areas or on trails open for use.

Travel in the Limited OHV Area is restricted to maintained roads, on trails that are designated and signed, or in unvegetated wash bottoms that are wider than the widest part of your vehicle.

All overnight use requires a permit.

Firewood gathering is prohibited.

All shooting is prohibited.