Navajo Lake Marina
Navajo Lake Marina is your one stop shop for all Navajo Lake adventures! Located on the southern end of the reservoir, in the Pine Site of Navajo Lake State Park, this marina offers guide service, boat rentals, a supply store and restaurant.
1448 NM 511 NBU #6 Navajo Dam, NM 87419
505-632-3245 or 800-582-5687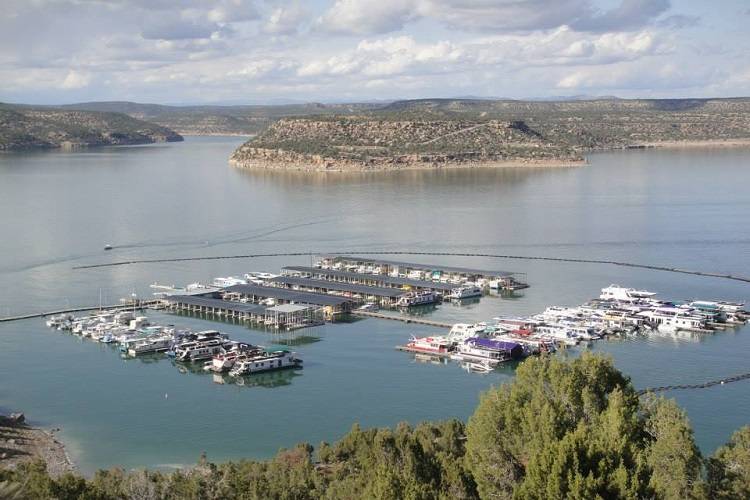 The friendly staff at Navajo Lake Marina can help you plan a truly adventurous day on the lake. This marina is the hub of activity at Navajo Lake, and the perfect place to begin your stay, be that on water or shore. The staff is knowledgeable and equipped to help you discover what you are looking for, from where the fish are biting to arranging a guide or boat rental.
Boat Rentals
No matter your preference, speed or leisure Navajo Lake Marina has a boat for you.
Hourly or daily Sea Doo rental
Hourly kayak rental
Hourly paddleboard rental
Hourly peddle boat rental
Half or full day ski boat rentals
Hourly, half or full day rental bass boat rental
House boat rental
Hourly, half or full day Craig Cat rental
Hourly, half or full day and overnight pontoon boat rental
Guide Service
Kick start your Navajo Lake fishing adventure by hiring a professional guide. Navajo Lake is a year-round fishery for Bass, Northern Pike, Trout, Salmon, Catfish, Perch, Bluegill, Crappie. Hire a guide for a half or full day lake expedition and learn from the best.
Galley Grill and Marina Store
Navajo Lake Marina hosts the Galley Grill and Marina Store to service your needs. The Galley Grill offers the perfect place for an enjoyable meal on the lake, open Thursday - Sunday with extended hours on holiday weekends.
The Marina Store carries just about everything you could possible need while visiting the lake - groceries, fuel, fishing tackle and bait, and even safety equipment. The Marina Store is open during summer months from 8:00 a.m. to 10:00 p.m. Friday and Saturday and 8:00 a.m. to 8:00 p.m. Sunday through Thursday. Off-season hours are 8:00 a.m. to 5:00 p.m. Call the Marina Store at 505-632-3245.