Four Corners Monument
The Four Corners Monument, also known as Four Corners Tribal Park, is the only point within the United States where four states intersect at one point. You can stand in one spot with a hand or foot in each state: Arizona, New Mexico, Utah and Colorado. This special geographical location is noted with a beautiful monument perfect for that one of a kind photo stop. Four Corners Monument is not a National Park or monumnet. The park is a designated a tribal park.
Hwy. 160, 60 miles NW of Farmington, NM
(928) 871-6647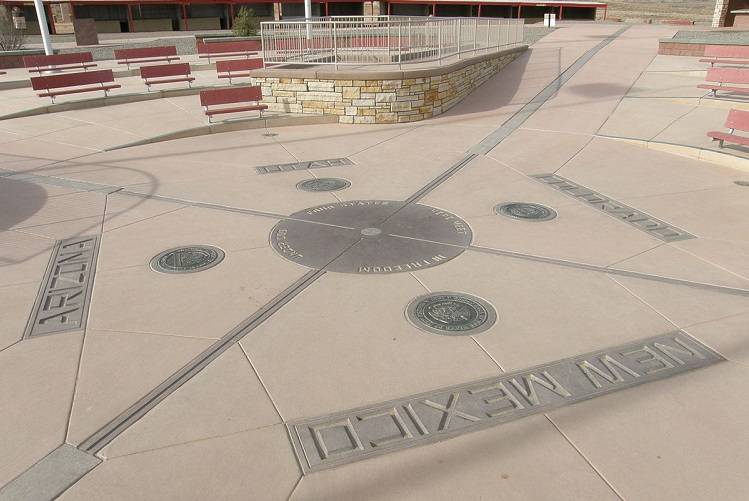 Four Corners Monument, Four Corners Tribal Park, is open year round, and features a demonstration center with Native American artisans. General Admission is $5.00 per person (cash only), ages 6 or younger free. The monument is open to the public 8:00 a.m. to 8:00 p.m. May 1 to September 30 and 8:00 a.m. to 5:00 p.m. October 1 to April 30.
Four Corners Monument Tribal Park Visitor Information
Located 60 miles northwest of Farmington on Hwy. 160
Activities: photography, shopping, sightseeing
Demonstration center with Native American artisans
Navajo, Ute and Ute Mountain Ute vendors' onsite with handmade jewelry, crafts and traditional foods
Park closed ib Thanksgiving Day, Christmas Day and New Year's Day
For additional information about Four Corners Tribal Park contact Navajo Parks and Recreation 928-871-6647 or the Navajo Tourism Department 928-810-8501. When weather is an issue, it is reccomended that you call ahead to ensure roads are clear and the park is open.