Angel Peak Scenic Area offers more than 10,000 acres of rugged terrain and is recognized for its scenic and scientific wonders. The nearly 7,000-foot "Angel Peak" is visible for miles in any direction and is surrounded by the Kutz Canyon badlands.
County Road 7175 off of Hwy. 550, South of Bloomfield, NM
505-564-7600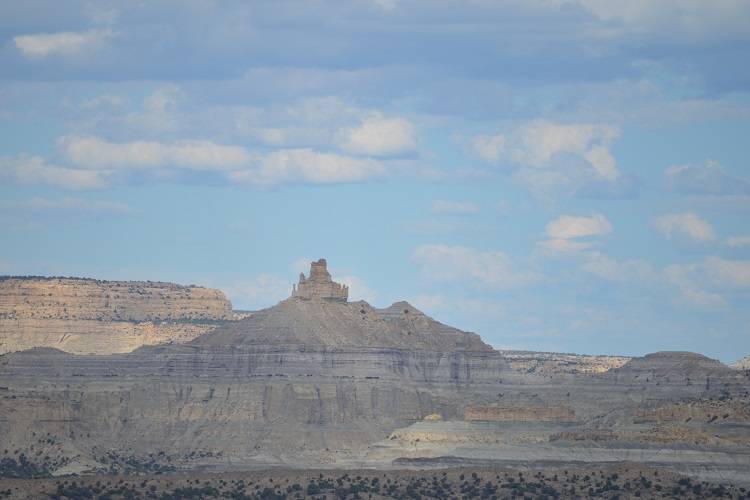 Remnants of mammal fossils, as well as wood petrified over the ages, can be found eroding out of the sandstone, siltstone, and mudstone visible in the canyon today. Collection and study of these important fossils by permitted paleontologists helps document the evolution of many mammal species and contributes to our knowledge of the earth's history.

Three picnic areas and a campground are located along the canyon rim overlooking Angel Peak and the Kutz Canyon badlands. Three picnic areas (Sage, Castle Rock, and Cliffs), containing seven developed sites, are located along the rim road. Each site has a shelter, tables on a concrete underfoot, a gravel pathway, and a fire grate. Trash cans are located in all three picnic areas. Accessible vault toilets are available at both Sage and Cliffs picnic areas.

Angel Peak Campground has nine sites available for tent camping; each with picnic tables on a concrete underfoot, gravel pathways, and fire grates. Picnic shelters are located at three campsites; two with single shelters and one with a double shelter suitable for larger groups. Two accessible vault toilets and trash receptacles are conveniently located in the campground. A short nature trail winds among the plants that have found a niche along the desolate rim and leads to an overlook of the canyon where a bench is provided for relaxing and enjoying the view.
Angel Peak Scenic Area
15 miles south of Bloomfield on Hwy. 550
Hours: Open year-round, Roads and terrain may become impassible in wet weather
Cost: Free
Activities: Hiking, photography, picnicking and camping (electrical hookups and water not available)
Known as the dwelling place of "sacred ones" to the Navajo people
Picnic areas and campgrounds overlook Angel Peak and the Kutz Canyon badlands
Information and maps at the BLM Farmington Field Office, (505) 564-7600
For Angel Peak Scenic Area usage regulations see the BLM Recreation Use Guidelines