Aztec Ruins National Monument provides visitors an intimate opportunity to explore ancient ruins built by the ancient Ancestral Puebloans in the 1100s. Aztec Ruins features ceremonial, public, and storage structures as well as the "Great Kiva" the oldest and largest reconstructed Kiva in North America.
725 Ruins Road, Aztec, NM 87410
505-334-6174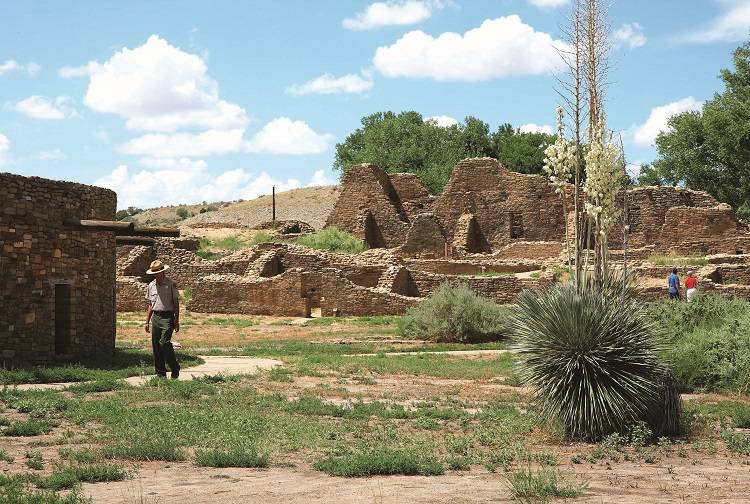 Aztec Ruins National Monument is open 8:00am to 6:00pm every day June - September, with Ranger talks offered daily at 10:30am and 2:30pm. Come tour through the Great House and learn all about why this remarkable place was designated as a World Heritage Site. If you have any questions about visiting, please call the visitor center at (505) 334-6174.
Aztec Ruins National Monument
Take a self-guided tour through the complex and explore the structures of an ancient people. You will walk through the rooms and kivas built by the ancient Ancestral Puebloan people. Aztec Ruins National Monument is widely known for the Great Kiva. The Great Kiva is a 40-foot diameter semi-subterranean structure that was the central religious site of the complex. Today it is the largest reconstructed Kiva in the United States. Total distance of the self-guided trail is approximately half a mile.
Access
Located 14 miles east of Farmington on Main Street, Highway 516, towards Aztec, NM. Turn left onto Ruins Road just before you cross the river (if you cross the river, you've gone too far). Follow Ruins Road directly to the monument entrance.
Things you need to now
Hours: 9 am-5 pm daily, closed for Thanksgiving, Christmas and New Years
Admission: FREE
Visitor Center featuring gift shop and museum
Special Events and lectures offered throughout the year
Ranger guided tours available at scheduled times in the summer months
RV/Camper and Bus parking available
Videos
Farmington CVB videos also available in HD on YouTube.