Be sure to catch these 10 fantastically festive Farmington events this December! As a community of outdoor lovers and active families, Farmington celebrates the holiday season with a variety of events. We invite you to embark on a month of holiday cheer and take part in these annual events and local tradtitions.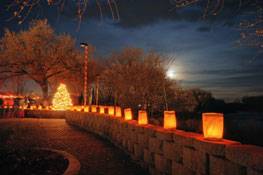 For complete details on these events visit FarmingtonNM.org/events or click on the event title within the list.
Festival of Trees
Wednesday, November 30 to Saturday, December 3 - Explore a winter wonderland amidst an indoor forest of artfully decorated Christmas trees at the annual Festival of Trees. Enjoy special events including Teddy Bear Tea, Storytelling, Family Night and more at the Farmington Civic Center. This event is organized by Presbyterian Medical Services.

Christmas Parade
Thursday, December 1 - Bundle up for Farmington's annual Christmas Parade and enjoy an evening parade of lights through Historic Downtown Farmington. The 2016 parade theme is "Christmas Around the World" and will begin at 5:45pm. This event is organized by the Farmington Chamber of Commerce.

Riverglo
Friday, December 2 - Discover Farmington's holiday spirit along the Animas River! Walk the river walk trails illuminated by hundreds of luminarias and enjoy carolers, a live nativity and Santa under our beautiful NEw Mexico night sky. Riverglo is a free family-friendly event, from 6:00 until 8:00pm. and is organized by the River Reach Foundation.

Bar D Wranglers Christmas Jubilee
Friday, December 2 - The much-beloved cowboy crooners come to the Farmington Civic Center stage for their traditional cowboy Christmas show. This warm-hearted and fun-filled show will inspire the entire family celebrating the true meaning of the holidays. The Bar D Wranglers Christmas Jubilee performance will be from 7:00 to 9:00pm.

American West in Fact and Fiction
Saturday, December 3 – The 2016 Farmington Museum Curator's Choice Lecture Series has been a hit! Don't miss the final lecture of 2016, The Rise and Fall of the Television Western. Lecture held from 3:00 to 4:30pm at the Farmington Museum.

San Juan College Luminarias
Saturday, December 3 - Each year, San Juan College thanks the community for their support with a phenomenal display of luminarias on the campus grounds and buildings from 6:00pm to midnight. Visitors can drive or walk through the San Juan College Luminaria display.

Miracle on Main Street
Sunday, December 4 - Celebrate the magic of Christmas at Farmington's Miracle on Main Street holiday event. Activities include ice skating, caroling, holiday movies, a visit with Santa and much more! There will also be a giant snow globe, perfect for holiday photo ops and don't miss the holiday tree lighting at 5:45pm. Miracle on Main Street is held at the Farmington Civic Center and organized by Parks, Recreation & Cultural Affairs.

AstroFriday
Friday, December 9 - San Juan College Planetarium will entertain and educate audiences on Friday, December 9th with the planetarium show "The Star of Bethlehem", followed by a spectacular stargaze. There will also be a special stargaze on December 3, the evening of the Luminarias. Planetarium show offered at 6:30pm and 7:30pm. Stargaze will be held (weather permitting) at 8:30pm.

Audubon Christmas Bird Count
Saturday, December 17 - Take part in a Farmington holiday tradition and enjoy an afternoon along the Animas River Trails as you assist with the annual Audubon bird census! From 8:00am to 2:00pm, volunteers can assist in this global scientific research project by counting all the birds, common or rare, abundant or scarce, in their wintering grounds in the Farmington area. The Farmington Audubon Christmas Bird Count is organized by the Riverside Nature Center.

Live Navajo Nativity
Friday, December 23 - A local favorite, Navajo Ministries annual Live Navajo Nativity features traditional Navajo clothing and live animals and is presented entirely by children at the Four Corners Home for Children. Visit the live nativity from 6:00 to 8:00pm. This is a free event, donations and canned food is collected onsite.
Jolt Worthy Events
These 10 events were selected as "Jolt Worthy Events" by the Farmington Branding Alliance (FBA). For a complete list of December and upcoming events visit the official community calendar at FarmingtonNM.org/events. The FBA is a group of Farmington residents, business owners and organizations working to grow how we live, work, stay and play Farmington. To learn more, join the FBA at their monthly Action Team Meeting.