21 Sep, 2016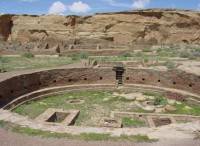 Farmington, NM – September 21, 2016
On October 15th, archaeology buffs around the globe will celebrate International Archaeology Day. With a wide array of cultural heritage sites in the Four Corners Region, Farmington, New Mexico is the perfect destination to spend the weekend and step back through history—literally.
"We're fortunate to have such an incredible amount of culture and history at our fingertips in Farmington," said Larry Baker, Director of Salmon Ruins and Journey Into The Past Tours. "As an archaeologist, I am proud to call this area home, and fortunate to have the opportunity to daily walk through and see the sites created centuries ago by the early settlers of this area. From Navajo occupations with rock art detailing the Navajo religion and culture to trails and roads traveled by generations past, every day in Farmington is an archaeologist's dream, and I encourage all to come out this October and take in the experience."
The area is home to the Bisti Badlands and De Na Zin Wilderness, where visitors can see hoodoos, cap rocks and spectacular rock formations of all shapes, in addition to exploring the sites of many complete dinosaur skeleton excavations. Additionally, visitors can spend a day walking through history as they tour the sites of Dinetah. Home to more than 200 pueblitos built between 1680 and 1775—defense sites of Navajo people—explorers can walk through the rooms and view rock art depicting animals, humans, weapons, supernatural beings and more, all of which provide an insight into the daily lives of the inhabitants, as well as a look at their religion and culture. Viewers wishing to see an abundance of rock art should plan to visit Crow Canyon for iconography-type rock art, giving glimpses of families, work, and religion of the Navajo dwellers.
Walking tours are also available through the Great North Road, a historic trail coming out of Chaco Culture National Historical Park. Starting at the Pueblo Alto Complex, the 45-mile trail brings visitors to several sites that offer a firsthand view into the lives of ancestral Navajo people. One stop in particular—Pierre's Ruin—showcases a fire pit that can hold blazes visible from Pueblo Alto, 17 km away. The tour of the Great North Road gives today's archaeologists an understanding of the functions of the road, the sites it leads to and an up-close look at the dwellings and occupations of past generations.
"There are so many fascinating archaeological sites to see and explore in and around Farmington," added Tonya Stinson, Executive Director of Farmington Convention and Visitors Bureau. "Visitors should plan to spend a weekend in the area, as there is too much to see and do for just one day. There's no better way to celebrate a worldwide day dedicated to archaeology as a whole than immersing oneself into these preserved cultural sites near Farmington."
For more information on Farmington, or for a full overview of the many activities offered, visit FarmingtonNM.org. For more information on International Archaeology Day, visit archaeologyday.org.