22 Apr, 2016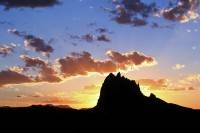 Best Geological Formation 2016 USA Today and 10Best Reader's Choice Travel Awards
Readers of USA Today and 10Best voted New Mexico's Shiprock as America's Best Geological Formation.
Rising up from the landscape of the Four Corners area of New Mexico is Shiprock, a 1700-foot-high volcanic plug that can be seen for miles in any given direction. Known to the Navajo people as "Tsé Bit' A'í," or "Rock with Wings," Shiprock is what remains of a throat of a volcano, exposed after millions of years of erosion. As a formation sacred to the Navajo people, climbing Shiprock is forbidden.
For the 2016 Top 10 list visit 10Best.com. For details on experiencing Shiprock yourself, visit our tips at FarmingtonNM.org.