We have 11 spectacular events to see you through September! From off roading and country music legends, to local history there is a special "Jolt Worthy" event to please just about everyone this month. For specific details about each event, click on the event title.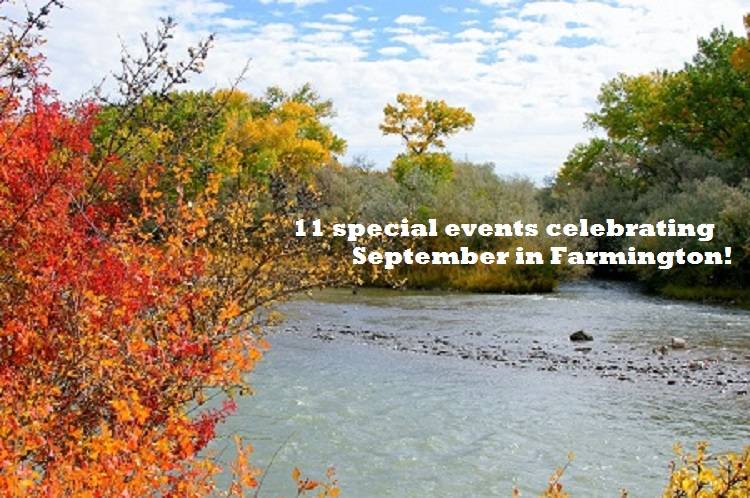 Clint Black: Legendary musician and songwriter Clint Black will perform September 2, 2018 7:00 - 10:00pm at Northern Edge Casino. Tickets $30 - $40 and available in advance.

Farmington Grower's Market: A public market that brings the community together with locally grown food and hand-made crafts. The Saturday market runs from 8:00am - 12:00pm and Tuesday market is open from 4:00 - 6:00pm and held at the Farmington Museum & Visitor Center.

Maker's Market: Explore the Maker's Market for locally made and grown treasures! Hosted every Thursday evening in Orchard Park, in Historic Downtown Farmington from 4:30 - 8:30pm.

Four Corners 4x4 Week: Farmington rolls out the red carpet for the 2018 W.E. Rock Grand Nationals with a week packed with 4x4 fun. Come for the competitions, trail rides, car show and excitement! This multi day event includes activities and events throughout Farmington September 5-9, 2018.

Fall Crawl - Experience the epic off-roading found in the Farmington area, during this special event September 5-6, 2018. Fall Crawl features two days of trail runs exploring scenic landscapes and phenomenal trails and kick starts a week of off-roading adventures.
Off-Road Downtown Takeover - Visit historic downtown Farmington 6:00 – 9:00pm on September 7, 2018 for a 4x4 party! Welcome the W.E. Rock competitors, watch the flex ramp comp, take part in the 4x4 swap and join this celebration of off roading culture!
W.E. Rock Grand Nationals - September 8-9, 2018 The World Extreme Rock Crawling Grand Nationals Championship returns to Farmington, New Mexico! Watch the best of the best from across the globe compete for top national honors. Event held at Brown Springs in the Glade Run Recreation Area.


Dinosaurs of New Mexico: The New Mexico Museum of Natural History and Science presents the exhibition Dinosaurs of New Mexico, at the Farmington Museum through September 8, 2018. Farmington Museum & Visitor Center hours are Monday – Saturday, 8:00am – 5:00pm. Entry is free.

History Hikes: Discover the cultural and natural treasures of the Four Corners region! 2018 History Hikes are scheduled for the second Saturday of every month, through September. September hike will take place on September 8, 2018. Early registration is required.

Dining with the Dead: Enjoy an evening of history, performances, humorous stories and great BBQ! Reenactors tell fascinating stories about what brought early pioneers to the NW New Mexico Territory and what they did to make our community what it is today. Event held September 8, 2018 at Greenlawn Cemetery. Advanced ticket purchase required.

The "Josie's Girls" Tour & Tea: Experience Farmington's history by touring the 125 year old Mary Jo Walters estate with the San Juan County Historical Society from 1:00 – 4:00 pm on September 22, 2018.. The tour will take you back in time from 1893 forward to the era of the "five and dimes." Tickets are $10.

Tracy Lawrence: Legendary musician and songwriter Tracy Lawrence will perform at Northern Edge Casino September 22, 2018, 8:00 - 10:00pm. Tickets are $25 - $35 and available in advance.

Museum EdVenture: The Farmington Museum leads guided tours and visits regional attractions to help you discover the cultural treasures of the Four Corners. EdVentures will be held on September 15 (Renaissance Fair), and October 13 (Monument Valley). Preregistration required.

A Real Night at the Museum: The Farmington Museum hosts their annual history extravaganza, REAL Night at the Museum! Bring the family to Farmington Museum & Visitor Center September 29, 2018 from 4:00pm - 7:00pm for an evening of history, fun, activities, games and food!