11 Oct, 2015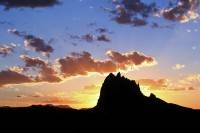 In addition to being the gateway to the fabled Four Corners, the union of Colorado, Utah, Arizona and New Mexico, and only spot in the United States where four states meet, Farmington has plenty of must-see experiences for the visitor.
And that's particularly true of folks who like a little outdoor adventure. Curious natural formations abound within easy range of the city, said Tonya Stinson, executive director of the Farmington Convention and Visitors Bureau.
Areas like the Angels Peak Scenic Area, Navajo Lake State Park and the Bisti Badlands/De Na Zin Wilderness, as well as iconic Shiprock pinnacle have been a magnet both for visitors and geologists.
Angel Peak, a sandstone monolith that scratches the sky at 7,000 feet, is the centerpiece of a 10,000-acre badlands filled with geologic wonders. Petrified wood and abundant fossils are just some of the highlights scattered throughout the area. Sun-bursting colors along deeply etched canyons leap into the photographers' lens.
The Bisti Badlands and the De Na Zin Wilderness Area feature geologic formations of an entirely different scope as ghostly hoodoos march across the landscape. Entire dinosaur skeletons have been excavated from the area, which still abound hidden within the rock.
Nearby Navajo Lake is the state's second largest and home to a range of outdoor activities centered along two marinas and two boat docks. Every sort of water fun can be had at the lake, from canoeing and water skiing to fly fishing.
For the more sedate adventurer, the seven miles of the Animas River Trails, within the city provide a perfect way to run, bike or stroll through the serene riverscape.
From the trails, visitors can access the Riverside Nature Center, where bird watching is always in vogue. It was built overlooking one of the oxbow bends of the river. The Nature Center also includes xeriscape and herb gardens.
Sunday, October 11, 2015