11 Nov, 2015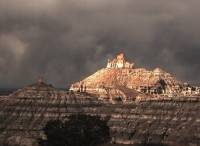 With the holidays just around the corner, many San Juan County residents are making plans to host relatives and friends for Thanksgiving and Christmas. And with cooler weather settling in the high desert, this can be the perfect time of year to take those out-of-town guests on an outdoors tour of the Four Corners.
"With all of the natural outdoor attractions, we really see a huge increase (in tourism) this time of year in the Farmington area," said Tonya Stinson, executive director of the Farmington Convention and Visitors Bureau.
Because of both its beauty and accessibility, Angel Peak Scenic Area can be a good spot to start the outdoor journey. Angel Peak is located in Kutz Canyon about 15 miles south of Bloomfield and is known as the dwelling place of "sacred ones" to the Navajo people. The peak can be seen from several picnic areas, as well as from the road that drives around the canyon. On a clear day, the peak can be seen from miles away. Access to the area is free, and Angel Peak offers activities that people of all ages and athletic ability can enjoy, including hiking and biking trails that range in difficulty.
"We've been up there a few times. It was so pretty and very remote," said Candy Pulte, a Farmington resident and avid bike rider. There are also several scenic turnoffs with pavilions and picnic tables. The overlooks are a great place for visitors to have lunch and enjoy the canyon without having to hike.
Chokecherry Canyon is another spot in Farmington that families and visitors can enjoy this time of year. And it was recently recognized as the best four-wheeling trail in New Mexico by PartCatalog Car and Truck Accessories. The canyon is part of the Glade Run Recreation Area and has something for everyone. One of the area's primary uses is off-roading, but it's also a good area to hike and go four-wheeling. One convenient thing about the canyon is that there aren't specific trails, so visitors can design a hike works best for them, changing the distance and difficulty to accommodate the people in the group.
"The glade is a hidden gem and has been designated the No. 1 trail in New Mexico," Stinson said. "It's a beautiful attraction." Getting to the top of the glade takes only 10 minutes, depending on the trail, and the view is stunning.
"Parts of the Road Apple Rally go through Chokecherry, and we've biked parts of those trails. It's a beautiful place with lots of trails, so there's always something a little different," Pulte said.
Farmington is also home to several city parks that offer a variety of activities. These attractions make it easy to get families and visitors outside and active without much traveling.
"One of the wonderful things and unique in quality of life here is how many city parks there are in Farmington itself. They are beautiful and so well-maintained," Stinson said. Berg Park is a great place for families to bike ride, horseback ride or simply walk around. There are playgrounds for kids, running trails for adults and plenty of room for everyone in between.
"We bike ride here about three times a week. It's so nice and calm along the river and makes for a really peaceful ride," Pulte said. The park will also be home to several seasonal events this holiday season, including Riverglo on Dec. 4.
With plenty of options, getting outside and spending quality time together is easier than ever, especially as relatives are in town and children off from school for the holidays. "We all get busy with life and we don't realize the gems in our own backyard," Stinson said. "The pride in our community can be elevated by people being active in everything we offer."
Article by Mackenzie Hahn for the Daily Times
Thursday, November 11, 2015