1 Jan, 2018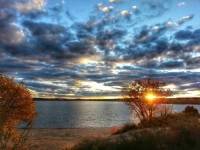 55 Best Small Towns to Visit on a Road Trip of America
Many Americans have spent time traveling to large metropolitan cities like Chicago, New York, and Los Angeles and, while these cities are great, you can miss out on experiencing a major portion of the country if you only spend time in big cities. The small towns of America are another excellent reason to travel through this great nation. Each small town has its own unique vibe that it derives from the people who live there, the history of the place itself, the natural surroundings, and its cultural heritage. If you've been thinking about a road trip this year, be sure to visit a number of America's small towns. You won't regret it. To help you get the most of your road trip, we asked our audience for the most fun, most unique, and most interesting small towns in America. So grab your road map and your checklist, and take a look!
Southwest
Farmington, New Mexico
Farmington is a great place for active families and outdoor lovers to explore and enjoy wonderful cultural attractions, history, hiking, biking, fishing, watersports and more. The area is extremely affordable and offers a range of lodging options, including hotels, camping, and B&B's.
Farmington is also the gateway to national parks, including Aztec Ruins National Monument, Chaco Cultural Historical Park, Mesa Verde National Park, Hoven Weep National Monument and Natural Bridges National Monument. The area is home to five lakes for fishing–Lake Farmington, Navajo Nation Lakes, Jackson Lake, Cutter Reservoir, and Morgan Lake–and the Animas River for river rafting or kayaking. Visitors can also enjoy a fly fishing adventure along the famous San Juan River Quality Waters.
The town has plenty to explore with trading posts, museums, and parks. Farmington is a highly interesting stop within the Four Corners region and has unique scenic offerings as well as a plethora of cultural and outdoor activities.
Read the full article by Auto Accessories Garage online.