Inside A Local Trading Post
Tom Wheeler: Fourth Generation Trader
By Michele Potter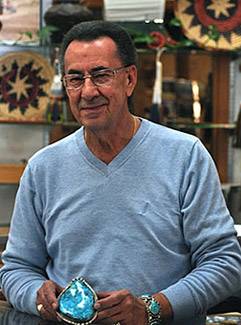 It was all about a dream. Tom Wheeler, fourth generation owner of Hogback Trading Post just west of Farmington explains why day after day he shows up for work. After all, trading posts are now an endangered species. It is a dream he has about three or four times a year. It is redolent with smells and takes him back in time. "It is always the same," he says.
I'm 8-10 years old and I'm at the old trading post. I am in the front and as soon as I get inside I smell it—every trading post has a smell, and they're all unique. Ours is leather. To the right side are leather goods and tack for the Navajo's needs. Everything is in gray and white. I take in that smell, look around and it's all as it used to be—there's the old Pepsi cooler. Then I turn and look across the road along the riverbank and there are Navajo families. My grandfather built hogans [traditional dwellings] there for them to stay in while they camped and came for business. There are three wagons—one still has the horses hooked up. One family is cooking mutton ribs; I also smell the coffee. My grandfather had two water troughs. The Navajos fill the troughs with watermelons. I can hear the river and smell the horses. I turn toward the troughs. One melon has been cut in half—it's very bright green and red. I can smell the melons. Then I wake up.
"What a wonderful dream," he thinks. "Memory shifts," he says, "and things are never the same. Perhaps the best part is the remembering, not the reality." His grandfather was the person he was always very close to. Also part of what connects him to the past is his great-grandfather Joseph, who kept a journal, since the age of 13. His life, too, was shaped by a precise dream. It was very disturbing for Joseph, then an Illinois kid, dreaming about a bizarre landscape with "incredibly high mountains with rivers running, canyons and slickrock." His own father told him not to worry; some day it would be revealed. And so one day it was revealed. The Mormon family headed west to Utah, and as a young man Joseph was sent to the Southwest to settle a new place.

Heading in the direction of Navajoland (Dinétah) in pre-reservation days, he gradually came upon exactly the land he dreamed about. The dreams were very specific, coinciding with actual places. One of them was the Grand Canyon, where, from the North Rim to the South, the band managed to tie their wagons together, get down the steep gorge and ferry across the Mighty Colorado River. The place they crossed became knows as Lee's Ferry; this event even predated the one-armed John Wesley Powell's exploration of the area. Many adventures followed, as seen in so many Westerns filmed in the area. By 1871 Joseph had established a trading post along the San Juan River. With livestock, trading and blacksmithing, Joseph was gone for three or four months at a time, so his wife ran things. Well, one of his wives. The church requested he take a second wife. His first wife at last relented—choosing her own sister as the new bride. The new couple settled at Mancos, CO. "This did not work out too well," says Tom, who muses that they became enemies. "The families are still as different as night and day." Joseph's wives had 27 children.

Tom's sense, after reading the diaries, is that those people who arrived by wagon train were happy despite the hardships. What helped the Navajo, whose "hearts were on the ground" when they returned to their diminished homeland, was trade, and trade was built on trust. A trader who was not trusted did not last long. The new economic realities of reservation life (and no more raiding by young Navajo men) was conducted through traders, who often functioned as translators between the Diné (Navajo) world and the white world. The Navajos brought in their goods, like textiles, jewelry, and livestock, trading for what they needed. But the Navajos had trouble trusting a man with a beard, feeling like such a man was hiding something, and Joseph wore one, trying to cover burn scars from a blacksmithing accident. They asked him to shave. He refused. Then one day he suddenly found himself ambushed by a Navajo named Shakeyhead and a dozen others. A fierce fight ensued. This story Tom learned from his grandfather, who at that time was a terrified eight-year old who had never heard his father swear. There were knives and blood and yelling, until much later, the exhausted and furious trader was forced into something resembling forgiveness. Beardless and bloodied, they let him up.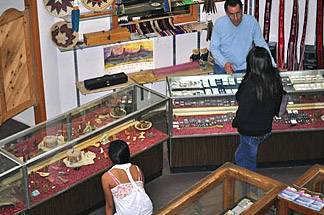 Tom recalls the time he himself grew a mustache only to be teasingly warned by descendants of Shakeyhead's followers: "You better shave that off." Apparently the Diné memory is long, and the humor strong. By 1919 his grandfather took over and Tom's father in 1950. Over time the older trading post was closed and relocated. Tom bought out his father's business in 1971. Then he built the current two-story, 12-sided (hogan-like) building 28 years ago. Long a staple of trading posts, the pawn business remains a good portion of the business, and there are back rooms with saddles, leather goods and other things. He also sells jewelry, silver, baskets, pottery, sculptures, Pendleton blankets and items used in traditional ceremonies, most all of which come from a 200 mile radius. From his home upstairs, he overlooks a beautiful green field that his son ranches. "I absolutely love the creativity of the Indians and their arts and crafts," says Tom. Tom grew up spending a great deal of time with his grandfather, and had a great deal of independence, riding a horse since he was six, sheepherding, and galloping away to the Navajo fair with his friend, where all day they would be fed and watched over by their Navajo friends. Known as "Mosi Yazzie" (little cat) he was usually the only white child among them. His grandfather Wilford, known as "Wiff" won fame as a champion chicken-puller. They raced on horseback, hanging from the saddle horns to see who could pull out live chickens, buried up to their necks, from the ground.

In the Navajo (Diné) language, he says, many things can't be translated. "People aren't going to tell you. Sometimes, there are things that took three or four years to understand—I'd put the pieces of the puzzle together finally. Some things can't be taught," he continues, "they have to be learned." Since 2005 he has run the store six days a week on his own. He's still involved in civic activities and has been on the board of the Farmington Convention and Visitors Bureau for 26 years. He says he works to stay positive and to see beauty in all things. "On the way downstairs each morning I tell Princess (his small shih tzu), 'It's going to be a great day.'" One of the things he has learned from his own life is also reflected in a traditional Navajo blessing found in his shop: May you walk in beauty On a rainbow trail And dwell in the house of happiness With beauty all around you.
Bob French's Navajo Rugs
Hwy. 64, Waterflow, NM
505-598-5621
BobFrench@earthlink.net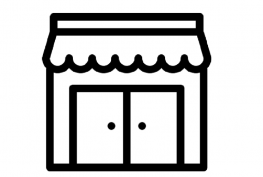 Navajo Trading Company
126 E. Main, Farmington, NM
505-325-1685