Previously Held April 23, 2021 - May 31, 2021
SunRay Park & Casino
SunRay Park & Casino brings live horse racing to Farmington! The 2021 racing season will be April 23 through May 30. Live horse racing every Sunday, Friday, and Saturday, with post time at 2:15 pm.
Event Information
SunRay Park & Casino
39 Road 5568, Farmington, NM
Free
(505) 566-1200
Enjoy several weeks full of fun and excitement. Admission is free to all. Enjoy great food and drink specials while experiencing the thrill that is only found at a live race meet! Visit sunraygaming.com for details. COVID-19 safe practices will be in effect. SunRay Park & Casino is located off Hwy. 64 between Farmington and Bloomfield.
Admission is always free.
No matter the day post time is 2:15 p.m.
Open to all ages.
Private tables may be reserved for the season by calling 505-566-1200
2021 Special Events
April 23 - First Day of Racing, with giveaways throughout the day!
May 1 - Kentucky Derby, with giveaways after each race, Hat Contest, and the Derby Race.
May 8 - Program Raffle Day, random program winners all day!
May 15 - Preakness Day, SunRay prizes, and the Preakness Race.
May 22 - Kids Day at the Races, Kids ONLY giveaways all day, and our Kids Race
May 29 - Customer Appreciation Day, enjoy select dollar food and drinks and SunRay prizes.
May 30 - Last Day of Racing, giveaways, and amazing races!
SunRay Park & Casino Information
Race Office: (505) 566-1261
Race Office Fax: (505) 566-1247
Entries: (505) 566-1220, (505) 566-1219 or (505) 566-1263
Horsemen's Bookkeeper: (505) 566-1262
Stable Gates: (505) 566-1216
Helpful Info
We hope you enjoy the many things there are to see and do in the Farmington area! Start exploring today with these helpful links:
Order your Free Vacation Guide
Where to Stay
Where to Dine
Where to Shop
Where to Play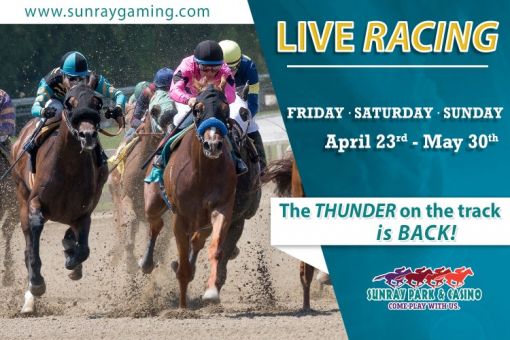 We Also Recommend
---
SunRay Park & Casino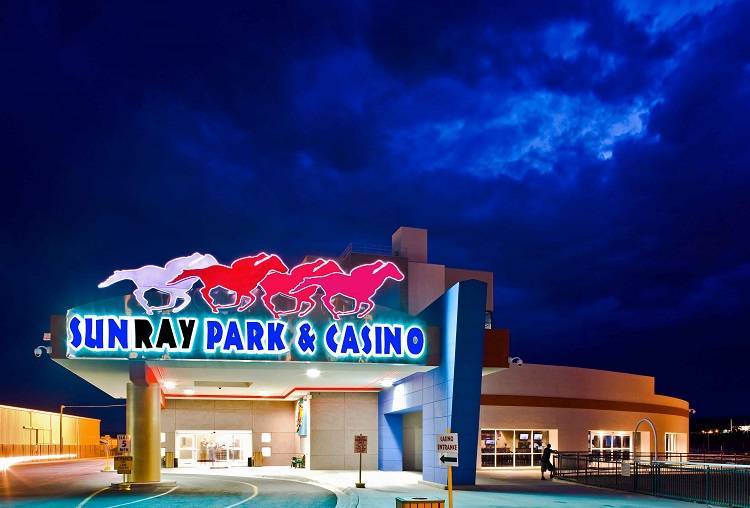 SunRay Park & Casino features a wide array of the best in today's gaming! Newly remodeled, stop in to see the new decor and enjoy playing in this cozy environment. This location is popular for the live horse racing season and year-round simulcast. Join SunRay Park & Casino online for updates.
Learn More
»
39 Road 5568, Farmington, NM
505-566-1200
---
The Sportz Arena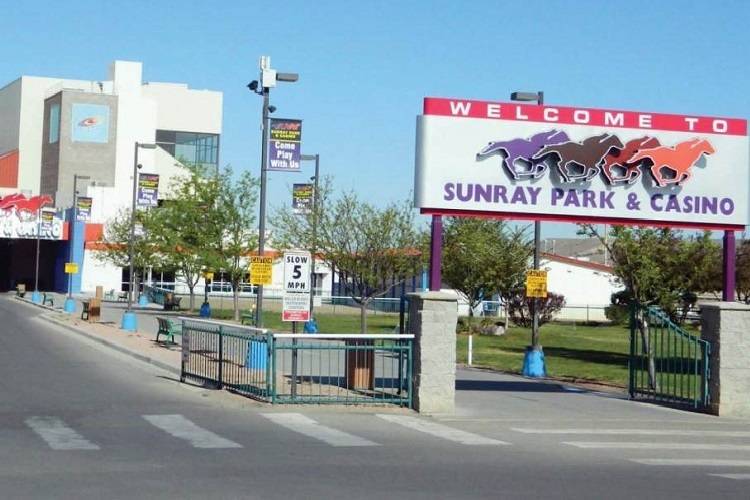 The Sportz Arena serves a full menu, featuring All-American fare mixed with local New Mexican dishes. With 45 TV's every seat will have you viewing the best action sports. Whether you're in the mood for a quick bite or looking for a great dining experience their menu will tantalize your taste buds. Call for updates on hours and events.
Learn More
»
SunRay Park, 39 Road 5568, Farmington, NM
505-566-1200