Farmington offers a number of equestrian trail systems for avid and new riders, as well as wilderness and recreation areas which are open for free range riding!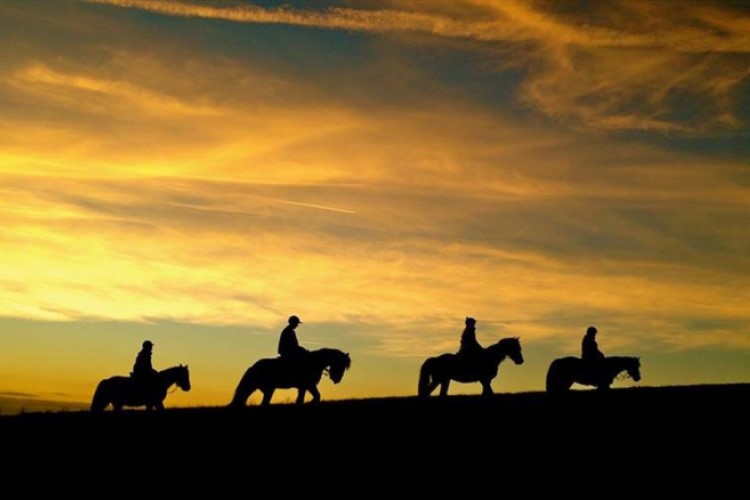 Please note these horse-friendly trails are also shared with hikers and runners so be on the lookout while taking in the scenery! For maps of these trail systems please visit the City of Farmington Recreation Trail Story Maps.
Equestrian Trails
Sheriff's Posse Trail
The Sheriff's Posse Loop is part of the Farmington Lake Trail Systems. The loop goes along the western hills, overlooking Lake Farmington to the East. Access is at the San Juan County Sheriff Posse facility (9001 Marseille Blvd), parking may require a fee. Experience beautiful wildflowers and exquisite scenery on either of these loops. The Inner Loop is 6.3 miles and the Outer Loop is 6.6 miles.
Bisti De-Na-Zin Wilderness
The popular Bisti Badlands and De-Na-Zin Wilderness areas are open to horses. It is important to pack in all water needs when riding in these high desert areas.
Cox Canyon Trail
Cox Canyon Trail system spans 4.9 miles along the canyon floor. The popular Cox Canyon Arch can be seen on this ride. No equestrian trail directly accesses the arch, but it is accessible via hike.
Pinon Mesa Trail
The extended loop of the Pinon Mesa Trails system measures 18 miles. Pinon Mesa is located northwest of Hwy 170. The trail contains many stunning views and is part of the annual Chokecherry Canyon Competitive Trail Ride.
Equestrian Guide Service
Mullen's Equestrian Services
Enjoy a scenic trail ride or riding lessons with local professional horse trainers and instructors. Mullen's Equestrian Services is a well-known and respected equestrian service throughout northwest New Mexico. This team is ready, willing, and able to help you create a memorable experience!