8 Sep, 2023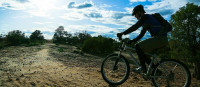 Aztec Adventures originated from Neil's vision to open up the 1992 Durango to Farmington Bike Ride to the public, eventually becoming an annual event. Their inspiration stems from Farmington's commitment to the Outdoor Recreation Industry Initiative (ORII), leveraging the region's natural assets for economic development. As a Co-Coach at Fort Lewis College, Will shared the desire to have people appreciate the landscapes and the Farmington area.
What sets Aztec Adventures apart is their unique approach, filling a gap no one else dared to fill. They offer diverse cycling experiences and bring Enduro races to Farmington, enriching our region's cycling landscape. Exploring with Aztec Adventures means gaining insights and knowledge that go beyond solo exploration.
Discover the thrill of cycling adventures in the Four Corners region with Aztec Adventures. Their upcoming event, the Holy Grit Gravel Grinder, promise excitement for riders of all levels.
For a unique historical journey, the Holy Grit Gravel Grinder takes you through the canyons of Northwestern New Mexico. This race or tour lets you navigate canyons with a rich cultural history, including Petroglyphs and Pueblitos. Riders should expect sandy terrain and steep climbs, making it a test for gravel and mountain bike enthusiasts.
The Holy Grit Gravel Grinder offers 15-mile and 40-mile race/tour options, starting and finishing at Wines of the San Juan beneath Navajo Lake. It follows parts of the Old Spanish Trail, a historic trade route dating back to the 1800s. This ride not only showcases Northwestern New Mexico's beauty but also provides a physical and mental challenge while fostering camaraderie within the cycling community.
Please note that this remote wilderness setting has limited cell service, so riders should exercise caution and be prepared with navigation devices. Additionally, stay alert to other road users, including industry workers, and enjoy the post-ride festivities with music, food, and beverages. Aztec Adventures invites you to experience this incredible cycling event and make lasting memories.