Saturday Nov 4 2023
7:30am - 8:30am
Wines of the San Juan
Come ride the Old Spanish Trail, either race or tour your bicycle through the canyons of Northwestern New Mexico!
Event Information
Wines of the San Juan
233 NM-511, Blanco, NM 87412
$35-$120
505-402-3959 or 970-759-2126
Dive back in time as you will be navigating the canyons that had once been traveled but in a different fashion. This is a great way to experience some of New Mexico's history. Starting and finishing at Wines of the San Juan, the route takes you to parts of the Old Spanish Trail. Tucked in the cracks of the canyon are Petroglyphs, Pueblitos, and rich cultural history. Riders should expect to encounter a lot of sand and some steep climbs. This route is SANDY and riders should expect it to take longer than anticipated. This is going to be a great test to see if a gravel bike or mountain bike is superior.
The ride is open to cyclists of all levels and offers a variety of distances to choose from, including a 15-mile race/tour and a 40-mile race/tour option with different categories to choose from. The ride starts and finishes at Wines of the San Juan, a winery located beneath Navajo Lake. Ride on parts of the Old Spanish Trail, a historic trade route that connected the northern New Mexico settlements of (or near) Santa Fe, New Mexico with those of Los Angeles, California and southern California dating back to the 1800s.
The ride is a great way to experience the beauty of Northwestern New Mexico and to challenge yourself both physically and mentally. It is also a great opportunity to meet other cyclists and to enjoy the camaraderie of the cycling community.
There is limited cell service in the area... please keep this in mind as this is a wilderness setting in terms of rescue. Let people know in advance if you go and pre-ride, this area is remote and has limited cell service. Riders MUST ride on the right side of the road and be aware of other road users. Be careful of industry workers and other people using the roads, they are NOT closed during our event. Although the traffic will be less being that it is a weekend, please be aware that there are other road users out there to be cautious of. MANDATORY navigation device of some sort to help riders avoid confusion. The course will be marked but due to how easy it is to get turned around out there and the lack of cell service we require all riders to have a navigation device with the route downloaded. Please hang around after riding to enjoy the music, food, and beverages.
Download the route file here:
15 mile:https://www.strava.com/routes/2959128736272630572
40 mile:https://www.strava.com/routes/2959129233328892716
2023 Holy Grit Event Details
Date: November 4th, 2023
Time: Starts at 9:45am (packet pickup 8:15)
Location: Wines of the San Juan, New Mexico (233 NM-511, Blanco, NM 87412)
Ride Distances: 15 or 40 miles
Cost: $35 - $120
Categories include (Pro Male/Female, u23 Male/Female, Open Intermediate Male/Female and Grom Male/Female)
What to Expect at the 2023 Holy Grit
Family-friendly
Food, beverages, entertainment
marked course and aid stations
Stunning views
A beautiful venue
The camaraderie of the cycling community
Upcoming Dates: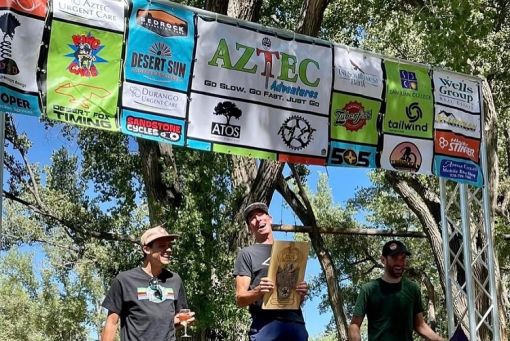 We Also Recommend
---
Aztec Adventures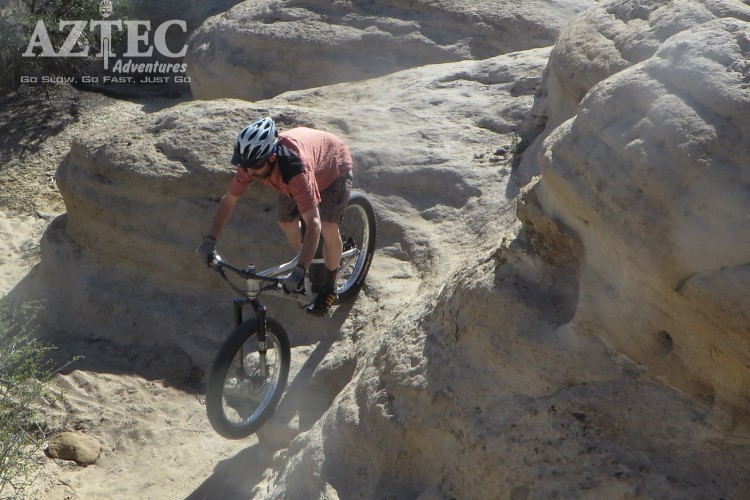 Aztec Adventures is an event and tour guiding service focused on cycling experiences throughout San Juan County, New Mexico. Promoters of the Durango ~ Farmington Bicycle Tour, Galactic Grinder and Roost the Ridges an Enduro Style race. Also, they offer day and overnight tours of a variety of experiences. Ranging from cultural tours, gravel rides, singletrack trails, skills lessons, and more.
Learn More
»