5 Oct, 2023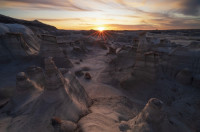 Exploring Navajo Tours USA: A Journey Through Culture and Nature
This October, we shine a spotlight on Navajo Tours USA, celebrating nine years of weaving stories through the mesmerizing landscapes of the Bisti De-Na-zin Wilderness and Chaco Culture National Historical Park. Rooted in authenticity, this tour company, featured was featured in National Geographic because of their extensive knowledge about the Bisti De-Na-Zin Wilderness, extends a genuine invitation to connect with the rich Diné culture.
Cultural Connection
Navajo Tours USA's core values embrace authenticity, sharing insights on indigenous culture, and unraveling the philosophy of the land. Offering a diverse range of tours, from day hikes to night sky adventures, they ensure an immersive experience.
Rock Formations Exploration
Guides, including Kialo Winters, former educator and CEO, bring science and geology alive, connecting history with the unique rock formations. Kialo and his wife, Terri, turned tour enthusiasts, have crafted a narrative that fuses knowledge and passion.
Chaco Culture Insights
The tours breathe life into the history of Chaco Culture National Historical Park, offering interpretive journeys through time, science, and the stories of regional indigenous groups.
Personalized Touch
Each traveler is treated to a personalized experience, combining storytelling, language, and active listening. It's not just about seeing the sights; it's about living the story.
Indigenous Storytelling
Diné guides play a pivotal role in storytelling, adding cultural layers to the landscapes. Their narratives transcend time, connecting visitors to the soul of the land.
Off-the-Beaten-Path Spots
Navajo Tours USA unveils hidden gems, navigating safe routes and catering to diverse physical capabilities. As expert photographers they show you how to capture these moments, creating intimate experiences.
Memorable Experiences
From repeat visitors to super fans, Navajo Tours USA crafts experiences that linger in the hearts of those who seek the lands, history, and the essence of each season.
Community Involvement
Embedded in core values, the company actively supports local communities, conservation efforts, and dismantles stereotypes through cultural respect and sustainable tourism.
Seasonal Highlights
Open year-round, Navajo Tours USA transforms with the seasons, offering a kaleidoscope of landscapes. Award-winning photography from guests attests to the inspiration found within these guided journeys.
In the spirit of growth, Kialo is leading a tour on architecture and heritage this month, while plans for a community campground and cabins are on the horizon, promising a future where the beauty of Navajo culture and the land intertwine seamlessly.