Sunday May 21 2023
4:00pm - 7:00pm
Wines of the San Juan
You are invited to join Wines of the San Juan every Sunday (May 21-September 17, 2023) for a cool glass of wine and a good time with friends under the shade of the cottonwood trees!
Event Information
Wines of the San Juan
233 HWY 511 Blanco, NM
Free
505-632-0879
Spend a lovely afternoon with friends and family enjoying live music and internationally-awarded wines at Wines of the San Juan. Local food trucks will be present with a variety of menu items for you to enjoy. No pets are allowed for the safety and enjoyment of guests and musicians at this event.
2023 Wines of the San Juan Music in the Shade Concert Series
May 21, 2023
Reeder & Spencer & Hangover Cafe will kick off our first Sunday Music in the Shade of the 2023 season! Back for their fourth appearance at WSJ, Reeder and Spencer is a female duo featuring guitar, mandolin and vocal harmonies, adapting cover tunes from the 50s, 60s, 70s & 80s.
May 28, 2023
Get your funk on with General Feel & enjoy food from Hangover Cafe & The Twisted Chicken! Straight from the band..."Our band plays a wide variety of music with an alternative rock sound and a nice groovy style. We play originals as well as covers ranging from Bob Marley to Cage the Elephant."
June 4, 2023
Enjoy great food by The Twisted Chicken and rock tunes by Robert Webster. More about Robert Webster...Robert Webster is a Chicago native, multi-instrumentalist musician, based out of Durango. Webster has 22 years of professional experience in the music industry, creating & spreading his passion for music to folks all over the globe. His LIVE MUSIC catalog of 600+ songs, covers several different genres of music (Americana, Classic Rock, Country, Blues, Folk, Rock, R&B, Alternative, and more).
June 11, 2023
If classic rock is your jam, you won't want to miss the Ben Gibson Duo! Great eats by Hangover Cafe and amazing wine by Wines of the San Juan, of course! More about Ben Gibson Duo: Ben Gibson Duo is a classic rock act with performers Jim Belcher and Ben Gibson. From Durango CO, BG Duo emphasizes good songs and good musicianship to bring an exciting, fun, personable, and pleasurable listening experience to music fans everywhere! Originals and covers.
June 18, 2023
Father's Day Sunday Music in the Shade with Dan Carlson & Nina Sasaki. Calling all dads! Enjoy your day at Wines of the San Juan, listen to tunes from Dan Carlson & Nina Sasaki, and enjoy great food from The Twisted Chicken.
June 25, 2023
Music in the Shade with Ryan Woodard! Ryan Woodard is entertaining all on his own, and he sings too! Hang out and listen to some acoustic covers and let Hangover Cafe cook up some tasty grub for you! More about Ryan...He has been playing music in the four corners for the past 8 years and is part of the Family Affair Band, Island Style and Sand & Fire. When he does his solo sets he tries to make every song you've heard on the radio sound as if you were listening to someone write it on a beach in Hawaii!
Upcoming Dates: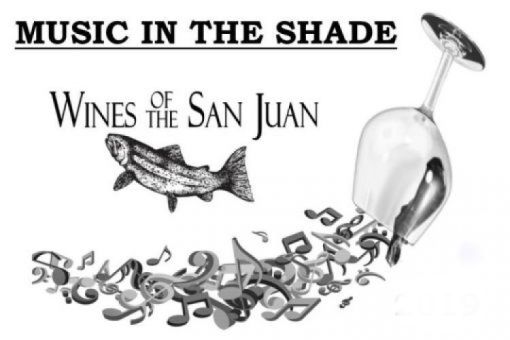 We Also Recommend
---
Navajo Lake Marina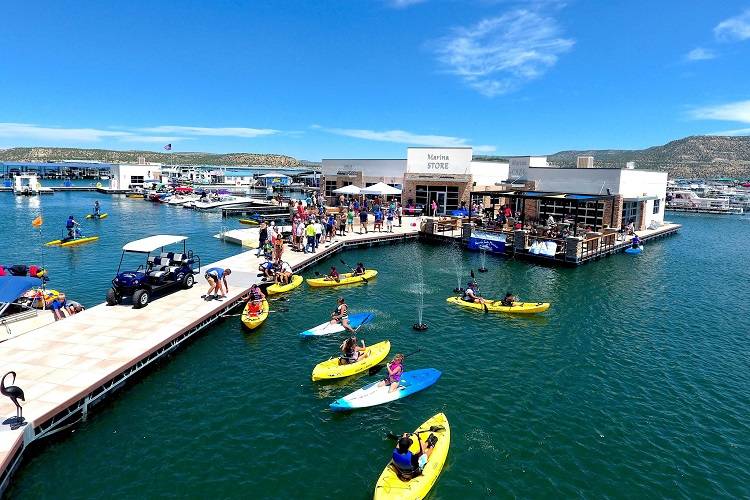 Navajo Lake Marina is your one-stop shop for all Navajo Lake adventures! Located on the southern end of the reservoir, in the Pine Site of Navajo Lake State Park, this marina offers guide service, boat rentals, a supply store, restaurant, and much more.
Learn More
»
1448 NM 511 NBU #6 Navajo Dam, NM 87419
505-632-3245 or 800-582-5687