Previously Held December 2, 2023 - December 5, 2023
TEA Scene Shop
Theater Ensemble Arts will be holding open auditions for an upcoming performance of "The Murder Room" by Jack Sharkey. Auditions will take place from 2:00-4:00pm on Saturday, December 2nd. On Tuesday, December 5th, auditions will be held from 6:00-8:00pm.
Event Information
TEA Scene Shop
818 W. ARRINGTON
FREE
Theater Ensemble Arts is holding open auditions for our upcoming production of Jack Sharkey's The Murder Room. No experience necessary. Call 326-2839 for more information. Auditions will take place at 818 W. Arrington during the following times:
Saturday, December 2nd from 2:00pm-4:00pm.
Tuesday, December 5th from 6:00pm.-8:00pm.
A fabulous mystery farce concerning newly-weds Edgar and Mavis. Two days before their wedding Edgar discovers that Mavis, a nasty piece of work, is being unfaithful. After her first attempt to kill him by poison fails, Mavis resorts to shooting him and then returning to her lover. Chaos and complications reign when it transpires that Edgar's body has vanished!
Characters:
EDGAR HOLLISTER - member of the landed gentry
MAVIS TEMPLETON - his very recent bride
MRS. LOTTIE MOLLOY - their housekeeper
JAMES CRANDALL - an inspector of police
ABEL HOWARD - a police constable
SUSAN HOLLISTER - Edgar's daughter
BARRY DRAPER - Susan's American fiancé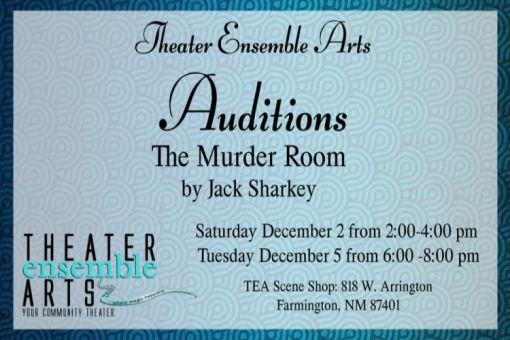 We Also Recommend
---
Four Corners Musical Theatre Company
Four Corners Musical Theatre Company is a newly founded musical theatre company bringing together local and national talent to create amazing theatre in the Four Corners.
Learn More
»