There is no title, no credits, no music as we fade in to a long shot of a stark and otherworldly landscape. The camera, a fugitive stalker, closes in and pans horizontally, revealing: milk-frosted sand dunes, trees resembling gnarled and arthritic sages, hills of variegated pastels, wind-carved rock formations, and brush like parched electric pompadours.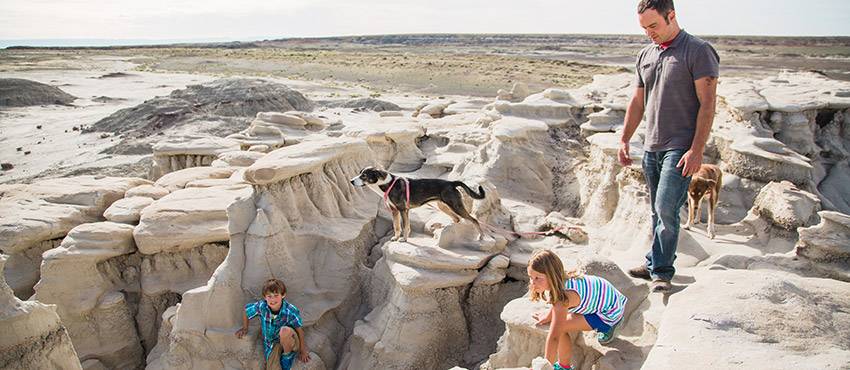 The camera inclines to a high angle shot, framing the cloud-scrolled cathedral of sky, and as the shot lingers, Debussy's "Claire de Lune" begins playing and the image slowly dematerializes into a soft white blur. At this point, A) Rod Serling could appear and deliver an ambassador's preamble before welcoming you into the Twilight Zone, B) You encounter a hobbit or elf or ogre indicating that you are now traversing Middle Earth, C) Three suns appear in the sky enlightening you to the fact that a dome-headed green man could pop up at any minute, D) You wake up and wonder: was it really just a dream, or …
If you want high-priced, slickly manufactured entertainment, go to Disneyland; if you want a cinematic prism through which to have a multi-dimensional experience, consider the Badlands of the Bisti/De-Na-Zin Wilderness. The Bisti/De-Na-Zin Wilderness, designated by the government in 1984, comprises almost 42,000 acres, and is located in San Juan County, about 45 minutes south of Farmington. Bisti, translated from the Navajo word, Bistati, means "among adobe formations." De-Na-Zin draws its name from the Navajo word for "crane," as petroglyphs of cranes have been found south of the Wilderness.
If we were to flash way way back, we're talking around 70 million years ago, a vintage snapshot of Bisti would show a rivene delta that lay just west of the shore of an ancient sea. Time, the ultimate sculptor-meets-sorcerer, has given the area an alchemical makeover, and what stands now is a surreally inspiring window into prehistory. Bisti makes the imagination go supple. It was easy for me to envision a pterodactyl casting its formidable winded shadow upon this landscape, while in the case of my girlfriend, who was my traveling companion, she imagined a Martian outpost that would have made Ray Bradbury salivate.
The fact that there are no marked trails in Bisti leads to a freeform style of wandering, where the paths you choose are entirely up to you and your instincts. These are badlands, meaning you will be exposed to the elements and there are no water sources, so it is important to prepare accordingly.
While my girlfriend and I only got to spend a limited amount of time in the area (we plan to return, camp overnight, and conduct a fuller exploration), what we encountered in microcosmic doses was thoroughly inspiring. The rock formations featured an abstracted symmetry of clefts, hollows, dimples, contours, and indentations. Hoodoos—tall, craggy spires—protruded from the landscape like preternatural obelisks. The colors, shades and tones marking the landscape ran the spectrum: rust-orange, ash-gray, brick-red, crustaceous pink, chalk-blue, egg-white. In this respect, Bisti is a painter's topographical dream, a photographer's amorphously complex focus, or a director's cinedramatic spin.
And time-tested leftovers are everywhere, most notably exemplified by petrified shards and slabs of wood. Note: The rules of respectful house-guest apply to Bisti, i.e., do not take out what you didn't come in with (save for photographs, memories, and whatever stories you will later tell).
If you are planning on camping overnight, be aware that there are no designated campsites and campfires are prohibited (as are traveling in groups of more than eight people, and trespassing on adjacent tribal lands.). Fall is considered one of the optimal times to explore Bisti, and according to the manager at the Casa Blanca B&B where we stayed in Farmington, to experience Bisti at night during a full moon is a truly magical experience. For more information, visit the farmingtonnm.org website.

In closing, five interesting tidbits about the Bisti/De-Na-Zin Wilderness:
In the 1977 film, Sorcerer, one of its climactic scenes was filmed on location in Bisti
Much of the coal present in the area burned in an ancient fire that lasted for centuries. The clay over the coal layer was alchemized by the heat into red "clinkers" that look like tiny pottery shards or chunks of brick. The name "clinker" comes from the distinctive sound that these rocks make when walked on.
In France, hoodoos are known as demoiselles coiffées ("ladies with hairdos") or cheminées de fees ("fairy chimneys"). Hoodoos exist in Bisti because everything around and below them has been removed by wind and water over time
Bisti's minority of wildlife residents include: Cottontail rabbits, coyotes, prairie dogs and badgers. Its winged tenants: pinyon jays, ravens, quails, doves, ferruginous hawks, prairie falcons, and golden eagles, and representing the slither-scuttle-crawly class: lizards, snakes, scorpions and tarantulas.
The De-Na-Zin area of the wilderness is less ashy and more sandy than Bisti, and there are higher hills and fewer hoodoos.
— John Biscello, author and playwright, lives in Taos.