Enjoy a Taste of Farmington With Thrivers
Three Rivers Brewery's Brewmaster, Brandon Beard introduces a taste of Farmington! The Three Rivers crew knows what visitors are looking for, when it comes to both dining and playing in Farmington. It should come as no surprise then that they have decided to launch a Farmington inspired beer, Thrivers, a beer with great taste and a big story!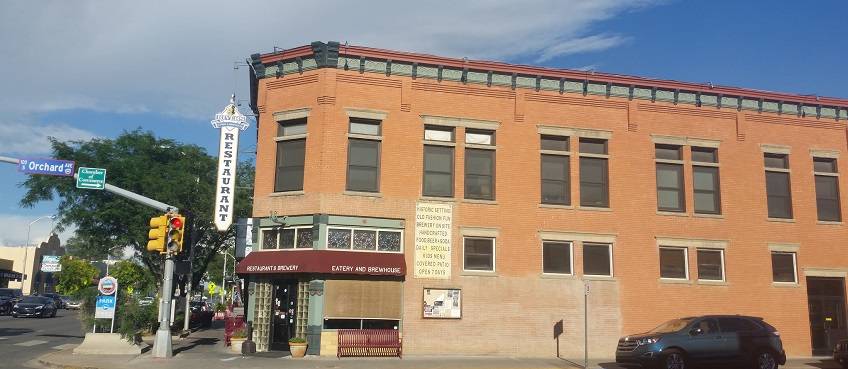 The Place
Owners Bob Beckley and John Silva have grown their business, from the original standalone brewery - Three Rivers Brewery - to multiple complementary businesses that encompass the majority of the block. Today one will also find a Game & Tap Room, Pizzeria and most recently a Distillery. In fact, the newly opened Three Rivers Brewstillery won the sought after 2018 Distillery of the Year Award from the New Mexico Restaurant Association. Guided by their passion for local history, great food and craft beer, they created a thriving business that has become a local favorite and a must for every visitor.
The People
Three Rivers Brewery (3RB) is the kind of place where talent will take you far. Brandon Beard began working at 3RB in 2005, as a dishwasher. His hard work, dedication and passion for brewing helped him earn a spot on the 3RB Brew Team that also includes Patrick Liessman, Mark Smith and Austin Jacobs.
The Idea
"We really stand behind the idea that Farmington is a place where outdoor lovers and active families thrive. We see this daily in our clientele. Farmington residents work hard, so they can play hard, most of which is done outdoors," says Beard. "We wanted to create a beer that celebrates this, something that can be enjoyed after a day of working or playing outside. Something perfect to quench your thirst after you jolt your journey by mountain biking, fishing or off roading."
The Beer
In talking about flavors, 3RB knew they wanted to craft something people could enjoy year-round. Thrivers is the perfect year-round Amber Lager, not too malty for summer or too crisp for winter. When it came to naming the beer Beard explains, "Thrivers just sounded right and it combines the Farmington brand with Three Rivers in a cool and unexpected way".
The Order
Thrivers will be available at Three Rivers throughout the year. Brandon recommends a few items from their menus that pair perfectly. During the spring and summer, try the Albuquerque Turkey or the Michael Angelo from the Pizzeria. It is also a great addition to any of 3RB dishes made with New Mexico green chile. During the fall and winter, he recommends their hearty seasonal Osso Buco, a local favorite.
Thrivers The Homebrew Recipe
The 3RB Brew Team wants to share the flavor of Farmington with home brewers far and wide and has released the basic recipe for Thrivers, an American Amber Ale perfect for any time of year.
3RB Brew Team Notes
Brewers: Brandon Beard, Patrick Liessman, Mark Smith and Austin Jacobs
Batch Volume: 5 US gallons
Batch Size: 0.09 Barrel
Boil Size: 0.15 Barrel
Boil Time: 90 min.
End of Boil Vol: 0.11 Barrel
Final Bottling Vol: 0.09 Barrel
Fermentation: Ale, Two Stage
Efficiency: 65%
Mash Efficiency: 76.4%
Taste Rating: 30.0
Thrivers Ingredients
Vienna Malt: 2 lbs 13.9oz
Maris Otter: 2lbs 1.4oz
Crystal, Light: 10.4oz
Munich Malt: 10.4oz
Carafa III: 1.0oz
Northern Brewer: .60oz (Boil 60 min)
Amarillo: .35oz (Boil 10 min.)
German Lager: 2.0 pkg
Amarillo: .50oz
Thrivers Gravity, Alcohol Content and Color
Original Gravity: 12.781 P
Final Gravity: 2.381 P
Est. Alchol by Vol: 5.6%
Bitterness: 23.9 IBUs
Est. Color: 14.3 SRM
Est. Original Gravity: 11.390 Plato
Measured Final Gravity: 2.564 Plato
Actual Alchol by Vol: 4.7%
Calories: 151.6 kcal/12oz
Thrivers Mash Profile
Mash Name: Single Infusion, Light Body, No Mash Out
Sparge Water: 0.11 Barrel
Sparge Temperature: 168.0 F
Adjust Temo for Equipment: TRUE
Est. Mash PH: 5.53
Measured Mash PH: 5.20
Total Grain Weight: 6lbs 5.2 oz
Grain Temperature: 72.0 F
Tun Temperature: 72.0 F
Target Mash PH: 5.20
Thrivers Mash Steps
Mash-in: Add 0.06 Barrell of water at 161.0 F
Step Temperature: 149.0 F
Step Time: 75 min
Sparge: Fly sparge with 0.11 Barrell water at 168.0 F