1 Apr, 2023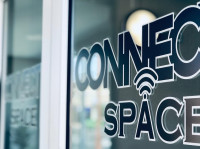 Are you a traveler looking to get some work done between adventures? Tired of working from home or in a traditional office environment? Do you need a change of scenery to boost your productivity and creativity? If you answered yes to any of these, look no further than Connect Space, a coworking space unlike any other, located in the heart of Downtown Farmington. Connect Space offers flexible workspace solutions, from individual desks to meeting and conference room rentals. This unique venue allows guests to enjoy soothing wellness features like local art and waterfalls, and stay connected with fast Wi-Fi. There's no doubt, Connect Space is redefining the term "workspace" in Farmington!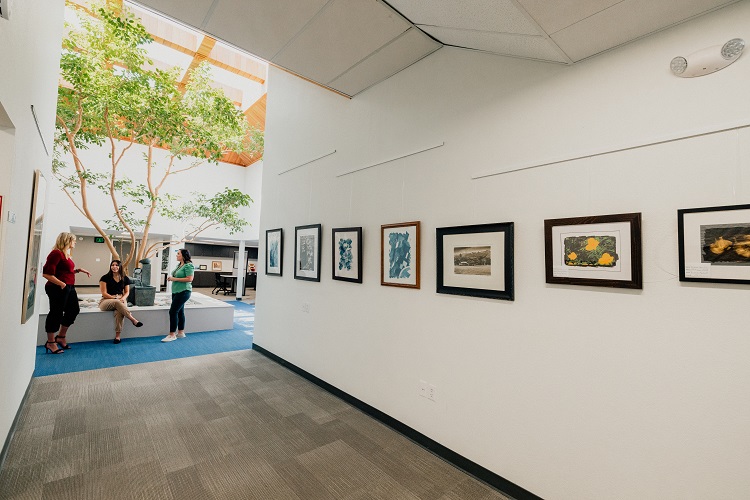 Connect Space was born out of the vision of its owner, Jaime Wisner, a successful developer, and entrepreneur. Wisner saw an opportunity to transform the former JCPenney and Daily Times building into a flexible coworking space that supports the needs of modern businesses. With a focus on building a comfortable, welcoming atmosphere that supports innovation, Wisner oversaw the renovation. The building's timeless character was preserved while contemporary amenities were added to make a distinct coworking space. The building is a classic landmark in Farmington, and Wisner wanted to maintain its allure while transforming it into a coworking space. The building's charm and remarkable architecture were preserved, while stylish furnishings were added to produce a serene and functional space.
The result is coworking stations that feels both historic and state-of-the-art, where entrepreneurs and business professionals can work and collaborate in an inspiring environment. Connect Space's business model is arranged to support the needs of present-day businesses. With a focus on flexible coworking, guests can choose the level of membership that works best for them. This business model is a newer concept for many, but it allows professionals to have the flexibility they need to succeed in today's fast-paced world. Manager Melissa Porch, an entrepreneur herself, is committed to supporting the success of Connect Space's members and helping them take risks to grow their businesses.
With fast Wi-Fi, meeting and conference room rentals, and a variety of other amenities, Connect Space has everything you need to succeed. One of the most striking aspects of Connect Space is the welcoming setting constructed by Melissa Porch and Gina Beck, who work hard to make members feel at home. Porch and Beck both wear many hats, assisting with operations, membership management, social media projects, meeting and design, and more. Their commitment to shaping a friendly and supportive setting is evident from the moment you walk in the door. They take the time to get to know each member personally, and they are always available to answer questions, provide assistance, or just chat.
Connect Space's style is focused on comfort, with features that help members stay motivated and energetic. The space includes a 20-foot live tree in the center of the building, providing a natural and calming ambiance. Local art is also displayed on the walls, adding to the aesthetic appeal of the work rooms. The soothing sound of waterfall fountains can be heard throughout the building, forming a peaceful location that helps members focus and be productive. The layout of Connect Space is not only visually appealing but also supports the physical and mental well-being of its members, making it an outstanding and a breath of fresh air from traditional office spaces.
Connect Space offers a range of features and amenities to meet the needs of businesses of all sizes. The workrooms include individual desks for members who prefer a dedicated work station, as well as meeting and conference room rentals for businesses that need space for group meetings or events. Fast Wi-Fi is available throughout the building, making it easy for members to stay connected and activated. The space also includes printing and scanning services, as well as a kitchen area with complimentary coffee and tea. With a variety of membership levels to choose from, Connect Space is a flexible and affordable option for businesses looking for a professional and uplifting workspace.
If you're tired of the same old routine or in Farmington for just a moment and you're looking for a new place to get your work done, we recommend you visit Connect Space for yourself. Connect Space is surrounded by local restaurants, shops, and other businesses. You can admire the tranquil and welcoming atmosphere firsthand, meet the friendly staff, and see the local art and natural features that make Connect Space such a special place to work. Whether you're a freelancer, entrepreneur, or part of a larger business, Connect Space has everything you need to succeed. Connect Space is the perfect place for anyone looking for an inviting setting, inspiring scenery, and all the necessary amenities to meet your business needs. With a focus on practicality and affordability, Connect Space stands out from other work spaces in the area. Visit Connect Space today to experience the delightful climate and see for yourself what makes this coworking space so special.