FCVB Member and Partner Resources
The Farmington Convention & Visitors Bureau understands that local businesses are facing an unprecedented challenge, as the result of COVID-19. We are working closely with the City of Farmington, New Mexico Tourism Department, New Mexico Hospitality Association, and other partners to keep abreast of information and courses of action as they develop. We are also working to provide you with links to trusted resources and the most accurate and up-to-date information as possible. This page will continue to be updated as we work together to reopen businesses and manage our recovery.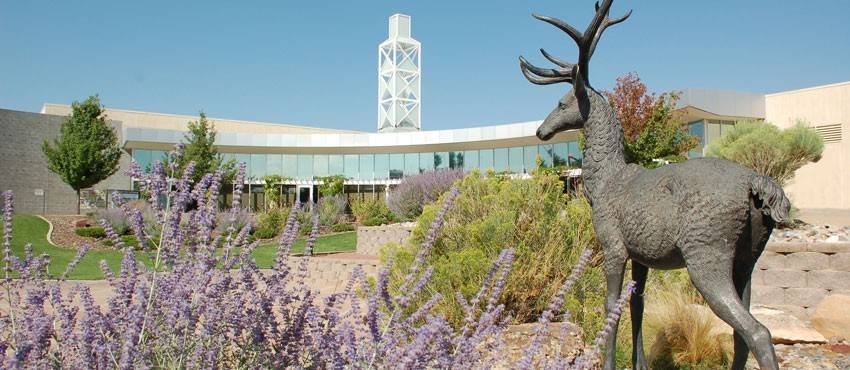 While the Visitor Center and our office are closed, the FCVB is available to assist visitors and locals. To reach us call 505-326-7602 and leave a message, your call will be returned shortly. You can also contact our staff via email. We ask that all Farmington businesses remember that we are here to help. If you have adjusted services, special hours of operation please let us know so that we can help you get the word out. The FCVB will continue to share information about helpful resources, as it becomes available. The City of Farmington COVID-19 page will serve as the official local resource for all COVID-19 information.
Business Reopening CSPs
The Governor's Office has identified universal COVID-Safe Practices, CSPs, for all businesses to adhere to, but there are sector-specific CSPs that tourism businesses must also follow in order to comply with the public health order and offer service to guests in a safe and responsible manner. CSPs for other sectors of the tourism industry, such as events, casinos, museums, and entertainment venues will be published at a later date.

NM COVID-19 Safe Practices for Individuals and Employers


*Although restaurant CSPs are included in the master document, they are not yet permitted to operate dine-in service per the public health order. CSPs for restaurants were included in these guidelines to provide restaurant owners with advance notice so they can make the proper preparations for when restaurants are allowed to open.
COVID - Safe Certification Program
The New Mexico Society of Association Executives will soon release a COVID-Safe Certification program for tourism businesses. The program will provide training modules to help owners and managers prepare to operate in a COVID-positive world, along with technical assistance and resources to ensure a safe and responsible work environment for guests and employees. The program will open in June. The FCVB will provide information on the program as soon as it is available.
Additional Health & Safety Resources for Businesses
FDA Best Practices for Businesses During COVID - 19
Cleaning and Disinfecting Guidelines Hospitality
Cleaning and Disinfecting Guidelines Food Service
USTA Industry Guidance for Promoting the Health and Safety of Travelers
Business Resources & Guidelines
The following entities are reliable resources for business assistance information and health and safety guidelines. If you do not find the information you are looking for, please contact us. You can also contact Warren Unsicker, City of Farmington Director of Economic Development and ORII, for resource information and assistance.

American Hotel & Lodging Association
Local Small Business Development Center
New Mexico Hospitality Association
New Mexico Restaurant Association
New Mexico Economic Development Department
United States Travel Association
Financial Resources
Paycheck Protection Program for Small Businesses
Small Business Administration Disaster Loan Assistance
SBA Business Interruption Loan Guidelines
Summary of the SBA Provisions in the CARES Act
New Mexico Tourism Department Task Force
The New Mexico Tourism Department (NMTD) is looking to collect vital information on the economic impact on the tourism and hospitality industry from COVID-19. This information will help them better understand the economic injury and will direct their efforts to build recovery strategies that work best for New Mexico.

The NMTD is looking for San Juan County businesses within 9 sectors to join their Task Force:
Destination Marketing Organizations
Hotels, Resorts & Lodging
Restaurants (Breweries & Bars)
Retail & Galleries
Events & Event Planners
Attractions & Cultural Institutions (Museums, Casinos, Guides & Recreation)
Meetings & Conventions
Airports & Transportation
Tour Operators
In order to understand the trends that shaped this impact, NMTD is hoping to capture this vital information on a weekly basis through May 31, 2020. Please help us spread the word to businesses and organizations in our community, to help the NMTD understand the economic impact COVID-19 has had on businesses in the Farmington area. The more input they receive, the better they can understand the scope of the economic impact, and the more efficient a recovery strategy we can ultimately build.
General Assistance and Information
The following entities are reliable resources for COVID-19 updates, local assistance, as well as opportunities to help others. If you do not find the information you are looking for, please contact us.
Bonnie Dallas Senior Center
City of Farmington COVID-19 Updates
Economic Council Helping Others, Inc (ECHO)
Farmington Municipal Schools
San Juan United Way's HELPLINE
Shopping Guide
Stay at Home Order
Farmington To Go and Delivery Options
Unemployment Information
Updates from Office of the Governor
Where to Help
Promoting Restaurant and Dining Services
At the direction of the state of New Mexico, beginning March 19, 2020, all restaurants, bars, breweries, eateries, and other foodservice establishments will be limited to takeout service, drive-through service and delivery only. This also applies to restaurants and bars within hotels. A list of the restaurants and breweries providing to go and delivery services is available in the Farmington To-Go Guide. If you would like to add your business, please contact our office.
Promoting Shopping and Retail Services
The FCVB is managing a list of retailers, markets, and businesses that are open for full or limited services. While the guide is open to all Farmington businesses, FCVB members are noted with featured and expanded listings. The list is available in the Farmington Shopping Guide. Special hours for seniors, online storefronts, and virtual exercise classes are included in the guide. If you would like to add your business, please contact our office.