The Sherman Dugan Museum of Geology is located in the San Juan College School of Energy and features a fascinating collection. This is a must-see for fossil lovers and rock hounds.
4601 College Blvd. Farmington NM 87402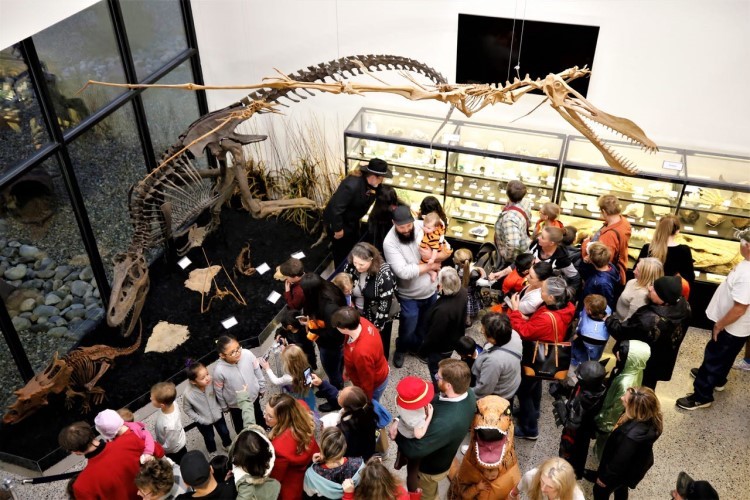 This museum showcases an array of beautiful minerals, including a fluorescent display, a breathtaking amethyst geode and unique fossils from around the world, including a 35-million-year-old Megacerops skull and a display of dinosaur skeletons that represent NW New Mexico in the late Cretaceous. Open Monday – Friday, 7am – 5pm. Admission is free.
The San Juan Basin (including northwest New Mexico) has exceptional exposures of Late Cretaceous rocks, along with diverse fossils, recording the end of the dinosaur era. The Sherman Dugan Museum of Geology is excited to announce a new exhibit highlighting our region's rich fossil history! The new additions to our collection include:
Albertosaurus sarcophagus – While smaller than its later relative Tyrannosaurus rex, this large theropod retained many of the same characteristics, including the tiny, two-fingered arms, and the large head full of serrated teeth. It's easy to see that this dinosaur would have been at the top of the food chain!
Agujaceratops – This juvenile specimen was collected from ancient swamp deposits in Texas, an environment similar to the Late Cretaceous of the San Juan Basin. Agujaceratops is a close relative of Pentaceratops that has been collected from the Bisti Badlands. The bony frill and horns were traditionally thought to be used for defense against predators, but most paleontologists now think they were used for courtship and dominance displays.
Nyctosaurus gracilis – As the Western Interior Seaway was regressing out of North America, pterosaurs were fishing the waters and flying in the skies above the sea. The San Juan Basin was near the coastline of this sea in the Late Cretaceous, and it isn't hard to imagine these small pterosaurs coming ashore to roost. The enormous crest would have helped males of the species to attract mates, much as antlers help deer.
Didelphodon vorax – Mammals were living amongst the dinosaurs of the San Juan Basin, including other early marsupials similar to Didelphodon. This mammal was relatively large for its time, and its teeth and jaws indicate it was a carnivore with a powerful crushing bite.
Bambiraptor feinbergi – This diminutive theropod dinosaur was discovered in the 1990s by a 14-year-old fossil collector in Montana. Dinosaurs continued growing throughout life and adults of this species would be slightly larger. One of the brainiest dinosaurs ever discovered, in life Bambi would have lived like an intelligent turkey with razor sharp teeth and claws, feasting on a variety of smaller animals like snakes, amphibians, mammals and lizards.
Anhanguera - Anhanguera was a fish-eating pterosaur from the Late Cretaceous of Brazil. Its long jaw with its large, rounded crest at the tip and long curved teeth aided in catching and holding slippery fish.