With a variety of terrains available, Farmington offers scenic and challenging mountain biking adventures year-round. Whether you're an experienced enthusiast or a newbie, our trails offer something for everyone.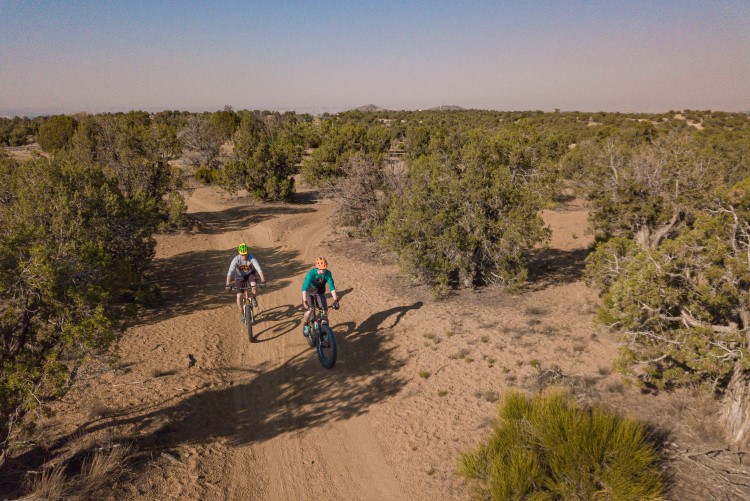 Mountain biking trails are abundant throughout Farmington and offer a unique opportunity to experience the beauty and scenery of the high desert. More than 30 miles of trails can be accessed within minutes from Main Street, delighting mountain bikers that live in, or visit, Farmington. Even more trails, bike parks, and recreation areas are currently being developed. Check back often for updates and links to the most accurate resources.
Farmington Mountain Biking Trails
Anasazi Trail
The Anasazi Loop is found north of Pinon Hills Blvd., along College Blvd, on the north side of Farmington. The easiest access is from the Hood Mesa Trail parking lot.
Distance: 2.8 miles Easy to Intermediate
A fast short loop that can be added on to longer trails like Kinsey to extend your ride time.
Trail map at mtbproject.com and fmtn.org
Road Apple Rally
Access the course off College Blvd. north of Piñon Hills Blvd. at Lions Wilderness Park. Ride pavement for about 1.5 miles on College Blvd. Where College Blvd meets Hood Mesa Trail at a four-way junction, go straight onto a dirt road. Follow the dirt road and watch for the Road Apple Rally carsonite posts.
Distance: 30.1 miles Intermediate
This fast-flowing ride features rolling singletrack plus roads through piñon, juniper, sandstone, and badland landscapes.
Trail map at fmtn.org
Kinsey Trail
To reach the trailhead, take Foothills Drive north until it intersects Colibri Place.
Distance: 3.7 miles Intermediate
A sandy yet firm trail with rolling dips and turns.
Trail map at mtbproject.com and fmtn.org
Foothills Loop
Access the trail at Colibri Place and Road 3800.
Distance: 9 miles Intermediate
This loop takes you along a ridgeline for a beautiful view and fast-paced ride.
Trailmap at mtbproject.com and fmtn.org
San Juan College Bike Park
The San Juan College Bike Park offers a wide variety of hiking and biking terrains through 160 acres of open space designated non-motorized. Park entrance is located just south of Mesa Verde Elementary School off of College Blvd. north of 30th Street. Another access point is at the southeast corner of Butler and Sunrise. Also ¼ mile south of that intersection on the east side of Butler.
The Barker Loop Trail is .75 miles in and can be ridden in either direction. This is a Green Trail, with 105 feet of gain in elevation. The trail terrain is firm and stable.
The Scenic Loop Trail is ridden in a clockwise direction. The total distance of this Green Trail is 1.10 miles with an elevation gain of 105 feet. The trail terrain is firm and stable. Flat scenic walk on top of the mesa. This trail navigates users past the historic gravesite and on top of the mesa.
The Fence Line Trail is 1.57 miles and is ridden clockwise with 178 feet of gain in elevation. This is a Blue Trail, rated more difficult than the Green Trails. The terrain is mostly stable with some variability. The trail features tight and twisty single track with punchy climbs. This singletrack is for more experienced trail users.
Trail 1896 is 1.30 miles in distance and can be ridden in both directions with 221 feet gain in elevation. This is a Blue Trail, rated more difficult than Green Trail. The terrain is mostly stable with some variability. The trail features gradual single track with a series of switchbacks. This trail is used to connect Fenceline, Scenic, and Barker trails.
East Glade Skills Park
To access the park, use the east Glade Run Parking Lot located 1/8 of a mile north of Colibri Place on Calle Norte Trail in Farmington.
This bike park offers features for all levels of riders. The park offers a Strider track for little kids with a boardwalk roller coaster and balance beam. The three trails that are in the park start from an elevated block where a rider can roll into their choice of green (easy), blue (moderate), or black (difficult) bike park style trail without the need of peddling. After the roll-in, there are tabletops and large berms on the green line. The blue line begins with a drop that continues into hip, thin a few tabletops, into a berm to berm, a few more tabletops, and finishes with a large double berm. For the final bike park trail, the rider can drop off two feet from the start blocks into a huge boardwalk hip, a huge boardwalk step-up after a berm, a huge boardwalk tabletop, and finishes with another boardwalk tabletop. All of the trails share a return trail back up to the top. It is set up in a way that a rider can easily progress through the different difficulties of trails that flow through the trees.
Recommended Mountain Biking Resources