Pickleball is quickly becoming a popular sport for all ages and Farmington offers plenty of options to help you find a court.
4601 College Blvd., 1101 Fairgrounds Road, and 1801 Brookside Drive Farmington, New Mexico
505-566-3410 or 505-599-1184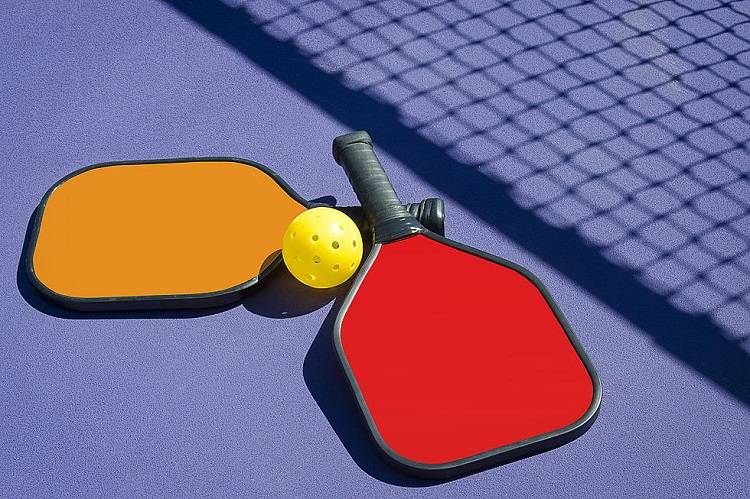 If you are new to the sport the Farmington Recreation Center offers open sessions and resources to help you learn the game. San Juan College also offers a section of their gym for a variety of match styles as well as open play. And if you are looking for tournament information, players and clubs both locations can get you connected to the local scene. It is also important to note that due to the popularity of the sport, the City of Farmington has plans to add outdoor pickleball courts soon.
Brookside Park
The City of Farmington maintains six new (2022) pickleball courts with a permanent net system. Shade coverings and restroom facilities are on site. Lights are available until the park closes at 10:00 pm. Organized play set on M,W,F,Sa at 8:00 am-12:00 pm. by Northwest New Mexico Pickleball Club. All other days and times are free until park closing time.
San Juan College
The San Juan College Health and Human Performance Center (HHPC) provides three courts within their gymnasium for pickleball. Balls and paddles are also available. Please note, credit classes and special events may alter available play times. For information call 505-566-3410. San Juan College is located at 4601 College Blvd. in Farmington.
Pickleball Court Hours
Mondays: 2:00 PM – 5:00 PM – 3 Courts
Tuesdays: 6:00 PM – 9:00 PM – 3 Courts
Thursdays: 2:00 PM – 5:00 PM – 3 Courts
Fridays: 4:00 PM – 7:30 PM – 3 Courts
Saturdays: 7:00 AM – 12:00 PM – 3 Courts

Farmington Recreation Center
The Farmington Recreation Center gym offers space for pickleball. Their schedule varies monthly, depending upon events and programs. The fee is $2. For information call 505-599-1184. The Farmington Recreation Center is located at 1101 Fairgrounds Road in Farmington.