Previously Held February 10, 2018
San Juan College Black Box Theatre
Experience the masterful art of playwriting in an intimate setting when the San Juan College Theatre department presents a Reader's Theatre Performance of The Rez Sisters.
Event Information
San Juan College Black Box Theatre
4601 College Blvd, Farmington, NM, 87402
Donations are taken at the door
505-566-3464
The Rez Sisters is a two-act play by Cree Canadian writer Tomson Highway. The play focuses on the hopes and dreams of a group of seven women on the Wasayching Hill Indian reserve. The Rez Sisters features an ensemble cast of seven women dreaming of winning, and working toward raising enough money to attend, "The Biggest Bingo in the World". The play melds the sometimes dark realities of life on an Indian reserve with humor and elements of Aboriginal spirituality. It features excerpts of dialogue in the Cree and Ojibway
languages.

Readers Theatre staging is minimal and actors present a rehearsed, dramatic experience that pays particular attention to the deeper themes, style, cadence and pros of the text. It differs from a full-scale production, in that its purpose is to provide its audience with an auditory experience of the writer's unique voice, cadence, tempo and use of language. There is a short break after the play ends, and the audience is invited back to attend a discussion of the play's deeper meanings, themes and overall impact.

Donations are taken at the door. For more information about this unique theatre experience, call the San Juan College Box Office or visit sanjuancollege.edu/silhouette.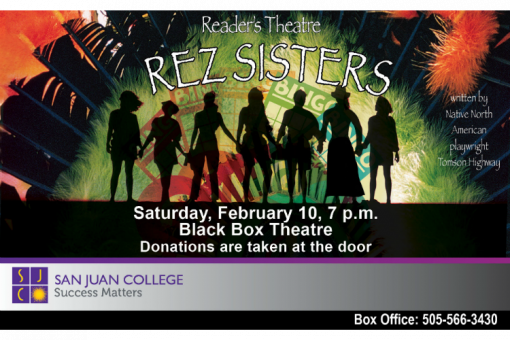 We Also Recommend
---
San Juan College Performance Series
San Juan College sponsors the Performing Arts Series each year. Along with the many college productions that take place on campus, San Juan College offers the best in family entertainment.
Learn More
»
4601 College Blvd. Farmington, NM
505-566-3430