Previously Held September 25, 2021
Farmington Civic Center
See THE voices of three top Country bands perform: Larry Stewart of Restless Heart, Tim Rushlow formerly of Little Texas and Richie McDonald of Lonestar!
Event Information
Farmington Civic Center
200 W. Arrington Farmington, NM
$38 adult, $34 senior/kids/military
(505) 599-1148
Farmington Civic Center is excited to host THE voices of three of Country's top bands. Steward, Rushlow and McDonald have collectively sold over 30 million records and had over 50 Top 40 hits between them. It's not often you get to hear this many hit songs in one night!
The Bluest Eyes in Texas
Amazed
God Blessed Texas
I'll Still Be Loving You
I'm Already There
What Might Have Been
Tickets are $38 for adults, $34 for seniors, kids and military. Buy your tickets at http://www.fmtn.org/shows before they sell out! For more information, phone 599-1148 or visit http://thefrontmenofcountry for more information about the Front Men of Country.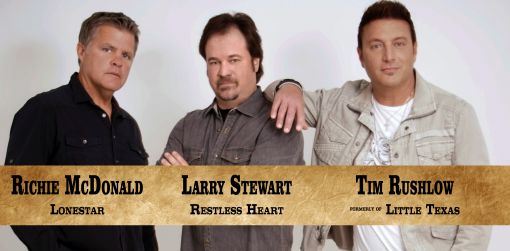 We Also Recommend
---
Farmington Civic Center
The Farmington Civic Center is conveniently located in the center of downtown Farmington. This facility hosts a variety of concerts, plays and performances throughout the year. The Civic Center also offers convention and meeting space.
Learn More
»
200 W. Arrington, Farmington NM
505-599-1144