Monday Oct 23 2023
6:00pm - 9:00pm
San Juan College Connie Gotsch Theatre
One Book One Community is excited to host Oscar Hokeah, author of Calling for a Blanket Dance. This event and book signing with the author will end with a question and answer session. Don't miss this opportunity!
Event Information
San Juan College Connie Gotsch Theatre
4601 College Blvd Farmington, NM
Free!
Author, Oscar Hokeah, is coming to San Juan College! One Book One Community will host him for a book signing and answering session at the Connie Gotsch Theatre on Monday, October 23rd from 6:00pm-9:00pm. This event is FREE and open to the public.
Calling for a Blanket Dance
Oscar Hokeah's electric debut takes us into the life of Ever Geimausaddle, whose family—part Mexican, part Native American—is determined to hold onto their community despite obstacles everywhere they turn. Ever's father is injured at the hands of corrupt police on the border when he goes to visit family in Mexico, while his mother struggles both to keep her job and care for her husband. And young Ever is lost and angry at all that he doesn't understand, at this world that seems to undermine his sense of safety. Ever's relatives all have ideas about who he is and who he should be. His Cherokee grandmother, knowing the importance of proximity, urges the family to move across Oklahoma to be near her, while his grandfather, watching their traditions slip away, tries to reunite Ever with his heritage through traditional gourd dances. Through it all, every relative wants the same: to remind Ever of the rich and supportive communities that surround him, there to hold him tight, and for Ever to learn to take the strength given to him to save not only himself but also the next generation.

How will this young man visualize a place for himself when the world hasn't made room for him to start with? Honest, heartbreaking, and ultimately uplifting, Calling for a Blanket Dance is the story of how Ever Geimausaddle finds his way home.
Upcoming Dates: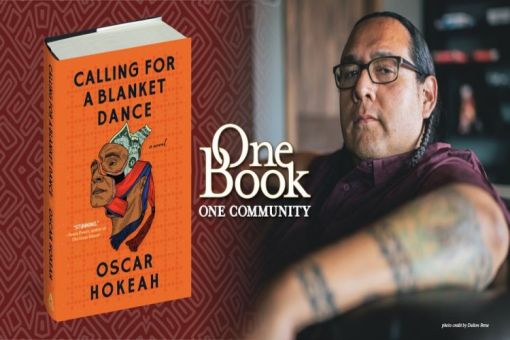 We Also Recommend
---
San Juan College Performance Series
San Juan College sponsors the Performing Arts Series each year. Along with the many college productions that take place on campus, San Juan College offers the best in family entertainment.
Learn More
»
4601 College Blvd. Farmington, NM
505-566-3430