Previously Held April 14, 2022
Farmington Civic Center
Johnny Peers & the Muttville Comix is a slapstick comedy dog show like no other!
Event Information
Farmington Civic Center
200 W. Arrington, Farmington, NM
$12-$18
505-599-1148
Johnny leads over a dozen rescue dogs through challenging and hilarious tricks as Johnny plays the straight man role in this wonderful family show. They have appeared with Ringling Brothers & Barnum and Bailey Circus, David Letterman Show, Primetime Live, Circus of the Stars, and at Disneyland, Busch Gardens, the Big Apple Circus, the Royal Hanneford Circus, even The White House! They are the Animal Planet Pet Star Winners. Sit! Stay! Get ready to howl! Johnny Peers and his canines are coming to tickle your funny bone!
Performance begins at 7:30pm at the Farmington Civic Center. Ticket prices range from $12-$18. Tickets are available for purchase on-line at https://www.fmtn.org/489/Civic-Center-Shows-and-Events.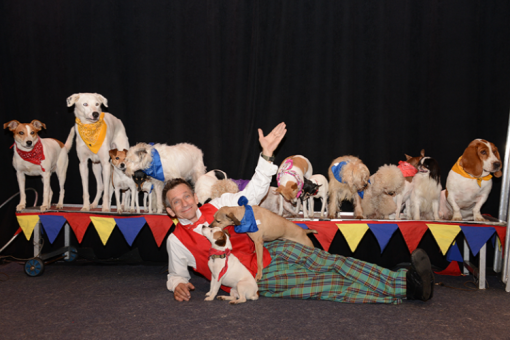 We Also Recommend
---
Farmington Civic Center
The Farmington Civic Center is conveniently located in the center of downtown Farmington. This facility hosts a variety of concerts, plays and performances throughout the year. The Civic Center also offers convention and meeting space.
Learn More
»
200 W. Arrington, Farmington NM
505-599-1144