Previously Held
San Juan College Henderson Fine Arts Gallery
Michael Bulloch will showcase an array of art in an exhibit titled, I Dream in Color at the San Juan College Henderson Fine Arts Center Gallery.
Event Information
San Juan College Henderson Fine Arts Gallery
4601 College Boulevard Farmington, NM
Free
505-566-3464
Opening reception on Friday, June 2, from 5 – 7pm
Farmington native, Michael Bulloch was born into an artistic family. His mother Sharon Furman Bulloch is a watercolorist and his grandmother Lola Furman was an accomplished New Mexico artist as well as the head of the art department at San Juan College. Bulloch has worked to promote the Four Corners as an art destination. He has been the co-founder of several fine art exhibitions in Farmington and has been an active board member of the Northwest New Mexico Arts Council since 2000, serving as Vice President during the 2005-2006 fiscal year. In 2011, he co-founded Handmade: A Guide to the Arts in the Four Corners. From 2011 to 2013 he served as the Chairman of the San Juan College Fine Arts Committee. In addition to his work to promote the arts in the Four Corners, he is the Downtown Coordinator for the City of Farmington. He also teaches graphic design and watercolor at San Juan College.
"As a painter I have an insatiable curiosity about life, art and the creative process," says Bulloch. "I try to paint the beauty that's in the world around me. Though I might exaggerate the color I see, it is only because I see the promise of that color and want to share it. My hope is when people look at my work they think, "That's where I want to be."
I want to feel peaceful and happy when they see my work - I want to awaken their senses and take them to a magical place, their dreams."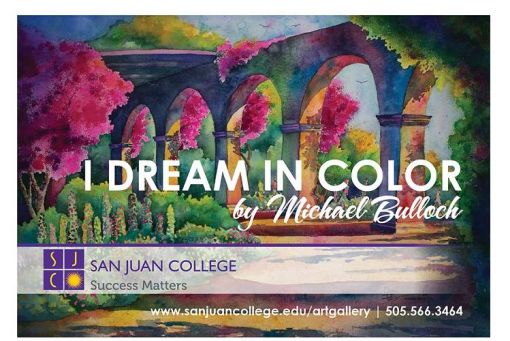 We Also Recommend