Previously Held July 9, 2022 - July 10, 2022
Tico Time River Resort
This is going to be a very fun-filled exciting disc golf tournament! The event offers professional and amateur divisions for the 3-round tournament, 2 rounds on Saturday, and 1 round on Sunday with plenty of chances for fun before, during, and after tournament play. Online registration will close on June 20, 2022.
Event Information
Tico Time River Resort
20 Road 2050, Aztec, NM
$75 - $100
505-330-4767
The tournament offers a 20-hole layout. The normal 18 plus two holes to fit 100 of you awesome players on a beautiful course at Tico Time. There will also be a HUGE raffle to raise funds for The Nowell Family Foundation and Bradleys House Rehabilitation center for musicians suffering from opioid addiction. On Saturday evening there will be a concert and a Player's Party! Be sure to check out all the activities after the rounds on Saturday including zip lining, paddle boarding, huge drop swing, water slides etc. Bring the whole family this event and venue are going to be filled with fun on and off the course!
2022 Battle at The Border Disc Golf Tournament Schedule
Saturday, July 9, 2022
7:30am - 8:30amPlayer check in
8:45am - 9:00amPlayers meeting
9:15am - 12:00pmShotgun start First round
12:00pm - 1:00pmLunch 1 hour after last card comes in
1:15pm - 4:00pmShotgun start round 2
5:00pm - 11:00pmPlayers party all over Tico Time and some awesome evening entertainment
Sunday, July 10, 2022
9:00am - 12:00pm3rd round Shotgun start (no players meeting) meet at your assigned hole.
12:15pm - 1:00pmAWARDS!
2022 Battle at The Border Disc Golf Tournament Player Divisions & Entry Fees
Visit discgolfscene.com to register online. $10 additional fee for players without current PDGA memberships. For help choosing a division, see the PDGA guidelines
$100 MPO Open
$100 FPO Open Women
$100 MP40 Pro 40+
$100 MP50 Pro 50+
$100 MP60 Pro 60+
$75 MA1 Advanced
$75 FA1 Advanced Women
$75 MA40 Amateur 40+
$75 MA50 Amateur 50+
$75 MA60 Amateur 60+
$75 MA2 Intermediate
$75 FA2 Intermediate Women
$75 MA3 Recreational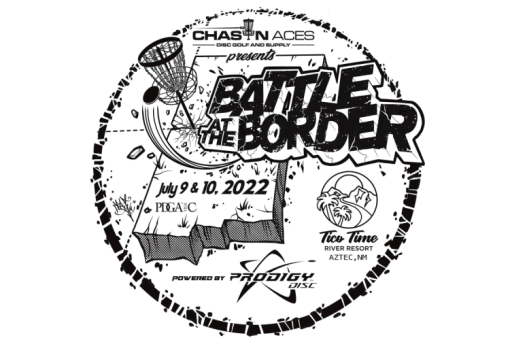 We Also Recommend