Previously Held March 16, 2022
Farmington Civic Center
The Classics Combo presents a special St. Patrick's Irish Music Celebration at the Farmington Civic Center on the evening of March 16th from 7:00-9:00pm.
Event Information
Farmington Civic Center
200 W. Arrington Farmington NM
Free/$15 Special Buffet Tickets
505-599-1148
The Classics Combo invites you to be a part of a celebration of Irish Music! Lively performances by Rich & Sara Canfield and Salleyanne Bachman will bring the music and lore of St. Patrick's Day to life for you as you gear up to celebrate the big day! The celebration will take place at the Farmington Civic Center on Wednesday, March 16th from 7:00-8:00pm. Free admission!
Red Lobster will be hosting a special buffet in connection with this event. Ticket price is $15. Call 505-325-5222 for more information.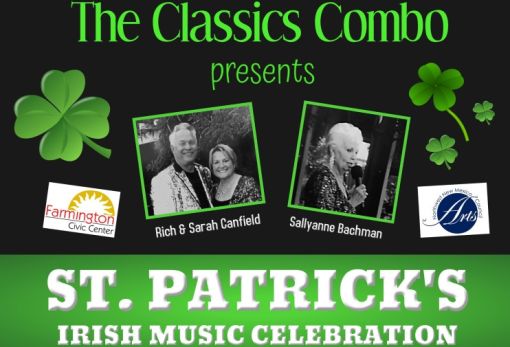 We Also Recommend
---
Red Lobster
3451 E. Main, Farmington, NM
505-325-5222