Treat yourself to fresh and fast classic American food at the DawgHouse! They offer premium ingredients ensuring a savory eating experience with every bite. Something for everyone with traditional and new takes on American classic food.
5170 College Blvd Ste 106 Farmington, NM
505-491-1909
Show Map Hide Map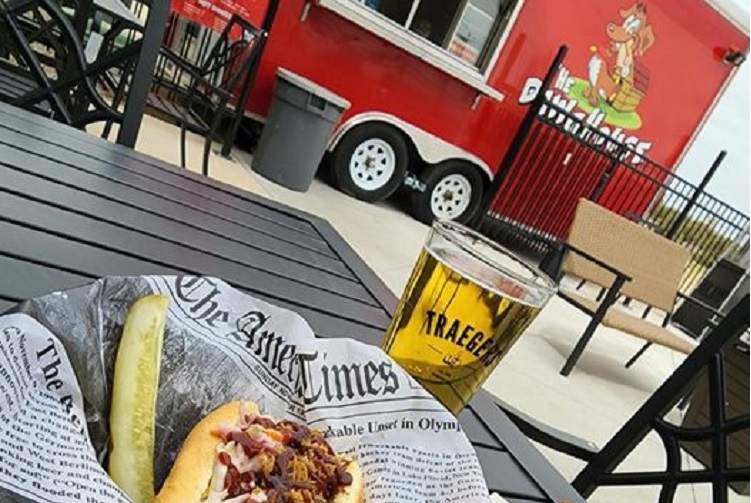 The DawgHouse is a popular, locally owned and operated, food truck conveniently located at Traegers Bar. This local hot spot should be on your must-visit list!! Be sure to visit the thedawghousefood.com to peruse the complete menu. They offer dine-in and carry-out service. Follow Traegers Bar on Facebook and Instagram to stay informed on hours, specials, and entertainment.
Popular Items from The DawgHouse Menu
DAWGS
The Hawt Dawg
The American Classic. 1/4 Pound All Beef Dog, Regular Bun, Served with Mustard, Relish & Onions - Or Make it Your Own with Any of Our Add-Ons!
The Chicago Dawg
A Chi-Town Dog. 1/4 lb All Beef Dog, Poppy Seed Bun, Yellow Mustard, Sweet Pickle Relish, Sliced Tomato, Hot Peppers, Celery Salt
The Chili Cheese Dawg
Tastes Like Summer and Baseball. 1/4 Pound All Beef Dog, Regular Bun, Chili, Chopped Onions, Nacho Cheese, Mustard
The Green Chile Bacon Cheese Dawg
A New Classic For The 505! 1/4 Pound All Beef Dog, Hatch Green Chile, Two Slices Of Bacon, Cheese & Ketchup.
The NM Dawg
A 505 Dawg. 1/4 lb All Beef Dog, Regular Bun, Swiss Cheese, Green Chile, Red Onion, Ketchup, Mustard
Breakfast Dawg
This Dawg Has It All! 1/4 Pound All Beef Dog, Bacon, American Cheese, Green Chile, Tater Tots & A Fried Egg!
NM Brat
Green Chile Makes Everything Better. 1/4 lb Brat, Swiss Cheese, Green Chile, Red Onion, Ketchup, Mustard Wrapped in Tortilla
BIRDS
Garlic Buffalo Wings
The Name Says it All! How Can You Resist? *Medium
Garlic Parmesan Wings
A Classic Flavor Pairing. Just Enough Garlic Kick & Creamy Parmesan For A Truly Balanced Taste. Our Mildest Wing. *Mild
Peach Ghost Pepper Wings
These Wings Pack a Punch! "I'm Gonna Need a Beer to Put These Flames Out." *Hot
Mango Habanero Wings
Another Sweet & Spicy Wing Selection. These Wings Have Fresh Mango & Spicy Habanero to Satisfy Your Wing Craving. *Hot
Green Chili Crema Wings
Wings Rubbed in Green Chile Spice & Tossed In House Made Green Chile Crema. A House Favorite! *Mild/Medium
Green Chile Lime Wings
Wings Seasoned in Chile Lime Marinade. Wings Featuring Flavors From Nuevo Mexico & Central America. *Medium/Hot
NOT DAWGS
Burger Babies
There is Nothing Small About These Babies! Cheeseburger Sliders with Bacon Jam
Pulled Pork Sliders
A Taste Of The South...Without The Humidity. House Smoked & Seasoned Pulled Pork, Coleslaw, Spicy Bbq Sauce, Pineapple Garnish & Pickle On The Side
Frito Pie
A New Mexico Original. Fritos topped with Chili, Shredded Cheese, Lettuce, Tomato, Onion & Salsa
Rolled Tacos
Your Choice of Chicken or Beef on a Bed of Chips with House Made Taco Sauce & Salsa
Beer Battered Fries
Basket Of Beer-Battered Fries. Try Them With Our Spicy House Made Ketchup.
Chili Cheese Fries
Fries But Better. Basket Of Fries Smothered in Chili & Nacho Cheese Sauce
RPG's
Basket of Beer Battered Fries topped with Rosemary Parmesan & Garlic - What Can We Say? They are a Taste Explosion.
Sweet Potato Fries
Basket Of French Potatoes...But Sweeter & Kissed With Honey.
Mozzarella Sticks
Beer Battered, Cheesy, Melty, Goodness! Served With Marinara Parmesean.
BBQ Pulled Pork Nachos
BBQ? Yes. Nachos? Yes. It Doesn't Get Much Better. House Made Tortilla Chips, House Smoked Pulled Pork, Nacho Cheese, BBQ Sauce & Jalapenos
Smothered Nachos
Dressed Up Nachos. House Made Tortilla Chips, Smothered in Nacho Cheese, Chili & Jalapenos
Nachos
Just The Basics. House Made Chips & Nacho Cheese